Abendmusik: Cantatas for Solo Bass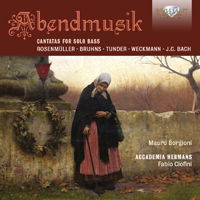 Artist
Mauro Borgioni baritone
Accademia Hermans
Fabio Ciofini concertmaster
Format
1 CD
Cat. number
95033
EAN code
5028421950334
Release
July 2015
About this release
In the last few years there has been an increasing focus on record and in scholarship on sacred music composed for the Lutheran tradition in the generations before J.S. Bach, and this disc shows a fine variety of accomplished voices. There is Bach's second cousin, Johann Christoph, whom JS acknowledged as 'a profound composer' whose Wie bist du den, O Gott is a five-movement lament of arioso writing exploring the expressive regions of guilt and grief that would later be so characteristic of the younger man's sacred language.

Then there are other names now reasonably well-known to us – Tunder, Bruhns and Rosenmüller principal among them – who were active in North German cities as Kapellmeisters and composers. Interspersed with them are a trio sonata by Krieger and, to momentarily lift the mood, an instrumental Paduana by the now little-known Johann Schop, The disc concludes with one of the few extant works by the Hamburg-based musician Matthias Weckmann.

The overall mood is solemn as one might expect from the composers' use of the bass as a voice of authority and profundity, but elevated by their mastery of expressive dissonance to paint graphic equivalents in music of the emotions implied by the anonymous sacred texts. Each piece has the merit of brevity as well as direct emotional appeal to the listener.

These forces have previously recorded a disc of cantatas by Agostino Steffani, the composer made famous by Cecilia Bartoli's recordings. The bass soloist Mauro Borgioni specialises in early music, having worked with luminaries of the historically-informed performance scene such as Rinaldo Alessandrini and Claudio Cavina.

In late 17th century Germany the Abendmusik (Evening music) was a social evening gathering of citizens in the church, accompanied first by an organ recital, later developing into more substantial sacred concerts, focusing on the genre of the Cantata for solo bass and ensemble, the severe and evocative timbre of the bass being a perfect expression of Lutheran doctrine.
This new recording features Bass cantatas by Johann Christoph Bach, Tunder, Rosenmüller, Bruhns and Weckmann, with instrumental interludes of sonatas by Krieger and Schop.
The impressive and sonorous bass of Mauro Borgioni is accompanied by the Accademia Hermans, an Italian Early Music group, led by Fabio Ciofini, featuring violin, viola da gamba, cello, theorbo and organ.
Excellent liner notes are included in the booklet, as well as the full specifications of the historical Hermans organ of 1678.
Listening
Track list
Disk 1
Johann Christoph Bach: Wie bist du denn, O Gott

Matthias Weckmann: Kommet her zu mir alle, die er mühselig und beladen seid

Johann Philipp Krieger: Trio Sonata in D minor

Johann Rosenmüller: Motet "De Lamentatione"

Johann Schop: Paduana a 5 in D Minor

Nicolaus Bruhns: De profundis in A Minor

Franz Tunder: Da mihi Domine