Adams: Piano Music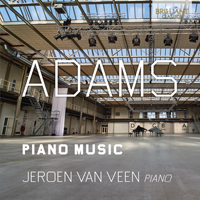 | | |
| --- | --- |
| Composer | John Adams |
| Artist | Jeroen van Veen piano |
| Format | 1 CD |
| Cat. number | 95388 |
| EAN code | 5028421953885 |
| Release | December 2017 |
About this release
Piano music spanning three decades by the foremost living Minimalist composer of our time.

John Adams has won listeners from far beyond the traditional classical world thanks to his energy over the course of more than half a century in writing music that speaks directly to hearts and minds with undiminished energy, reflecting contemporary concerns and technologies while also crafted with traditional finesse.

As well as a composer he has been an active promoter and performer – not only of his own music but of his contemporaries and those who exercised a decisive influence on him as a student in California, including Debussy and Stravinsky. His parents were both jazz musicians and he grew up in a household where, as he says, 'Benny Goodman and Mozart were not separated'. There is a corresponding harmony between traditional and modern idioms in his own music.

Both written in 1977, Phrygian Gates and its briefer pendant or companion, China Gates, were game-changers for the course of Adams's music. Although his output for the instrument is not large, it was with the piano that Adams discovered the possibilities of slowly moving, patterned textures that had already seized his attention in the compositions of Steve Reich. Phrygian Gates is a broad monolithic arch, roughly 24 minutes long, which is built upon a plan that resembles the classic 'tour' of the twelve keys, while entirely confined to the Lydian and Phrygian modes of ancient music. The Lydian mode with its light, sensual, resonant personality is played off against the more volatile, unstable but often heroic qualities of the Phrygian.

From almost 20 years later, Hallelujah Junction takes its name from a truck stop near the composer's cabin. Scored for two pianos, this continuous quarter-hour takes a tour d'horizon of Adams's own journey as a composer: at first ingeniously Minimalist, growing into a Romantic central section before coming around to a jazzy conclusion of unstoppable momentum. American Berserk (2001) sounds more 'modern' still, but its rhythmic complexities look back to American masters such as Ives and Nancarrow.

"Minimalism, but not as you know it", thus described The Guardian the John Adams' music.
John Adams (born 1947) is active in almost every musical genre, from opera to film scores, jazz and chamber music. His original and open-minded style has captured audiences worldwide and well beyond the boundaries of strict classical music. In his (surprisingly few) piano works Adams uses a wide variety of techniques and styles, while addressing a vast scope of emotions, from loud, rough and spiky to delicate and flowing simplicity.
Played by Minimal Music pioneer and champion Jeroen van Veen, seconded by his wife Sandra van Veen on second piano in "Hallelujah Junction".
Listening
Track list
Disk 1
John Adams: China Gates

John Adams: Phrygian Gates

John Adams: American Berserk

John Adams: Halleluiah Junction