Adios mi amor: Duets for Vihuelas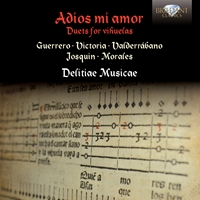 Artist
Delitiae Musicae:
Jesús Sánchez vihuela
Manuel Minguillón Nieto vihuela
Format
1 CD
Cat. number
94302
EAN code
5028421943022
Release
January 2012
About this release
Music performed on two vihuelas (guitar-like instruments from Spain) was commonplace during the Renaissance. Combining contrasting instruments was not yet the fashion, so instruments of the same family with similar sonorities were often paired in polyphonic duets – one instrument providing the harmonic support, the other giving the melody and embellishment.

To recreate these 16th century performance practices and draw attention to an important part of Spanish Renaissance music, Delitiae Musicae, a duo specialising in vihuela performance, have created a programme of original vihuela duets and their own arrangements of solo music. In line with Renaissance performance practices, improvisation using ostinati is featured in many of the pieces, and a number of intabulations (arrangements) of sacred works are included.

The programme features the major vihuela composers of the 16th century, along with Spain's most important Renaissance composers, including Tomás Luis de Victoria, Enríquez de Valderrábano, Guillaume de Morlaye, Francisco Guerrero and Josquin des Prez. The focus is on Spanish music or music that displays a Spanish influence, to, in the words of the performers, 'evoke the sound and image of two courtesan vihuelists performing in a 16th century palace'.

Other information:
- Recording made in 2010
- The vihuela is a predecessor of the guitar, with a deep sonority and expressive tone.
- A fascinating evocation of a 16-th century Spanish court, where noblemen and women expressed their feeling in music of a wide range of emotions, from the deepest sadness (usually love-related..) to merry joyfulness.
- Rare repertoire, with new arrangements and improvisations by Delitiae Musicae
- The two players of Delitiae Musicae, are specialized in this repertoire and are performing it worldwide to great public success at Early Music Festivals
- Booklet notes included.
Track list
Disk 1
Si tus penas no pruebo

Niño Dios d'amor herido

Adios mi amor

Huyd, huyd, o çiegos amadores

Todos aman

Gaillarde

Romanesca

Conte Clare

O Magnum Mysterium

Assiste parata

Tastar de corde

Caldibi castigliano

Calata ala spagnola

Calata ala spagnola ditto terzetti

Mille regretz

Mille regretz

Et in Spiritum Sanctum

Fantasia de Lopez

Diez diferencias de Folias

Tiento

Recercata

Folías en primer tono

Música para discantar sobre un punto

Sobre el tenor del conde claros

Diferencias de çaravanda
"Error parsing XSLT file: GetRecommendedReleases.xslt