Adriaan Smout: Thysius Lute Book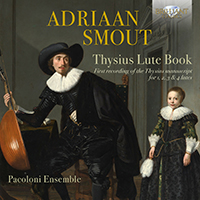 Download booklet
| | |
| --- | --- |
| Composer | Adriaan Smout |
| Artist | Pacoloni Ensemble |
| Format | 1 CD |
| Cat. number | 95821 |
| EAN code | 5028421958217 |
| Release | October 2018 |
About this release
The world-premiere recording of an early 17th-century collection of music conceived for a richly varied ensemble of lutes.

Adriaan Smout (1578-1646) was a philosopher, teacher and preacher who collected and transcribed the music that came his way from across Europe. He lived, worked and died in Rotterdam, a city that has always been well-placed to capitalise on international commercial and cultural links to support a distinguished history of music publishing.

The contents of Smout's collection, which found its way into the Thysius library in Leiden, embraces musical forms amongst the most popular of the late-Renaissance and early-Baroque periods: songs, branles, galliards and allemandes. There is also a bergamasque (a shepherd's song) which, in its extreme simplicity, has been taken by the Italian musicians of the Pacoloni Ensemble as an opportunity for improvisation and variation. The original authors have nearly all been lost in the mists of time, except for Smout's transcription of ´Can she excuse´, a song by John Dowland.

Up to four lutes are used, and several tracks are enhanced by percussion which would have lent colour and rhythmic strength to this music played in its own time: the manuscript as a whole has been freshly edited, and taken as the basis for richly textured and melodically elaborated performances which do not confine themselves to the literal indications of the tablature.

Led by their founder-director Roberto Cascio, the musicians of the Pacoloni Ensemble have been performing together for two decades. They are all members of other early-music ensembles who come together to explore the treasure-trove of little-known repertoire written during the golden age of the lute.

The Thysius Lute Book is one of the most important and substantial collections of lute music from the 16th and 17th century. The collector was Adriaan Joriszoon Smout, Dutch philosopher, teacher and preacher, who brought together a staggering amount of 900 compositions in 522 folios. The music in the collection is a reflection of the musical taste of the day, which was a melting pot of styles from all over Europe, and gives us a glimpse of what domestic music making was in the Golden Age.
The works are for a variety of instruments, and the present recording offers works for 1, 2, 3 and even 4 lutes. The forms are mainly dances, composed on a basso ostinato, as well as instrumental versions of popular songs.
The Pacoloni Ensemble is an Italian group specialized in the research and performance of music for the lute, whether solo or in ensemble. The excellent liner notes are offered in both English and Italian.
Listening
Track list
Disk 1
Adriaan Smout: Thysius Lute Book: I. Si vous estes belle/Reprinse

Adriaan Smout: Thysius Lute Book: II. Passomezo haubois/Gailliarde haubois

Adriaan Smout: Thysius Lute Book: III. Jan Dirrixz

Adriaan Smout: Thysius Lute Book: IV. Ick clam den boom al op

Adriaan Smout: Thysius Lute Book: V. Onse Vader

Adriaan Smout: Thysius Lute Book: VI. Wie sal mijn troetelen

Adriaan Smout: Thysius Lute Book: VII. Gaet hem toe

Adriaan Smout: Thysius Lute Book: VIII. Wilhelmus van Nassowen

Adriaan Smout: Thysius Lute Book: IX. Can shee excuse

Adriaan Smout: Thysius Lute Book: X. Brande d'Angleterre

Adriaan Smout: Thysius Lute Book: XI. Rogier

Adriaan Smout: Thysius Lute Book: XII. Passomezo del Zorzi

Adriaan Smout: Thysius Lute Book: XIII. Galliarda la gamba

Adriaan Smout: Thysius Lute Book: XIV. Passomezo la Romanesqua/Gallarde la romanesqua

Adriaan Smout: Thysius Lute Book: XV. Galliarda la caracossa

Adriaan Smout: Thysius Lute Book: XVI. Passomezo d'Italie/Gailliarde d'Italie

Adriaan Smout: Thysius Lute Book: XVII. Gailliarda chi passa

Adriaan Smout: Thysius Lute Book: XVIII. Bargamasco

Adriaan Smout: Thysius Lute Book: XIX. Almande mon varle

Adriaan Smout: Thysius Lute Book: XX. Gallarde Fransoyse

Adriaan Smout: Thysius Lute Book: XXI. Gallarde de royne d'escosse

Adriaan Smout: Thysius Lute Book: XXII. Gallarde belle qui me vas martirant

Adriaan Smout: Thysius Lute Book: XXIII. Brande battaille