Albéniz: Piano Music, Iberia, España, Recuerdos de viaje, Sonata No.5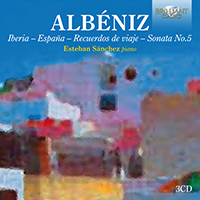 | | |
| --- | --- |
| Composer | Isaac Albéniz |
| Artist | Esteban Sánchez piano |
| Format | 3 CD |
| Cat. number | 92398 |
| EAN code | 5028421923987 |
| Release | September 2021 |
About this release
Classic accounts of Spanish piano masterpieces by a major if undervalued pianist from the 1960s and 70s.

The French piano luminary Alfred Cortot declared Esteban Sánchez Herrero (1934-1997) to be a 'musical genius'. Clara Haskil numbered among their colleagues who thought likewise, and Daniel Barenboim wrote: 'How is it possible? How can Spain have hidden away a performer of this class?' But Sanchez, born in Badajoz in 1934, shrank from the limelight even after winning several prestigious piano competitions. Having settled back into his native province as a teacher at the Badajoz conservatoire from 1978, he rarely travelled abroad, leaving a series of recordings made in Barcelona between 1968 and 1974 as his most lasting musical legacy.

The highlight of that legacy is widely recognised to be Sanchez's recording of Iberia, that quintessential masterpiece of Spanish pianism. While Alicia de Larrocha's name remains indelibly associated with Albéniz's cycle and its post-Lisztian evocations of folk legends and urban life, Sanchez brought to this music an unrivalled sense of fantasy as well as muscularity. The booklet for this reissue includes an outline of Sanchez's career, a detailed essay on Iberia and a critical appreciation of both his pianism and its harmonious match with the music of Albéniz.

'The Catalan composer's great music is always a personal expression,' writes the veteran critic Luis Gago, 'whether it is the memory of a landscape, the perception of a rhythm, or an experience which he could not forget.

Such subjective music needs, almost demands, a performer who will let it breathe freely as its own entity. And this is exactly what Esteban Sánchez does, perhaps in a way no other pianist does.'

Beyond Iberia, Sánchez also recorded several other smaller but still intensely picturesque and evocative cycles by Albéniz such as the Suite española. They are also compiled here, making this set an ideal introduction both to the composer and to the art of a pianist still too little appreciated outside his own country.
'[Iberia] blazes with what I can only describe as a dark sun. Everything is experienced the raw, without a care for received wisdom, custom or convention. Is this how Albéniz himself sounded?' Gramophone, June 2012

- Esteban Sánchez Herrero was a Spanish pianist, a winner of many important International Awards, the Ferruccio Busoni, the Alfredo Casella and several others. He was awarded the Dinu Lipatti Medal, and finished his studies under Alfred Cortot and Carlo Zecchi. In Spain his recordings of Spanish music, made in the sixties and early seventies, are still revered for their imagination, tremendous bravura, and deep passion.
- This 3-CD set of piano music by Isaac Albéniz (1860-1909) includes Sánchez's fiery performance of that towering masterpiece, Iberia. Despite less than great sound, this is the real deal, with blazing energy engulfing the music with an intensity few others achieve.
- The other selections on the CD (España, Suite Española, Recuerdos de Viaje, Piano Sonata No.5) are all played by Sanchez with fervor and an extraordinary authenticity.
- With many supremely refined performances of Iberia available in contemporary fine sound, this set should be considered as an authentic and unique alternative version of Albéniz's greatest work.
Listening
Track list
Disk 1
Isaac Albéniz: Iberia, Book I: Evocación

Isaac Albéniz: Iberia, Book I: El Puerto

Isaac Albéniz: Iberia, Book I: Corpus Christi en Sevilla

Isaac Albéniz: Iberia, Book II: Rondena

Isaac Albéniz: Iberia, Book II: Almería

Isaac Albéniz: Iberia, Book II: Triana

Isaac Albéniz: Piano Sonata No. 5 in G-Flat Major: Allegro non troppo

Isaac Albéniz: Piano Sonata No. 5 in G-Flat Major: Minueto del Gallo

Isaac Albéniz: Piano Sonata No. 5 in G-Flat Major: Rêverie, andante

Isaac Albéniz: Piano Sonata No. 5 in G-Flat Major: Allegro

Isaac Albéniz: Pavana - Capricho

Isaac Albéniz: Tango, in A Minor

Isaac Albéniz: Torre Bermeja
Disk 2
: Iberia, Book III: El Albaicín

: Iberia, Book III: El polo

: Iberia, Book III: Lavapiés

: Iberia, Book IV: Málaga

: Iberia, Book IV: Jerez

: Iberia, Book IV: Eritana

: Recuerdos de Viaje: En el mar

: Recuerdos de Viaje: Leyenda, barcarola

: Recuerdos de Viaje: Alborada

: Recuerdos de Viaje: En La Alhambra

: Recuerdos de Viaje: Puerta de Tierra

: Recuerdos de Viaje: Rumores de La Caleta

: Recuerdos de Viaje: En la playa
Disk 3
: Espana, Seis hojas de álbum: Preludio

: Espana, Seis hojas de álbum: Tango

: Espana, Seis hojas de álbum: Malaguena

: Espana, Seis hojas de álbum: Serenata

: Espana, Seis hojas de álbum: Capricho catalán

: Espana, Seis hojas de álbum: Zortzico

: Suite Espanola: Asturias

: Suite Espanola: Córdoba

: Suite Espanola: Cádiz

: Suite Espanola: Granada

: Suite Espanola: Castilla

: Suite Espanola: Cuba

: Suite Espanola: Mallorca

: Suite Espanola: Sevilla

: La Vega