Albeniz: Guitar Works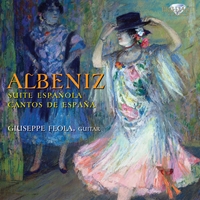 | | |
| --- | --- |
| Composer | Isaac Albéniz |
| Artist | Giuseppe Feola guitar |
| Format | 1 CD |
| Cat. number | 94047 |
| EAN code | 5028421940472 |
| Release | August 2010 |
About this release
Isaac Albeniz (1860-1909), along with de Falla and Granados, is considered to be not only one of Spain's leading composers, but one of the founding fathers of modern Spanish music. He began his musical career as a virtuoso pianist, producing a concerto that shows the influence of Liszt, and many short brilliant display pieces. He studied at the Leipzig Conservatory, and looked set to become a pianist composer in the central European tradition – until he met and studied with Felipe Pedrell (1841-1922) who awakened in him an interest in traditional Spanish music. Albeniz combined his mastery of classical form gained from his studies in Germany with the colour and honest simplicity of folk music to create his unique form of what can be considered very high quality salon music for guitar.

The two works on this CD consist in their original form of eight and five movements respectively of characteristic, picturesque miniatures of high skill and great charm. It has become the norm for guitarists to create their own 'favourite' selection from such suites to form their own arrangement, which is what Giuseppe Feola has done.

Other information:
- Booklet notes included.
Track list
Disk 1
Suite Española No. 1, Op. 47: No. 6, Fantasia. Aragon

Cantos de España Op. 232: No. 2, Oriental

Suite Española No. 1, Op. 47: No. 3, Sevillanas. Sevilla

Suite Española No. 1, Op. 47: No. 1, Serenata. Granada

Suite Española No. 1, Op. 47: No. 4, Saeta. Cadiz

Cantos de España Op. 232: No. 4, Córdoba

Suite Española No. 1, Op. 47: No. 8, Capricho. Cuba

Suite Española No. 1, Op. 47: No. 5, Leyenda. Asturias

Suite Española No. 1, Op. 47: No. 7, Seguidillas. Castilla

Suite Española No. 1, Op. 47: No. 2, Curranda. Cataluña

Cantos de España Op. 232: No. 3, Bajo la palmera