Albero: Six Recercatas, Fugas and Sonatas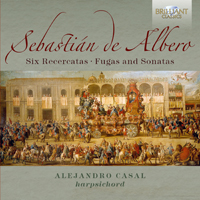 | | |
| --- | --- |
| Composer | Sebastián de Albero |
| Artist | Alejandro Casal harpsichord |
| Format | 2 CD |
| Cat. number | 95187 |
| EAN code | 5028421951874 |
| Release | February 2016 |
About this release
If the name of Sebastian de Albero (or to give him his full title, Sebastián Ramón de Albero Añanos) is encountered at all in the record catalogues, it is for the 30 brief keyboard sonatas, which are stylish and exuberant works in the early 18th-century Spanish style perfected by Domenico Scarlatti, with whom de Albero was likely acquainted while in post as the main organist at the Royal Chapel in Madrid, to which he had been appointed in 1746 at just 24 years of age. He died just ten years later, leaving to posterity only those sonatas and this more individual collection of tripartite works combining the forms of recercar, fugue and sonata. These have received much less attention on disc, making this complete recording by the Spanish harpsichordist Alejandro Casal all the more welcome. In his own detailed booklet note, Casal homes in on the collection's most extraordinary feature, which is the length of the fugues, up to 522 bars for the A major fugue (almost ten minutes in performance; in terms of duration, three others are even longer, up to thirteen minutes); compare this to Bach's longest keyboard fugue, of 231 bars. It would be wild overstatement to compare de Albero with Bach in terms of contrapuntal mastery, and Grove notes the tendency of the fugues in this collection towards the 'excessive sequences' which sustain their length, but they are 'fetching' nonetheless, and preceded by highly imaginative recercars written in an improvisatory, often fantastical style, without barlines, freely crossing tonal boundaries whither de Albero's invention takes him, and demanding considerable technical élan from the performer. Indeed the concluding sonatas, while written in a rousing major-key to give the sense of an ending, could even be said to prefigure the bold Empfindsamkeit language of CPE Bach, but with a Spanish accent.

The harpsichord used in this recording is a copy of an original by Joachim José Antunes, Lisboa, kept at the Finchcocks Collection in Goudhurst, and built by Ugo Casiglia (Cinisi, Italy) in 2011: it is considered among the finest examples of Iberian keyboard-construction, with a powerful, rich and melodic sound.

Sebastian de Albero (1722-1756) was a highly talented Spanish composer, who eventually attained a prestigious position at the Royal Court of Ferdinand VI in Madrid, alongside with Domenico Scarlatti and Carlos Seixas. With his early death at age 34 a brilliant career came to a sudden end.
Albero left only two manuscripts, one of which is completely recorded here: the 6 Recercatas, Fugues and Sonatas. This rather unusual set of musical forms which each belong to a different era Albero showed his complete mastery in all existing styles. The Recercatas are free, improvisatory preludes without barlines, in which the imagination of the performer / composer is given free reign. The Fugue is the Baroque form par excellence, and Albero wrote them in grand style of substantial proportions. The Sonatas are single movement pieces in binary form, much like Scarlatti's Sonatas, revelling in brilliant keyboard virtuosity.
Alejandro Casal, one of the finest Spanish cembalists of today, plays a magnificent instrument, built by Ugo Casiglia, after Antunes, measuring 2,5 meters long.
Listening
Track list
Disk 1
Sebastián de Albero: Recercata, Fuga and Sonata No. 1 in D Major: I. Recercata. Ad libitum

Sebastián de Albero: Recercata, Fuga and Sonata No. 1 in D Major: II. Fuga. Allegro

Sebastián de Albero: Recercata, Fuga and Sonata No. 1 in D Major: III. Sonata. Allegro

Sebastián de Albero: Recercata, Fuga and Sonata No. 2 in A Major: I. Recercata. Ad libitum

Sebastián de Albero: Recercata, Fuga and Sonata No. 2 in A Major: II. Fuga. Andante

Sebastián de Albero: Recercata, Fuga and Sonata No. 2 in A Major: III. Sonata. Allegro

Sebastián de Albero: Recercata, Fuga and Sonata No .3 in B-Flat Major: I. Recercata. Ad libitum

Sebastián de Albero: Recercata, Fuga and Sonata No .3 in B-Flat Major: II. Fuga. Allegro

Sebastián de Albero: Recercata, Fuga and Sonata No .3 in B-Flat Major: III. Sonata. Andante
Disk 2
Sebastián de Albero: Recercata, Fuga and Sonata No. 4 in G Major: I. Recercata. Ad libitum

Sebastián de Albero: Recercata, Fuga and Sonata No. 4 in G Major: II. Fuga. Allegro

Sebastián de Albero: Recercata, Fuga and Sonata No. 4 in G Major: III. Sonata. Allegro

Sebastián de Albero: Recercata, Fuga and Sonata No. 5 in C Major: I. Recercata. Ad libitum

Sebastián de Albero: Recercata, Fuga and Sonata No. 5 in C Major: II. Fuga. Andante

Sebastián de Albero: Recercata, Fuga and Sonata No. 5 in C Major: III. Sonata. Allegro

Sebastián de Albero: Recercata, Fuga and Sonata No. 6 in E Major: I. Recercata. Ad libitum

Sebastián de Albero: Recercata, Fuga and Sonata No. 6 in E Major: II. Fuga. Andante

Sebastián de Albero: Recercata, Fuga and Sonata No. 6 in E Major: III. Sonata. Andante