Alberti: Complete Keyboard Music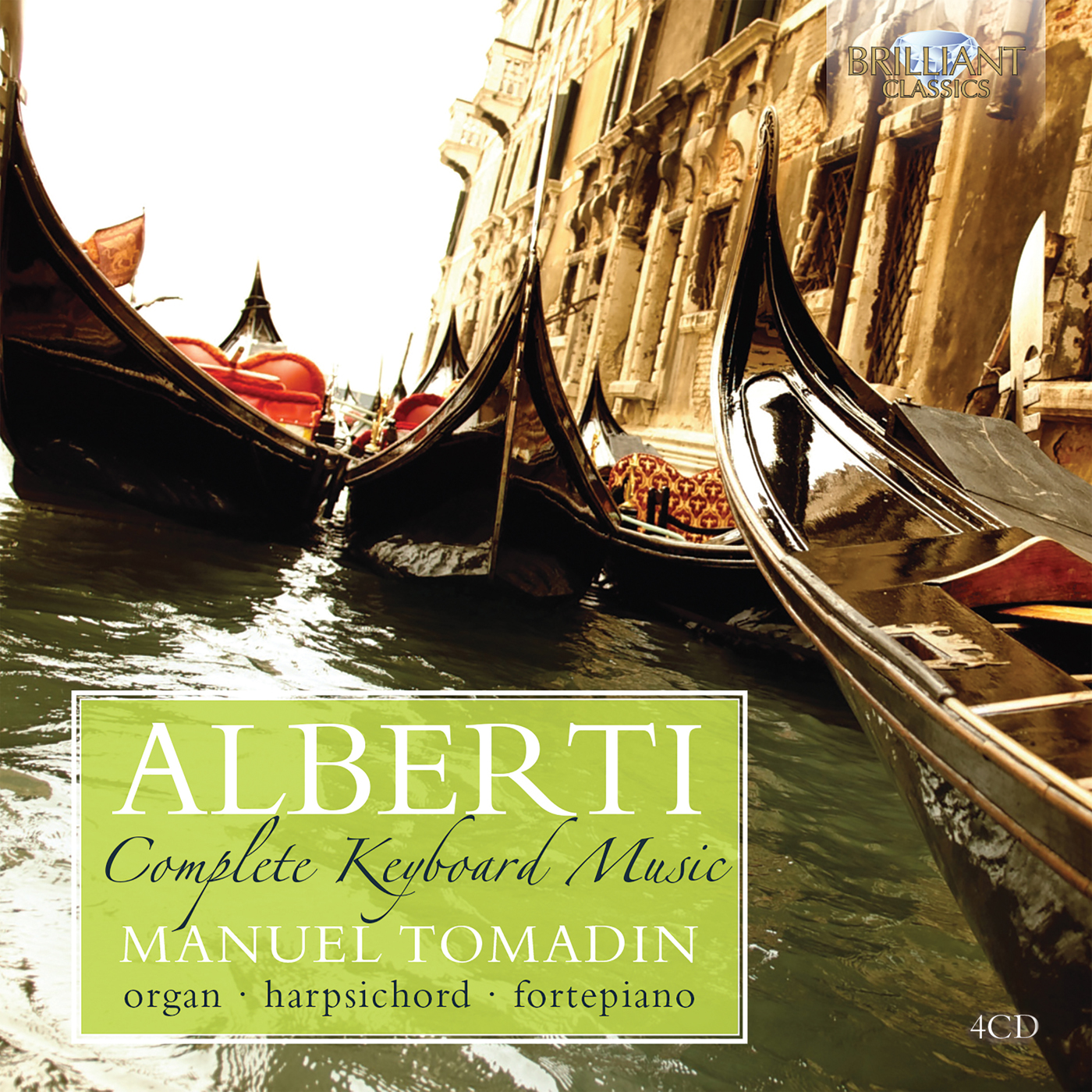 | | |
| --- | --- |
| Composer | Domenico Alberti |
| Artist | Manuel Tomadin keyboard |
| Format | 4 CD |
| Cat. number | 95161 |
| EAN code | 5028421951614 |
| Release | December 2015 |
About this release
The prolific Domenico Alberti squeezed a surprising number of works out of a short and eventful life, achieving fame across
Western Europe, particularly for the socalled 'Alberti bass', an arpeggiated style of left‐hand keyboard playing. Yet his presentday reputation does not equal these heights, his fame largely limited today to his Eight Sonatas. This recording puts this to rights, showcasing Alberti as a composer who deserves to be remembered for centuries to come, as a musical poet
possessed of remarkable invention and imagination.
Alberti's compositions display the simplicity and sensitivity of Clementi, the vigour of Mozart and, in the briefest of moments, an almost Schubertian or Chopinesque pre‐Romanticism. His keyboard compositions are generally individual movements or twopart toccatas or sonatas, the whole full of melodic echoes and intentional reworkings, which form intriguing bridges between the pieces.

The three distinct periods in the composer's output of keyboard music are mirrored here by the use of organ, fortepiano and
harpsichord (all of which Alberti would have had to hand in his day) – corresponding also to the period practice of 'playing on all
manner of instruments', with individual pieces often not tied down to a specific instrument. This combination adds a Talented keyboardist and international award‐winner Manuel Tomadin has a particular interest in Renaissance and Baroque music and historical organs. He brings all of his expertise to bear on this superb album.

This 4CD set contains the complete keyboard music by Domenico Alberti, a First Recording!
Domenico Alberti lived a short but very productive life, from 1710‐1740. He was famous as a composer, cembalo player and singer (the world famous castrato Farinelli heard him sing, and recognised in him a fearful rival).
Alberti claim to fame is his "discovery" of the so-called Alberti-bass: the accompanying left hand chord broken in a certain way (like c-g-e-g etc).
This figure forms the basis of the Viennese classical style, and was used by all composers of keyboard sonatas and sonatinas.
Alberti's Sonatas and Toccatas are in two movements, the first an allegro in free form, followed by a mellow andante in arioso style.
In order to achieve maximum variety Manuel Tomadin performs these works on three instruments: an historic organ (1773 Francesco Dacci organ), a harpsichord and a fortepiano.
Manuel Tomadin already recorded successfully for Brilliant Classics, notably the Leipziger Chorale by Bach (BC94456).

Recorded in Italy in 2013 and 2014.
Contains liner notes written by the artist in Italian and English.
Contains a biography of the artist.
Contains a full organ specification.
Listening
Track list
Disk 1
Domenico Alberti: Sonata in G Minor: I. Allegro

Domenico Alberti: Sonata in G Minor: II. Spiritoso

Domenico Alberti: Sonata in D Minor: I. Andante

Domenico Alberti: Sonata in D Minor: II. Allegro

Domenico Alberti: Sonata Pastorale in G Major: I. Andante

Domenico Alberti: Sonata Pastorale in G Major: II. Presto

Domenico Alberti: Sonata IV: I. Allegro

Domenico Alberti: Sonata IV: II. Andante

Domenico Alberti: Sonata IV: III. Four Variations

Domenico Alberti: Toccata in B-Flat Major, WörA12: I. Allegro

Domenico Alberti: Toccata in B-Flat Major, WörA12: II. Presto

Domenico Alberti: Toccata in B-Flat Major: I. Moderato

Domenico Alberti: Toccata in B-Flat Major: II. Allegro

Domenico Alberti: Sonata in C Major: I. Andante grazioso

Domenico Alberti: Sonata in C Major: II. Moderato

Domenico Alberti: Sonata in A Minor: I. Ripieno

Domenico Alberti: Sonata in A Minor: II. Spiritoso

Domenico Alberti: Sonata Pastorale in B-Flat Major: I. Andante

Domenico Alberti: Sonata Pastorale in B-Flat Major: II. Moderato
Disk 2
Domenico Alberti: Sonata in C Major: I. Without Tempo Marking

Domenico Alberti: Sonata in C Major: II. Without Tempo Marking

Domenico Alberti: Toccata in F Major

Domenico Alberti: Sonata in D Major: I. Largo

Domenico Alberti: Sonata in D Major: II. Andante

Domenico Alberti: Sonata in G Major: I. Allegro

Domenico Alberti: Sonata in E-Flat Major: I. Andante

Domenico Alberti: Sonata in E-Flat Major: II. Allegro

Domenico Alberti: Sonata in B-Flat Major: I. Allegro moderato

Domenico Alberti: Sonata in B-Flat Major: II. Allegro

Domenico Alberti: Sonata in A Major: I. Larghetto

Domenico Alberti: Sonata in A Major: II. Allegretto
Disk 3
Domenico Alberti: Toccata in D Major

Domenico Alberti: Sonata in A Major: I. Without Tempo Marking

Domenico Alberti: Sonata in A Major: II. Without Tempo Marking

Domenico Alberti: Sonata II in F Major: I. Allegro – Rondò

Domenico Alberti: Sonata II in F Major: II. Andante

Domenico Alberti: Sonata II in F Major: III. Allegro

Domenico Alberti: Sonata in G Major, WörA15

Domenico Alberti: Toccata in C Major, WörA11: I. Presto

Domenico Alberti: Toccata in C Major, WörA11: II. Allegro

Domenico Alberti: Toccata in F Major, WörA9: I. Andantino

Domenico Alberti: Toccata in F Major, WörA9: II. Giga

Domenico Alberti: Sonata in G Major, WörA16

Domenico Alberti: Sonata I in F Major: I. Allegro

Domenico Alberti: Sonata I in F Major: II. Andante

Domenico Alberti: Sonata I in F Major: III. Allegro

Domenico Alberti: Sonata in B-Flat Major, WörA10: I. Adagio

Domenico Alberti: Sonata in B-Flat Major, WörA10: II. Allegro

Domenico Alberti: Sonata in F Major, WörA19: I. Andante

Domenico Alberti: Sonata in F Major, WörA19: II. Allegro
Disk 4
Domenico Alberti: 8 Harpsichord Sonatas, Op. 1: Sonata No. 1 in G Major. I. Andante

Domenico Alberti: 8 Harpsichord Sonatas, Op. 1: Sonata No. 1 in G Major. II. Andante

Domenico Alberti: 8 Harpsichord Sonatas, Op. 1: Sonata No. 2 in F Major. I. Allegro moderato

Domenico Alberti: 8 Harpsichord Sonatas, Op. 1: Sonata No. 2 in F Major. II. Allegro assai

Domenico Alberti: 8 Harpsichord Sonatas, Op. 1: Sonata No. 3 in C Major. I. Allegro ma non tanto

Domenico Alberti: 8 Harpsichord Sonatas, Op. 1: Sonata No. 3 in C Major. II. Menuet

Domenico Alberti: 8 Harpsichord Sonatas, Op. 1: Sonata No. 4 in G Minor. I. Allegro

Domenico Alberti: 8 Harpsichord Sonatas, Op. 1: Sonata No. 4 in G Minor. II. Presto (Giga)

Domenico Alberti: 8 Harpsichord Sonatas, Op. 1: Sonata No. 5 in A Major. I. Allegro moderato

Domenico Alberti: 8 Harpsichord Sonatas, Op. 1: Sonata No. 5 in A Major. II. Allegro

Domenico Alberti: 8 Harpsichord Sonatas, Op. 1: Sonata No. 6 in G Major. I. Allegro moderato

Domenico Alberti: 8 Harpsichord Sonatas, Op. 1: Sonata No. 6 in G Major. II. Allegro

Domenico Alberti: 8 Harpsichord Sonatas, Op. 1: Sonata No. 7 in F Major. I. Allegro

Domenico Alberti: 8 Harpsichord Sonatas, Op. 1: Sonata No. 7 in F Major. II. Tempo di menuet

Domenico Alberti: 8 Harpsichord Sonatas, Op. 1: Sonata No. 8 in G Major. I. Allegro

Domenico Alberti: 8 Harpsichord Sonatas, Op. 1: Sonata No. 8 in G Major. II. Presto assai

Domenico Alberti: Sonata in B-Flat Major: I. Without Tempo Marking

Domenico Alberti: Sonata in B-Flat Major: II. Without Tempo Marking