Albini: Musica Ciclica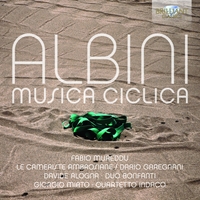 Composer
Giovanni Albini
Artist
Fabio Mureddu cello
Davide Alogna violin
Giorgio Mirto guitar
Le Cameriste Ambrosiane
Duo Bonfanti
Quartetto Indaco
Format
1 CD
Cat. number
9294
EAN code
5029365929424
Release
January 2013
About this release
Young Italian composer Giovanni Albini has an impressive résumé. After gaining full marks in his Composition degree at the Giuseppe Verdi Conservatory in Milan, he later obtained a Masters degree, as well as a BS and MS in Mathematics, and a Diploma in Classical Guitar. Much of his work has been for digital media and his theoretical research explores the relationship between mathematical music theory and composition.

This collection showcases a variety of works from Albini's oeuvre, many of which have been praised for their mathematical significance. Strong links to Western Classical music can be heard in each of these pieces, but mathematical theory is also employed in a variety of ways:
Una teoria della Prossimità is completely determined by mathematics, from its structure to its continuity and notation, and Estatica is formed around the single tone of E and expanded outwards. The collection also features three of the string quartets; with String Quartet No.5 – a rapidly changing piece constantly underpinned by the G minor scale – followed by the strict motion of No.6 and the innovative No.7, which is based on Albini's own specific system of triadic cycles.

This disc boasts a wealth of performers, including the acclaimed string ensemble Le Cameriste Ambrosiane conducted by Dario Garegnani, Quartetto Indaco and Duo Bonfanti, as well as soloists Fabio Mureddu, Davide Alogna and Giorgio Mirto.

Other information:
- New recording, recorded in Milan and Grugliasco, Turin, in 2012.
- Giovanni Albini (born 1982) is one of the most interesting composers of the young Italian generation. His music, firmly rooted in Western musical tradition, explores the endless possibilities of developing small musical elements (a scale, a triad) into a vast musical edifice, held together by the unifying laws of mathematics.
- Excellent, dedicated performances by young Italian musicians, closely working together with the composer of this fascinating music.
- Contains notes on the music as well as biographies of each ensemble/soloist.
Track list
Disk 1
Giovanni Albini: Corale No. 4, preludio for Cello Solo

Giovanni Albini: Una teoria della Prossimità, for String Orchestra: I. Densità

Giovanni Albini: Una teoria della Prossimità, for String Orchestra: II. Continuità

Giovanni Albini: Corali, Double Concerto for Violin, Guitar Duo and String Orchestra: Corale No. 27

Giovanni Albini: Corali, Double Concerto for Violin, Guitar Duo and String Orchestra: Corale No. 41

Giovanni Albini: Estatica, for Guitar

Giovanni Albini: String Quartet No. 5

Giovanni Albini: String Quartet No. 6 "Solo per grado congiunto"

Giovanni Albini: String Quartet No. 7 "Corale"