Alkan: Solo Piano Music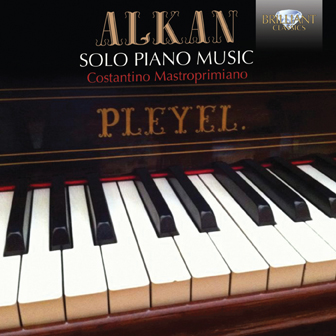 | | |
| --- | --- |
| Composer | Charles Henri Valentin Alkan |
| Artist | Costantino Mastroprimiano piano |
| Format | 1 CD |
| Cat. number | 94341 |
| EAN code | 5028421943411 |
| Release | October 2014 |
About this release
Charles-Valentin Alkan was a true celebrity in 19th-century Paris. A child prodigy who entered the Paris Conservatoire before the age of five, he later won the establishment's annual prize for solfège at just seven years old and went on to win many more competitions. A friend and contemporary of Franz Liszt and Frédéric Chopin, Alkan inherited many of Chopin's pupils after the death of the great composer in 1849. Alkan continued to show admiration for his friend by quoting Chopin's melodies in his own works.

Alkan's oeuvre is almost entirely written for piano, and this disc brings together several of these works. The first two pieces, Capriccio alla soldatesca and Le tambour bat aux champs, esquisse are depictions of military life and warfare, and are awash with sound effects such as drumrolls, horns and march rhythms. The Trois menuets encapsulates three varying styles of minuet, for each of which the performer must employ a different keyboard technique. Both Une fusée, introduction et impromptu and the Nocturnes employ many telling hints of Chopin's style, and the Sonatine in A minor, with which the disc ends, owes much to the Beethovenian model – but with Alkan's own distinct flair.

Pianist Costantino Mastroprimiano initially studied at the Conservatorio di Musica di Foggia and the Accademia Chigiana of Siena, and has since performed throughout Europe in ensembles and as a soloist. Curator of the scientific committee for Muzio Clementi's Opera Omnia and a professor of keyboard and chamber music at the Francesco Morlacchi Conservatory of Perugia, Mastroprimiano has previously recorded many CDs; among them Clementi's complete sonatas for Brilliant Classics.

Other information:
- Recorded on a historic grand piano.
- Charles-Valentin Alkan was one of the most important pianists and piano-composers of the 19th century, although he lived the largest part of his life in obscurity and seclusion. He was a close friend of Chopin (they were neighbours in Paris) and he was the only pianist in whose presence the great Franz Liszt was nervous to play.
- Alkan's piano oeuvre consists of two cycles of Studies of the most fearsome and fiendlish difficulty, and several books of miniatures and character pieces.
- Fortepianist Costantino Mastroprimiano chose a varied programme, presenting the multi faceted genius of Alkan: alongside the substantial and diabolical Sonatine (which belies its name, both in proportions and character) he plays some hauntingly beautiful Nocturnes and some grotesque miniatures (Le tambour bat aux champs, Capriccio alla soldatesca).
- Mastroprimiano, one of the foremost players of period instruments of today, chose a superb Pleyel instrument of 1865, an instrument Alkan might well have known in his time.
- Contains instrument specifications, notes on the works and performer biography.
Track list
Disk 1
Charles Henri Valentin Alkan: Capriccio alla soldatesca, Op. 50

Charles Henri Valentin Alkan: Le tambour bat aux champs, esquisse, Op. 50bis

Charles Henri Valentin Alkan: Trois menuets, Op. 51: I. Menuet in E-Flat Major. Tempo giusto

Charles Henri Valentin Alkan: Trois menuets, Op. 51: I. Menuet in G Minor. Tempo debole

Charles Henri Valentin Alkan: Trois menuets, Op. 51: I. Menuet in G Major. Tempo nobile

Charles Henri Valentin Alkan: Une fusée, introduction et impromptu, Op. 55

Charles Henri Valentin Alkan: Nocturnes, Op. 57: Nocturne No. 2 in B Minor

Charles Henri Valentin Alkan: Nocturnes, Op. 57: Nocturne No. 3 in F-Sharp Major

Charles Henri Valentin Alkan: Sonatine in A Minor, Op. 61: I. Allegro vivace

Charles Henri Valentin Alkan: Sonatine in A Minor, Op. 61: II. Allegramente

Charles Henri Valentin Alkan: Sonatine in A Minor, Op. 61: III. Minuetto. Scherzo

Charles Henri Valentin Alkan: Sonatine in A Minor, Op. 61: IV. Tempo giusto