Allegri & Palestrina: Lamentations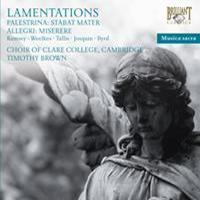 Composer
Giovanni Pierluigi Da Palestrina, Gregorio Allegri
Artist
Choir of Clare College, Cambridge
Timothy Brown conductor
Format
1 CD
Cat. number
93775
EAN code
5028421937755
Release
July 2009
About this release
This recording brings together music composed in a variety of contrasting yet complemetary forms, from Gregorian chant to more elaborate, polyphonic music, set to words that explore the rawest human emotions, death, sin and repentance. The death of a loved one is a particularly distressing experience, and over the centuries composers have chanelled their grief into their most moving and emotional works. In the 1850s Brahms composed the German Requiem after he lost his mother, and Fauré's Requiem was also composed after his mother died. Britten produced the imposingly bleak and Mahlerian Sinfonia da Requiem after the death of his parents. In this recording, the grief of Mary, the mother of Christ, is portrayed in Palestrina's masterful setting of the Stabat Mater, composed for Pope Gregory XIV. Another moving portrayal of grief is Weelkes's intimate depiction of the pain of David upon learning of his son Absalom's death, When David heard.

Allegri's Miserere concerns the belief in a higher power and the submission to it. Set to Psalm 51, the work was recognised by its composer and the Vatican as being of such beauty that its publishing was forbidden. No score was to leave the Papal Chapel. The child Mozart was famously shown the score, and he copied it from memory in the 1770s and in effect released this remarkable work to the wider world.

Other information:
- The Choir of Clare College, Cambridge, has gained an international reputation as one of the leading university choirs in England.
- Booklet notes and sung texts included.
Track list
Disk 1
Stabat Mater

Miserere

How Are The Mighty Fallen

When David Heard

Lamentations

O Vos Omnes

DéplOration Sur La Mort D'Ockeghem

O Vos Omnes

Super Flumina Babylonis

Absalon Fili Mi

Civitas Sancti Tui

When David Heard

Vox in Rama