Alma Mahler: Lieder und Gesänge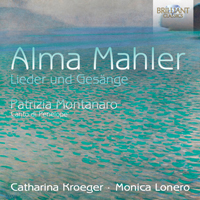 Download booklet
Composer
Alma Mahler, Patrizia Montanaro
Artist
Catharina Kroeger soprano
Monica Lonero piano
Format
1 CD
Cat. number
95469
EAN code
5028421954691
Release
January 2017
About this release
Linked throughout her life to famous men – among them Gustav Klimt, Alexander Zemlinsky, Walter Gropius, Franz Werfel, and of course her first husband Gustav Mahler – Alma Mahler was much more than a passive muse. Intelligent, witty and beautiful, she was also musically gifted in her own right. When she married Mahler at the age of 22, she was forced to give up composition as a condition of their union; fortunately, Mahler reversed this decision some years later on seeing how unhappy his wife was without a creative outlet. He even helped to edit and publish her songs, and it is this small but diverse collection of the works published in her lifetime that makes up this CD. Drawing on various poets – including Richard Dehmel and Rainer Maria Rilke – Alma's songs explore themes of love and loss as dramatic as her personal life. Harmonically daring, saturated with large, weighty chords and sensitively scored for piano and voice, the short pieces represent the peak of the late-Romantic experience.

Performers Catharina Kroeger and Monica Lonero have long championed female composers and performers, particularly those previously disregarded or neglected, such as Alma Mahler. They previously collaborated on the musical theatre piece Frauen – Donne, focusing on music by women. As such, they have also included a new piece of music by contemporary composer Patrizia Montanaro on this album; an innovative work for soprano- actress based on Penelope by Italian poet Rosaria Lo Russo, which imagines the anger of Odysseus' wife Penelope on his return after 20 years of absence.

Revaluating Alma Mahler's controversial reputation is possible through what Sarah Connolly terms 'the only real thing we have of hers' – her music. Alongside a celebration of the achievements of women in music today, this release is a testament to what female composers can accomplish, despite the odds.

Alma Mahler-Werfel was born in Vienna 1879, the daughter of a soprano and a landscape painter. Her musical talent was soon recognised and she had lessons with a.o. Zemlinsky. In 1922 she married Gustav Mahler, who explicitly forbid her to continue her composing. Later however, seeing her withering, Mahler allowed her to publish a song cycle in 1910.
Alma Mahler was a highly intelligent and cultured woman, surrounded by great artists like Klimt, Zemlinsky, Gropius and Werfel. Her salon in Vienna was the centre of high cultural life. After the war she settled in New York, where she became an iconic figure in the music scene till her death in 1964.
Her songs reflect the Zeitgeist of composition: dramatic, brooding, the darkness occasionally lifted by visions of serenity and peace. Beautiful performances by Catharina Kroeger and Monica Lonero, champions of neglected romantic music. As a bonus they perform a soprano-actress based work called "Penelope" by contemporary composer Patrizia Montanaro.
The booklet contains liner notes and artist biographies in English, German and Italian, the sung texts are available on www.brilliantclassics.com.
Listening
Track list
Disk 1
Alma Mahler: 5 Lieder: I. Die stille Stadt

Alma Mahler: 5 Lieder: II. In meines Vaters Garten

Alma Mahler: 5 Lieder: III. Laue Sommernacht

Alma Mahler: 5 Lieder: IV. Bei dir ist es traut

Alma Mahler: 5 Lieder: V. Ich wandle unter Blumen

Alma Mahler: 4 Lieder: I. Licht in der Nacht

Alma Mahler: 4 Lieder: II. Waldseligkeit

Alma Mahler: 4 Lieder: III. Ansturm

Alma Mahler: 4 Lieder: IV. Erntelied

Alma Mahler: 5 Gesänge: I. Hymne

Alma Mahler: 5 Gesänge: II. Ekstase

Alma Mahler: 5 Gesänge: III. Der Erkennende

Alma Mahler: 5 Gesänge: IV. Lobgesang

Alma Mahler: 5 Gesänge: V. Hymne an die Nacht

Patrizia Montanaro: Canto di Penelope