Andrea Padova Plays Lo Muscio Featuring Steve Hackett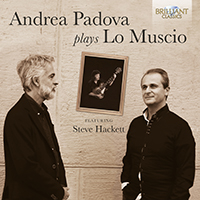 Download booklet
Composer
Marco Lo Muscio
Artist
Andrea Padova piano
Marco Lo Muscio piano
Steve Hackett guitar
Format
1 CD
Cat. number
95952
EAN code
5028421959528
Release
July 2019
About this release
Born in 1971, Marco lo Muscio is an organist, pianist and composer who has performed on the great organs of Europe and the US. His own music been performed by the likes of Christopher Herrick, Thomas Trotter and David Briggs. This album focuses on another, more intimate side of his output. There are pieces dedicated to his mother and to the memory of his late father; tributes to both Debussy and Satie; meditations on literary themes from the work of J.R.R. Tolkien in a neo-medieval style; a pair of ricercari originally composed for organ, paying homage to Renaissance-era counterpoint; and to begin with Three American Preludes.

Composed in 2001, the first two of the preludes were also Lo Muscio's first works intended for the piano. Their bluesy harmonies and ostinato bass lines are inspired by the playing of Bill Evans and Keith Jarrett. The third of them (from 2009) is a homage to Jarrett, but composed in the style of prog rock – an idiom that the organist adopted with such success that he began to work with the guitarist Steve Hackett, founder member of Genesis.

Since first meeting Hackett in 2008, Lo Muscio has made many transcriptions of prog rock classics (by Genesis and others) in a parallel career to his own compositions.

The two careers intersect here with Horizons, written by Hackett in 1972 for the Genesis album Foxtrot, and itself derived from the Prelude to Bach's G major Cello Suite. In 2009 Lo Muscio composed his own Meditations on Horizons, which transforms elements of Hackett's piece with a habanera rhythm Having established a career as a pianist with a speciality in the music of Bach (as winner of the 1995 J.S.Bach International Piano Competition), Andrea Padova has attracted international praise for his performances and recordings. His performance of the Goldberg Variation has won glowing encomia: The Washington Post wrote that he 'conveys the sense of successfully exceeding the limits of human possibility.' This is his debut recording on Brilliant Classics.

Marco Lo Muscio is one of the most versatile musicians of his generation, he is active as a pianist, organist and composer. As a student of the great Sergio Fiorentino he embarked on an international career as pianist and organist, playing such important venues as Notre Dame (Paris), King's College Cambridge, Westminster Cathedral and Abbey, Great Hall in St Petersburg, Moscow Cathedral and many more.
The piano works on this new recording show an open and creative mind, with a keen sense for atmosphere, colours and drama.
Pianist Andrea Padova won First Prize in the J.S. Bach International Piano Competition in 1995. Harold Schoenberg called him "A strong personality in conviction, freedom and style". He recorded Bach's Goldberg variations. Also active in contemporary music he collaborated with Boulez, Donatoni, Petrassi and Bernstein.
Listening
Track list
Disk 1
Marco Lo Muscio: 3 American Preludes: I. Blue Prelude

Marco Lo Muscio: 3 American Preludes: II. Night Song

Marco Lo Muscio: 3 American Preludes: III. Blue Ostinato "Homage to Jarrett"

Marco Lo Muscio: 2 Ricercari: I. Ricercare "the cathedral of Pienza"

Marco Lo Muscio: 2 Ricercari: II. Ricercare Cromatico "the Cathedral of Orvieto"

Marco Lo Muscio: In Memoriam

Marco Lo Muscio: Gymnopédie No. 0 "Homage to Satie"

Marco Lo Muscio: Prelude in Memory of Debussy "la lune blanche"

Marco Lo Muscio: Steve Hackett: Horizons

Marco Lo Muscio: Meditation on Horizons "Homage to Steve Hackett"

Marco Lo Muscio: "Théodon's Meditation"

Marco Lo Muscio: "The Knights of Rohan"

Marco Lo Muscio: Gandalf and Galadriel

Marco Lo Muscio: "The Book of a Vampire", Homage to Bram Stoker

Marco Lo Muscio: Vocalise No. 1 "To my Mother"