Antegnati: 12 Ricercari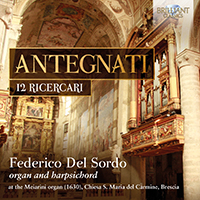 Download booklet
| | |
| --- | --- |
| Composer | Costanzo Antegnati |
| Artist | Federico Del Sordo organ and harpsichord |
| Format | 1 CD |
| Cat. number | 95628 |
| EAN code | 5028421956282 |
| Release | August 2018 |
About this release
The Antegnatis were a family of organ builders who produced some of the best-known instruments of the 16th century, many of which can be found in churches across northern Italy. In total, they constructed an estimated 400 organs. Costanzo Antegnati was perhaps the most influential member of the family, and his set of 12 ricercars – the centrepiece of this recording – was published alongside his treatise on organ tuning and registration. The compositions were of such high quality and popularity that they were subsequently included in the Intavolatura d'organo tedesca, the most extensive manuscript source of keyboard works known today, containing a good 1,770 pieces by composers from Italy and Northern Europe.

Interwoven between Antegnati's pieces are works by other composers of the same period. Notable among these is Anton Holzer's three canzoni, of which this is the first complete recording, and Agostino Soderini's Canzon La Ducalina, a fascinating short piece in which the keyboard writing closely follows the pronunciation of a virtual text and at times sounds like poetry being recited.

Federico Del Sordo is a renowned continuo player who has devoted himself for more than 15 years to the study of the alternatim repertoire. For this recording, he performs primarily on a 17th-century organ installed in a Brescia church by Graziadio Antegnati III; variety is added to the set by the inclusion of harpsichord and clavichord performances.

Costanzo Antegnati (1549-1624) was scion of the Antegnati family, recognized as the leading organ builders in the northern Italian province of Brescia. Four generations of skilled craftsmen from the same family produced some of the best-known instruments of the 16th century, not only for Brescia but also for cities such as Bergamo, Cremona, Como, Lodi, Mantua, Milano, Parma and Venice. In total they built ca 400 instruments.
Costanzo was the most influential member of the Antegnati family. He published a treatise "L'Arte organica" which contains explanations how to tune organs, as well as rules of organ registrations. As organist of the Brescia Cathedral he composed 12 Ricercars, which are here recorded on the 1630 Meiarini organ of the Church of St. Maria del Carmine in Brescia. Apart from these works the recording contains also Canzons by the composers Anton Holzner, Ercole Pasquini, Vincenzo Pellegrini and Agostino Soderini.
Federico Del Sordo is one of Italy's foremost scholars and continuo players, he teaches at the prestigious Santa Cecilia Conservatory in Rome and has many publications to his name on Sociology and Musicology. For Brilliant Classics he successfully recorded works by Tessarini, Veracini, Bach, Merulo, Salvatore and Fasolo. He wrote the liner notes himself. Also included in the booklet are the specifications of the organ.
Listening
Track list
Disk 1
Costanzo Antegnati: Ricercar del primo tono

Anton Holzer: Canzon prima

Costanzo Antegnati: Ricercar del secondo tono

Anton Holzer: Canzon seconda

Costanzo Antegnati: Ricercar del terzo tono

Ercole Pasquini: Toccata del settimo tono

Costanzo Antegnati: Ricercar del quarto tono

Costanzo Antegnati: Ricercar del quinto tono

Costanzo Antegnati: Ricercar del sesto tono

Vincenzo Pellegrini: Canzon "la serpentine"

Costanzo Antegnati: Ricercar del settimo tono

Costanzo Antegnati: Ricercar del ottavo tono

Costanzo Antegnati: Ricercar del nono tono

Anton Holzer: Canzon terza

Agostino Soderini: Canzon "la ducalina"

Costanzo Antegnati: Ricercar del decimo tono

Costanzo Antegnati: Ricercar del undecimo tono

Costanzo Antegnati: Ricercar del duodecimo tono