Appignani: The Last Bard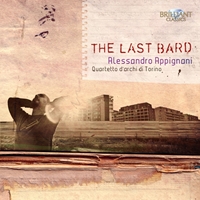 Composer
Alessandro Appignani
Artist
Alessandro Appignani piano
Yoko Kanamaru viola
Wolfgang Emanuel Schmidt cello
Quartetto d'archi di Torino
Format
1 CD
Cat. number
9235
EAN code
5029365923521
Release
October 2011
About this release
Italian composer Alessandro Appignani began to play piano and cello as a small child, and was later drawn to composition, with a keen interest in the avant-garde of the 20th century. Alfred Schnittke is cited by Appignani as a composer who both inspired and influenced him. He studied piano with Marco Fumo, Hans Graf and Lazar Berman. His music is personal and as poetical as the titles might suggest.

Other information:
Recorded in 2009 and 2010, first recordings of music by this young Italian composer.
- Alessandro Appignani, an Italian contemporary musician and composer, identifies as "The Last Bard", the person giving voice to the deepest human emotions, from the ancient times of the Gilgamesh Saga to the present world, man's journey on an epic scale.
- Booklet notes included.
Track list
Disk 1
Piano Quintet: The Angel Fall

Piano Quintet: Brazil

The Last Bard for string quartet

L'Aleph, 26 Visions for solo piano

Mediterranean Song, Canzona I for viola and piano

A Window in the Wood, Suite for viola: Praeludium

A Window in the Wood, Suite for viola: L'oiseau Lyre

A Window in the Wood, Suite for viola: Giddy Dance

A Window in the Wood, Suite for viola: Gavotta

A Window in the Wood, Suite for viola: Comme une Gigue

La Coscienza D'Orfeo for violin, cello and piano

Hvareno for string quartet

The Green Island, Canzona II for cello and piano

Das Schloss for solo cello

Scuatu for string quartet