Arcas: Complete Guitar Music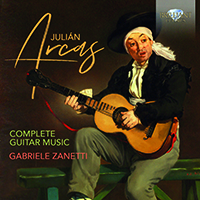 | | |
| --- | --- |
| Composer | Julián Arcas |
| Artist | Gabriele Zanetti guitar |
| Format | 4 CD |
| Cat. number | 95639 |
| EAN code | 5028421956398 |
| Release | September 2020 |
About this release
Juliaìn Arcas's father, Pedro Arcas Arjona, was a talented guitarist, trained in the method of the great Spanish master Dionisio Aguado (Madrid, 8 April 1784–Madrid, 20 December 1849), and he passed his passion for the instrument on to his son. In 1844, the Arcas family moved to Maìlaga, where Juliaìn began lessons with Joseì Asencio, a highly respected teacher who had studied directly with Aguado.

Arcas's output, which includes studies, virtuosic showpieces, arrangements of operatic themes, variations and folk-inspired pieces, is particularly significant in terms of its contribution to the flamenco repertoire. Although Arcas has fallen into neglect, his career coincided with the start of a golden age of flamenco. Built on firm musical foundations, his very personal style embraced Spanish folk traditions at a time –the height of Romanticism – when populism and nationalism were all the rage.

As late as 1912, the renowned flamenco dancer Joseì Otero wrote: "almost all flamenco toques [forms] and falsetas [melodic variations] have Arcas's distinctive touch". By this time the composer had been dead for 30 years and a new generation of guitarists had come to the fore (players such as Miguel Borrull, Javier Molina and Manolo de Huelva).

Juliaìn Arcas was the first classical guitarist–composer to have written works
for flamenco guitar. He was therefore not only the leading figure of the so-called "lost generation" of Spanish guitarists, overshadowed by the more famous musicians of the generations that followed; he was also a "pure" artist who sought to combine his love for Italian opera with his desire to create an authentically Spanish nationalist school of music. As such, he holds a unique place not only in the history of the guitar, but in the wider history of music as well.

Julian Arcas (1832-1882) was born in Almeria, Spain in a musical family: his father was guitarist and passed his passion soon over to his son. The family moved to Malaga where Julian took lessons with the famous José Asencio. From his 16th on Julian gave concerts all over Spain, soon becoming one of the leading guitar virtuosos of his time. During a concert tour in England he was hailed as the greatest guitarist in the world.
Arcas formed lifelong friendships with the famous guitar builder Antonio de Torres (who built his "Leone" guitar for him) and with the young Francisco Tárrega, exchanging guitaristic innovations and techniques.
Arcas' compositions include studies, virtuoso showpieces, arrangements of operatic themes, and folk-inspired works. His life and career coincided with the start of the Golden Age of Flamenco, and his personal style embraced Spanish folk traditions at a time when populism and nationalism were all the rage.
Played with total conviction and feeling for the style by Italian master guitarist Gabriele Zanetti.
Listening
Track list
Disk 1
Julián Arcas: El delirio

Julián Arcas: Traviata fantasia

Julián Arcas: Variaciones sobre un tema de sor

Julián Arcas: Motivo de la ópera el barbero de Sevilla

Julián Arcas: Motivo de la zarzuela marina. Aire de tango

Julián Arcas: Bolero

Julián Arcas: Manuelito

Julián Arcas: La cubana in D Major

Julián Arcas: El madrileño

Julián Arcas: Rondeña

Julián Arcas: Mi segunda época

Julián Arcas: Murcianas

Julián Arcas: Panaderos

Julián Arcas: Boleras

Julián Arcas: Popurrí malagueño

Julián Arcas: La rubia de los lunares
Disk 2
Julián Arcas: Vísperas sicilianas

Julián Arcas: Polaca fantástica

Julián Arcas: La saltarina

Julián Arcas: Fantasía sobre motivos heterogéneos

Julián Arcas: Preludio en re

Julián Arcas: Lucía de Lammermoor. Escena y aria final

Julián Arcas: Colleción de tangos

Julián Arcas: Fantasía

Julián Arcas: Soleares

Julián Arcas: Fausto

Julián Arcas: Estudio 2°
Disk 3
Julián Arcas: Tanda de valses

Julián Arcas: Andante

Julián Arcas: Fantasía sobre el paño, o sea punto de la Habana

Julián Arcas: Rondó

Julián Arcas: Los panaderos

Julián Arcas: La rubia de los lunares

Julián Arcas: Trovador. Aria y miserere

Julián Arcas: Gaetana

Julián Arcas: Il bacio

Julián Arcas: Marcha funebre de Thalberg

Julián Arcas: Jota aragonesa

Julián Arcas: Andante y estudio de prudent

Julián Arcas: Estudio 1°

Julián Arcas: El postillón de la rioja

Julián Arcas: Soleá

Julián Arcas: Jaleo por punto de fandango
Disk 4
Julián Arcas: Polonesa

Julián Arcas: Preludio de la ópera Guillermo Tell

Julián Arcas: Minueto en mi menor

Julián Arcas: Minueto en sol

Julián Arcas: Güayabito

Julián Arcas: La favorita

Julián Arcas: Sinfonia de la opera Marta

Julián Arcas: Norma

Julián Arcas: El incognito

Julián Arcas: Sueño de rosellen

Julián Arcas: El fagot

Julián Arcas: Rigoletto

Julián Arcas: Ballo in Maschera

Julián Arcas: La batalla