Arensky: Piano Trios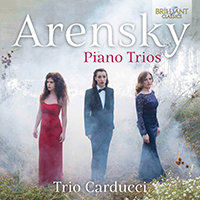 | | |
| --- | --- |
| Composer | Anton Arensky |
| Artist | Trio Carducci |
| Format | 1 CD |
| Cat. number | 95636 |
| EAN code | 5028421956367 |
| Release | December 2018 |
About this release
Two masterpieces of Russian romantic-era chamber music performed by a talented young Italian trio.

The chamber music of Anton Arensky (1861-1906) embodies a happy and inspired synthesis of two contrasting sound-worlds: the peculiarly Russian language of Rimsky-Korsakov and the 'Mighty Handful', and that of Western-European accents exemplified in the sphere of chamber music by Brahms, but filtered through Tchaikovsky's West-leaning approach.

It's Mendelssohn who comes to mind in the vernal surge of energy that opens the First Piano Trio which is Arensky's best-known work beyond his piano music. The sombre third-movement elegy is a tribute to the cellist Davidoff, and accordingly opens with a soulful cello melody, before an impassioned finale banishes all introspection.

Composed over a decade later in 1905, the Second Trio replaces such youthful energy for a more concise and refined harmonic idiom that even brings to mind Gabriel Fauré at points such as the polished, elusive second-movement Romance. After a delightfully capricious Scherzo full of subtle rhythmic shifts and conversational hesitations, the Second Trio concludes with an expansive set of variations on a noble theme in Tchaikovskian vein.

Formed in 2016, the Carducci Trio has already won praise for its accomplished
performances of Russian music in particular, having recently made a tour of China and given London performances at the Royal Albert Hall (Elgar Room) and Academy of St Martin in the Fields. This is the Trio's debut recording.

Anton Arensky was born in 1861 into a music-loving family. He showed a precocious talent at an early age and he enlisted at the St. Petersburg Conservatory, where Rimsky-Korsakov was his teacher. He became a versatile artist: pianist, composer, conductor, teacher, first in St Petersburg, then at the Conservatory in Moscow, where his pupils included Rachmaninoff, Scriabin and Glière. Arensky's musical style is a happy mix of the nationalistic school of Rimsky-Korsakov and the Group of Five, and the West-oriented style of Tchaikovsky. His two piano trios are delightful works, brimming with sumptuous romantic melodies and harmonies, bedded in skillful and brilliant virtuosity.
This is the debut CD of the Trio Carducci, three young female musicians. Their mentor Konstantin Bogino, pianist of the famous Tchaikovsky Trio, said about them: "The Trio Caducci offers a creative approach to everything it plays, and has an impressively rich sound. The performances are sincere, full of intensity and great imagination. Each of these young women has a high instrumental and artistic level, and together they are even stronger".
Track list
Disk 1
Anton Arensky: Piano Trio No.1 in D Minor, Op. 32: I. Allegro moderato

Anton Arensky: Piano Trio No.1 in D Minor, Op. 32: II. Scherzo. Allegro molto

Anton Arensky: Piano Trio No.1 in D Minor, Op. 32: III. Elegia. Adagio

Anton Arensky: Piano Trio No.1 in D Minor, Op. 32: IV. Finale. Allegro non troppo

Anton Arensky: Piano Trio No. 2 in F Minor, Op. 73: I. Allegro moderato

Anton Arensky: Piano Trio No. 2 in F Minor, Op. 73: II. Romance. Andante

Anton Arensky: Piano Trio No. 2 in F Minor, Op. 73: III. Scherzo. Presto

Anton Arensky: Piano Trio No. 2 in F Minor, Op. 73: VI. Tema con variazioni. Allegro non troppo