Armenian Composers: Art Songs and Piano Music by Melikian, Mansurian and Avenesov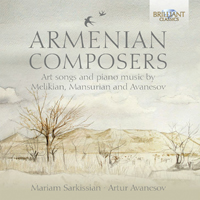 Download booklet
Composer
Ramanos Melikian
Artist
Mariam Sarkissian mezzo-soprano
Artur Avanesov piano
Format
1 CD
Cat. number
95244
EAN code
5028421952444
Release
November 2015
About this release
Although Aram Khachaturian may be one of Armenia's most famous composers, and certainly the best known of the 20th century, the vast wealth of compositional talent from that country by no means stops with him. This unusual and engrossing release showcases a selection of highly diverse songs by three of his compatriots. Beginning with Romanos Melikian's Emerald Songs, with their Ravel-like harmonies and colourful modality, it also features the transgressive composer Tigran Mansurian, whose alternative style took inspiration from pop music of the 1960s as well as classical postmodern genres. Moving right through to the present day, the release concludes with works by Artur Avanesov, a young Armenian born in Russia. Keen to avoid stylistic unity, the Feux follets, a work still in progress, comprise a selection of songs with no thread to pull them together, the emphasis – according to the composer – being placed on a collective 'creative past'.

The multi-talented Avanesov is the pianist as well as one of the featured composers on this release. Together with mezzo soprano Mariam Sarkissian, a highly acclaimed Russian singer based in France, the duo have carefully selected an enchanting and compelling assortment of songs, giving the listener a fascinating insight into Armenia's rich cultural tapestry.

This year's commemoration of the Armenian Genocide has drawn attention to the rich cultural heritage of this "hidden" country, with its unique language, script and folklore.
This new recording presents three Armenian composers of three generations.
The song cycle "Emerald Songs" by Romanos Melikyan is written on words by 8 contemporary Armenian poets, in a spicy Ravelian language inspired by Armenian folk music. Mansuryan is of the same generation and blood group of Schnittke, Gubaidulina, Pärt and Kancheli. Young Avanesov's piano cycle "Feux follets" is in postmodern style, free and associative.
Sung with great intensity and feeling for the idiom by Armenian mezzo soprano Mariam Sarkissian, who recently received an "Orphée d'or" for her CD of vocal works by Tchaikovsky and Cui.

Other information:
Recorded in Armenia in 2014.
Contains liner notes written by the artists especially for this release.
Contains biographies of the artists.
Sung texts available at www.brilliantclassics.com.
Listening
Track list
Disk 1
Ramanos Melikian: Emerald Songs: I. Black Partridge

Ramanos Melikian: Emerald Songs: II. The Night Tumbled Down

Ramanos Melikian: Emerald Songs: III. The Child and the Creek

Ramanos Melikian: Emerald Songs: IV. Don't Cry

Ramanos Melikian: Emerald Songs: V. You Sparkle

Ramanos Melikian: Emerald Songs: VI. I Am a Nightingale

Ramanos Melikian: Emerald Songs: VII. Pure of the Purest Gold

Ramanos Melikian: Emerald Songs: VIII. Lullaby

Tigran Mansurian: Lullaby for a Prince

Tigran Mansurian: Four Hayrens: I. Prophet David

Tigran Mansurian: Four Hayrens: II. Soul of My Soul

Tigran Mansurian: Four Hayrens: III. I Was of Those Birds

Tigran Mansurian: Four Hayrens: IV. When I Came into This World

Tigran Mansurian: Three Romances: I. Little Madrigal

Tigran Mansurian: Three Romances: II. Echo

Tigran Mansurian: Three Romances: III. Barrio de Córdoba

Artur Avanesov: Feux follets: I. If You Love Me

Artur Avanesov: Feux follets: II. Des fleurs et des abîmes

Artur Avanesov: Feux follets: III. Shivers of Autumn

Artur Avanesov: Feux follets: IV. Kinderstück

Artur Avanesov: Feux follets: V. Du bist die Ruh

Artur Avanesov: Feux follets: VI. You Are More Beautiful Than the Cedars of Lebanon