Arte de Tanger: Gonzalo de Baena's New Keyboard Method (1540)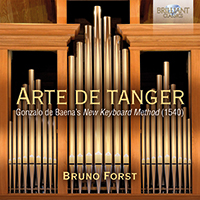 Download booklet
| | |
| --- | --- |
| Artist | Bruno Forst organ |
| Format | 2 CD |
| Cat. number | 95618 |
| EAN code | 5028421956183 |
| Release | February 2018 |
About this release
Gonzalo de Baena's Arte novamente inventada pera aprender a tãger (Newly devised method for learning to play) was the first book of keyboard music ever printed on the Iberian Peninsula. Lost for centuries, it was rediscovered in 1992, and early music keyboardist Bruno Forst has since painstakingly decoded its unique tablature system and edited a modern edition, published in 2012.

Baena compiled mostly polyphonic vocal music by various composers, from the old Flemish Masters he himself studied, to contemporaries thriving alongside him in the rich musical environment of Spain under the Catholic Monarchs, along with pieces of his own and several by his son, Antonio. To disseminate this music in arrangements for keyboardists, professional or amateur, Baena transcribed them in an easy to read tablature notation and ordered the pieces in increasing level of difficulty.

While his collection, printed in 1540, was pedagogical in intent, Baena nevertheless left a valuable historic document to posterity, creating a faithful depiction of the place and time that gave birth to later masters such as Antonio de Cabezón.

In 1992 a (misfiled) manuscript was discovered in the Madrid Palacio Real Library: the Arte Novamente Inventada pera aprender a tager (Newly devised method for learning to play), which proved to be the first book of keyboard music to be printed in the Iberian Peninsula, published in 1540. The author, Gonzalo de Baena, was a Castillian musician in the service of the King of Portugal.
The book is a method designed to teach amateurs without theoretical knowledge to play a keyboard instrument through the use of a simple tablature that represents the notes by letters. The pieces consist primarily of transcriptions of vocal works, but also purely instrumental music is included. It is a valuable historical document, faithfully depicting the cultural and musical environment of early 16-th century Iberia. Composers included are Ockeghem, Obrecht, Desprez, Compère, Brunel, Agricola, Gascogne.
Organist and musicologist Bruno Forst has painstakingly deciphered and prepared the manuscript, and performs it complete on this new recording, adding suitable embellishments in the 16-th century style: clearly a labour of love, bringing to life this musical treasure after 472 years!

Recorded in Zaragoza (July 2013) and Madrid (April 2014), Spain.
Booklet contains detailed notes on this extraordinary early Iberian keyboard tablature collection, as well as information and specifications for each organ.
Full organ registrations for each track available at www.brilliantclassics.com.
Listening
Track list
Disk 1
Cristóbal De Morales: In diebus illis

Juan de Urreda: Two verses of a Magnificat

Joao de Badajoz: Pange lingua

Juan Anchieta: Congratulamini mihi omnes

Anonymous: Kyrie eleison de nuestra señora

Francisco de Peñalosa: Unica est columba mea

Francisco de Peñalosa: Kyrie eleison 4º tono

Francisco de Peñalosa: Kyrie eleison 8º tono

Anonymous: Conditor alme siderum

Pedro de Escobar: Clamabat autem mulier cananea

Pedro de Escobar: No title

Pedro de Escobar: Patrem omnipotentem

Anonymous: Jesu nostra redemption

Juan García de Basurto: Deposuit potentes

Gonzalo de Baena: Si dedero

Gonzalo de Baena: Ave maris stella

Antonio de Baena: Agnus dei

Antonio de Baena: Kyrie eleison

Antonio de Baena: Sanctus

Antonio de Baena: Pleni sunt

Antonio de Baena: Kyrie eleison 6º tono

Antonio de Baena: Sanctus
Disk 2
Johannes Ockeghem: Domine deus

Loyset Compère: 1º tono

Loyset Compère: Credo

Loyset Compère: Et iterum venturus est cum Gloria

Josquin Desprez: Benedictus

Josquin Desprez: Pleni sunt

Josquin Desprez: Agnus dei

Jakob Obrecht: Benedictus

Johannes Ockeghem: Sanctus

Josquin Desprez: Benedictus. Mass fortuna desperate

Josquin Desprez: Pleni sunt

Jakob Obrecht: Si sumpsero penas meas

Josquin Desprez: In pace, in idipsum dormiam

Jakob Obrecht: Si dedero

Josquin Desprez: Gloria

Josquin Desprez: Agnus dei

Josquin Desprez: Sanctus

Josquin Desprez: Patrem omipotentem

Antoine de Févin: Agnus dei

Antoine Brumel: Mater patris

Matthieu Gascogne: Agnus dei

Firmin Caron: Hélas que pourra devenir

Alexander Agricola: Motete del ciego