Asencio: Complete Guitar Music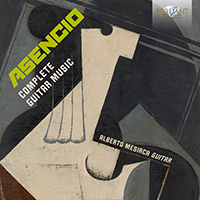 Download booklet
| | |
| --- | --- |
| Composer | Vicente Asencio |
| Artist | Alberto Mesirca guitar |
| Format | 1 CD |
| Cat. number | 95806 |
| EAN code | 5028421958064 |
| Release | January 2020 |
About this release
As a teacher of piano, theory and composition at the conservatoire in Valencia, Vicente Asencio (1908-1979) played an instrumental part in the success of Narciso Yepes and countless other influential Spanish musicians in the middle of the 20th century. His role as a teacher has unfairly overshadowed his own creative output, which now justly takes the spotlight in the talented hands of the Italian guitarist Alberto Mesirca.

Asencio's output for guitar has previously been investigated on record, including by the young Elise Neumann on Brilliant Classics (BC9287) but this is the first-ever album dedicated to his guitar music. Perhaps unsurprisingly, given his established reputation as a teacher, it reveals a composer of considerable craft and fluency, entirely at home in his adopted medium. Valencian born and bred, Asencio composed a Suite of Homages that became a calling-card for Yepes and other Spanish guitarists looking to play music of their own era that had something distinctive to say about modern Spain to an international audience. In turn, the homages pay tribute to Scarlatti, de Falla and Lorca, and between them they sum up the ingredients of Asencio's style: the ruminative grace of the Sonatina, the evocative melancholy of the Elegia, and the fiery sensuality of the Tango.

Dating from 1965, Collectici íntim was a second commission from Yepes, a character suite of portraits in the manner of the personalities so wittily drawn by Couperin in his keyboard pieces. Suite mistica derives from a piece commissioned by Spanish radio to mark Holy Week in 1971. Andres Segovia was taken with the work, Dipso ('I thirst' – one of the Seven Last Words) that he asked Asencio for two companion pieces, which were written on the subject of the Agony in the Garden and then the rushing wind of Pentecost.

Finally, from 1971, there is Asencio's masterpiece for the guitar, the Suite Valenciana in which he celebrates his own cultural heritage in three deceptively simple movements, titled Prelude, Dance and Song in Basque, that are infused with the freshness typical of Valencian music, even though there are no direct references to folk melodies. Asencio's guitar output is small but finely honed, and recorded here with intense sympathy by Alberto Mesirca.

Vicente Asencio (1908-1979), despite not playing the guitar, gained fame and prestige in the musical world thanks to his guitar compositions. He was basically a distinguished pianist - coming from the Marshall Academy in Barcelona, in the shadow of the great Enrique Granados. As a composer, he deliberately chose to link himself to the musical tradition of his Valencian region. He was a highly cultured artist, with an open mind and no prejudices, who did not deny his attention to the "new" music of his era.
Asencio's affinity for the guitar came from the young Narcio Yepes, who came to him for music lessons. Both musicians inspired each other, technically and musically.
The complete guitar works by Asencio: suites of highly characteristic and atmospheric pieces, evoking the sounds of his native country.
Played with great affection and technical mastery by Alberto Mesirca, one of the foremost Italian guitarists of today. He successfully recorded for Brilliant Classics works by Sanz, Regondi, Gilardino and others.
Listening
Track list
Disk 1
Vicente Asencio: Collectici Íntim: I. La serener

Vicente Asencio: Collectici Íntim: II. La joia

Vicente Asencio: Collectici Íntim: III. La calma

Vicente Asencio: Collectici Íntim: IV. La gaubança

Vicente Asencio: Collectici Íntim: V. La frisança

Vicente Asencio: Cançó d'hivern

Vicente Asencio: Suite de homenajes: I. Sonatina a Domenico Scarlatti

Vicente Asencio: Suite de homenajes: II. Elegía a Manuel de Falla

Vicente Asencio: Suite de homenajes: III. Tango de la casada infiel a Federico García Lorca

Vicente Asencio: Suite Valenciana: I. Preludi

Vicente Asencio: Suite Valenciana: II. Cançoneta

Vicente Asencio: Suite Valenciana: III. Dansa

Vicente Asencio: Danza Valenciana

Vicente Asencio: Suite mistica: I. Getsémani

Vicente Asencio: Suite mistica: II. Dipsô

Vicente Asencio: Suite mistica: III. Pentecostés