Aubert: Piano Works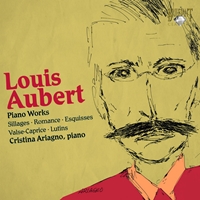 | | |
| --- | --- |
| Composer | Louis Aubert |
| Artist | Cristina Ariagno piano> |
| Format | 1 CD |
| Cat. number | 9064 |
| EAN code | 5029365906425 |
| Release | November 2008 |
About this release
Louis Aubert was born in Brittany in 1877 and soon showed promise as a singer, but his real skill was as a pianist. He studied with Fauré, and Maurice Ravel was another fellow student with whom he would develop a lasting friendship. Later, Ravel would choose his old friend to give the premiere of his Valses nobles et sentimentales.

By no means a prolific composer, Aubert's slim output contains some fascinating music, including a powerful Fantasie for piano and orchestra, and for voice and orchestra Poèmes arabes, La Fôret bleue, Feuille d'images, Offrande and Cinéma.

He died in 1968 having succeeded Florent Schmitt as director of the Société Nationale de Musique. Sadly his death went almost without comment in the French press. In the age of Boulez, he was viewed as a relic from a long-vanished world. This was a great shame, for his output contains works of high quality that repay discovery, and this Brilliant Classics release provides a superb opportunity to do so. It includes his masterpiece for piano, Sillages, which produces orchestral sonorities from the piano.

Other information:
- Recorded in 2005.
- Includes booklet notes on both the composer and the works.
- Rare repertoire, of interest to lovers of the piano.
Track list
Disk 1
Sillages: I. Sur le rIVage

Sillages: II. Socorry

Sillages: III. Dans La nuit

Deux Pièces En Forme de Mazurka, Op. 12: I. No. 1: Lent

deux Pièces En Forme de Mazurka, Op. 12: No. 2: Animé

Romance, Op. 2

Trois Esquisses, Op. 7: I. Prélude

Trois Esquisses, Op. 7: II. Nocturne

Trois Esquisses, Op. 7: III. Valse

Valse-Caprice, Op. 10

Lutins, Op. 11

Esquisse Sur Le Nom de Fauré