Ave Verum: Sacred Choral Favourites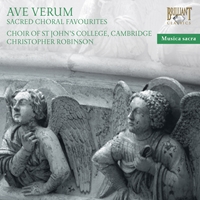 Composer
Various Composers
Artist
Choir of St John's College, Cambridge
Christopher Robinson conductor
Format
1 CD
Cat. number
9148
EAN code
5029365914826
Release
July 2009
About this release
A collection of everyone's favourite sacred choral music, including Mozart's Ave verum corpus, Faure's Cantique de Jean Racine and Franck's Panis angelicus. In addition to these famous works is music by Bruckner, Stanford, Grieg, Byrd, Mendelssohn, Lotti, Rachmaninoff, Elgar and Brahms.

Other information:
- Music to soothe the soul.
- Recorded in 1996.
- Sung texts included.
Track list
Disk 1
Insanae et vanae curae, Hob. XXI:13c

Cantique de Jean Racine, Op. 11

Thou Wilt Keep Him in Perfect Peace

A German Requiem, Op. 45: How Lovely Are Thy Dwellings

Ave verum corpus, K. 618

Thou, O God, Art Praised

Ave verum corpus, Op. 2

Locus iste, WAB 23

Bring Us, O Lord

Liturgy of St John Chrysostom, Op. 31: Hymn of the Cherubim

Ave verum corpus

Petite messe solennelle: O salutaris hostia

Ave maris stella, EG 150

Crucifixus

Denn er hat seinen, MWV B 53

Ave Maria

Mass, Op. 12: Panis angelicus

O for a Closer Walk with God

Requiem: Pie Jesu