Bach: Concertos for Recorder, Vol. 2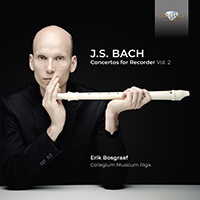 Composer
Johann Sebastian Bach
Artist
Erik Bosgraaf recorder & direction
Collegium Musicum Riga
Agnese Kannina concertmaster & solo violin
Maris Kupcs harpsichord & organ
Format
1 CD
Cat. number
96394
EAN code
5028421963945
Release
October 2022
About this release
With a catalogue of acclaimed albums for Brilliant Classics stretching well into double figures, the Dutch recorder virtuoso Erik Bosgraaf goes back to Bach for his latest release, with an album of arrangements as imaginatively conceived and as stylishly executed as Volume 1 (94296), released in 2011, which won glowing reviews from the international music press.

Bach wrote as inventively and idiomatically for the recorder throughout his career as he did for every other instrument at his disposal, but he left no concertos in which the instrument takes the spotlight. Thus Bosgraaf and his colleagues have attempted to answer the question, what might Bach have done, or could he have done, if he had written concertos for the recorder?

They have looked for inspiration to the cantatas, and not only those where Bach composed memorable recorder parts such as the Actus Tragicus. For example, the album's opening G major concerto is compiled from a tenor aria of dazzling runs in BWV74, followed by the sorrowful opening Sinfonia of BWV12 (in which the oboe originally takes the starring role), and then another tenor aria from BWV81 which graphically illustrates the foaming waves of a stormy sea.

In both aria transcriptions, Bosgraaf's recorder takes over the vocal line, and paints vivid sound pictures with his remarkable palette of tone colours. A second concerto in D major draws its music from similar sources, followed by a Partita which the Dutch musicologist has arranged from movements of the Fifth French Suite. A further concerto is supplied by a relatively 'straight' transcription of the familiar (but sublime) A minor Concerto for violin, BWV1041.

In between and around these inventive 'new' concertos, Erik Bosgraaf and his colleagues offer contrasting standalone points of reflection with chorale and sinfonia transcriptions such as the spellbinding opening movement of Wir danken dir BWV29, which Bach himself arranged from the opening Preludio of the E minor Partita for solo violin. There is every good reason to follow Bach's example and arrange freely in celebration both of his unique powers of invention and expression, and of performers in full command of their recreative gifts.

When Johann Sebastian Bach (1685-1750) in 1723 arrived in Leipzig to take on the post of Kantor of the Thomaskirche he already composed an immense amount of mostly instrumental music during his previous assignments. Of this music he readily made use in his new job, arranging concerto movements as sinfonias for cantatas and even for arias. Present-day musicians may feel free to use and reuse Bach's music as he did himself, the result will always be to testify the immense genius that Bach was.
On this new recording Erik Bosgraaf and musicologist Thiemo Wind have given their creativity free reign in compiling "new" instrumental concertos based on instrumental ánd vocal works by Bach, obviously a labor of love.
Erik Bosgraaf is one of the most remarkable recorder players of today. Equally at home in early as well as contemporary music he extends the limits of his instrument, achieving an extreme range of expression and unheard-of effects. His substantial discography for Brilliant Classics met with universal high critical acclaim: "Erik Bosgraaf is an extraordinary recorder player, and this is as fine a recording of music by one of the giants of the Baroque period as there is… The approach, in fact, is simply perfect, and one's delight does not slacken for a minute of the 75-minute recital.' Fanfare (Suites and Concertos, 95248), 'Delightful masterpieces in one place, in technically pristine performances in the Brüggen/Dutch style, on copies of period instruments. Bosgraaf plays brilliantly, conducts his excellent 13-member ensemble, and clearly relishes the sparkling interplay with celebrated colleagues.' Fanfare (Double Concertos, 95249), 'Bosgraaf is utterly superb, with a clear tone and dexterity that has to be heard to be believed… This is precisely the sort of recording that one needs to have in one's collection, as it will clearly knock your socks off.' Fanfare (Fantazias, 95249).
Listening
Track list
Disk 1
Johann Sebastian Bach: Aria Concerto in G major: I. Allegro, BWV 74/5

Johann Sebastian Bach: Aria Concerto in G major: II. Adagio assai, BWV 12/1

Johann Sebastian Bach: Aria Concerto in G major: III. Allegro, BWV 81/3

Johann Sebastian Bach: Aria in G major, cantabile BWV 120/4: Gott, man lobet dich in der Stille

Johann Sebastian Bach: Adagio in B Minor, BWV 249/2, Easter Oratorio

Johann Sebastian Bach: Aria Concerto in D Major: I. Allegro, BWV 18/5

Johann Sebastian Bach: Aria Concerto in D Major: II. Siciliano, BWV 29/5

Johann Sebastian Bach: Aria Concerto in D Major: III. Allegro, BWV 66/3

Johann Sebastian Bach: Sinfonia in C Minor, BWV 21/1: Ich hatte viel Bekümmernis

Johann Sebastian Bach: Partita in C Major after French Suite No. 5, BWV 816: I. Allemande

Johann Sebastian Bach: Partita in C Major after French Suite No. 5, BWV 816: II. Courante

Johann Sebastian Bach: Partita in C Major after French Suite No. 5, BWV 816: III. Sarabande

Johann Sebastian Bach: Partita in C Major after French Suite No. 5, BWV 816: IV. Bourree

Johann Sebastian Bach: Concerto in A Minor, BWV 1041: I. Allegro

Johann Sebastian Bach: Concerto in A Minor, BWV 1041: II. Andante

Johann Sebastian Bach: Concerto in A Minor, BWV 1041: III. Allegro assai

Johann Sebastian Bach: Sinfonia in E Minor, BWV 4/1: Christ lag in Todesbanden

Johann Sebastian Bach: Sinfonia in D Major. Presto, BWV 29/1: Wir danken dir, Gott, wir danken dir

Johann Sebastian Bach: O Mensch, bewein' dein' Sünde gross, Chorale prelude, BWV 622