Bach Family: Organ Music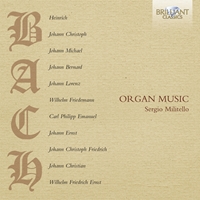 Composer
Carl Philipp Emanuel Bach, Heinrich Bach, Johann Christian Bach, Johann Christoph Bach, Johann Michael Bach, Johann Bernhard Bach, Johann Lorenz Bach, Johann Ernst Bach, Johann Christoph Friedrich Bach, Wilhelm Friedemann Bach, Wilhelm Friedrich Ernst Bach
Artist
Sergio Militello
at the Reil organ (1986) in the vestry of Melk Abbey, Austria
Format
1 CD
Cat. number
94483
EAN code
5028421944838
Release
March 2013
About this release
The most famous scion of a musical family which stretched across at least ten generations, Johann Sebastian Bach had a very strong sense of history, tradition, and his evolving place in it, and was instrumental in curating and adding to the library of the music of the Bachs, which was known as the Altbachisches Archiv. This archive mostly comprises vocal music; now the Italian organist has created a fascinating instrumental counterpart, with short organ works by ten members of the family ranging from Heinrich Bach (1615–1692) to Wilhelm Friedemann Ernst Bach (1779–1845). And so, during the course of the disc, we move, always guided by the constraints of Protestant thought and liturgy, through austere low Baroque chorales to spectacular, late-Classical fantasias.

Militello has chosen an organ of ideal size and disposition for this repertoire: a new instrument, built to Baroque specifications within the vestry of the magnificent Lower Austrian Benedictine Abbey of Melk, overlooking the Danube on a rocky outcrop and providing a dramatic backdrop to what is already music of continually shifting rhetoric and invention.

Other information:
- The great Johann Sebastian received his musical genes from a widespread dynasty of musical craftsmen, teachers, performers, composers, bearing the name of Bach. This CD features not less than 10 composers from the Bach family, ranging from Heinrch Bach (1615-1692) to Friedemann Ernst Bach (1779-1845), without including the more famous offspring of the master (C.P.E., J.C. and W.F. Bach).
- Played on a beautiful new organ in the Chapel of the famous monastery of Melk in Austria.
- Liner notes written by the artist, information on the organ included.
Track list
Disk 1
Heinrich Bach: Chorale 'Erbarm dich mein, o Herre Gott' (Psalm 51)

Johann Christoph Bach: Prelude and Fugue in E-Flat Major: I. Prelude

Johann Christoph Bach: Prelude and Fugue in E-Flat Major: II. Fuge

Johann Michael Bach: Chorale 'Wenn mein Stündlein vorhanden ist'

Johann Bernhard Bach: Partita on 'Du Friedefürst, Herr Jesu Christ': I. Chorale I

Johann Bernhard Bach: Partita on 'Du Friedefürst, Herr Jesu Christ': II. Variation I

Johann Bernhard Bach: Partita on 'Du Friedefürst, Herr Jesu Christ': III.Chorale II

Johann Bernhard Bach: Partita on 'Du Friedefürst, Herr Jesu Christ': IV. Variation II

Johann Bernhard Bach: Partita on 'Du Friedefürst, Herr Jesu Christ': V. Chorale III

Johann Lorenz Bach: Fugue in D Major

Wilhelm Friedemann Bach: Fugue in C Minor

Carl Philipp Emanuel Bach: Rondo in G Major

Johann Ernst Bach: Fantasy and Fugue in F Major: I. Fantasy

Johann Ernst Bach: Fantasy and Fugue in F Major: II. Fugue

Johann Christoph Friedrich Bach: Prelude in E Minor

Johann Christian Bach: Fugue on the Letters of the Name BACH

Wilhelm Friedrich Ernst Bach: Toccata in C Major