Barrios: Complete Guitar Music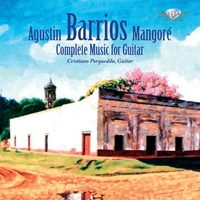 | | |
| --- | --- |
| Composer | Agustín Barrios Mangoré (1) |
| Artist | Cristiano Porqueddu guitar |
| Format | 6 CD |
| Cat. number | 9204 |
| EAN code | 5029365920421 |
| Release | November 2010 |
About this release
Brilliant Classics is proud to bring to the market this unique 6-CD Set dedicated to the original music for solo guitar of the Paraguayan composer Agustin Barrios Mangoré (1885 - 1944).
Barrios is still revered in Paraguay, where he is seen as one of the greatest musicians of all time by many. John Williams has said of Barrios: "As a guitarist/composer, Barrios is the best of the lot, regardless of era. His music is better formed, it's more poetic, it's more everything! And it's more of all those things in a timeless way"

Over Six and half hours of music recorded with the latest digital technology, more than 110 tracks that shape the most comprehensive recording dedicated to the original music of guitarist-composer best known in South America.

The set includes several "World Premiere Recordings" and recent discoveries, including 'Leyenda Guaraní', 'Rancho Quemado', 'Isabel', 'Bicho Feo' and many others.
Cristiano Porqueddu was born at Nuoro (Sardinia, Italy) on 1975 and begun the study of the classical guitar at the age of seven, having his father as a teacher. After graduating at the Conservatory with the highest marks, he was awarded many prizes in national and international competitions and attended several international courses and masterclasses, with the most important musicians, among which the guitarist composer Angelo Gilardino. From 1997 to 2003 he studied at the Superior Academy of Music 'Perosi', where he achieved the Academic Diploma and the Virtuosity Diploma with the score of excellence.
Track list
Disk 1
A mi madre

Abri la puerta mi china

Aconquija

Aire de Zamba

Aire Popular paraguayo

Aire Sureno

Aires Andaluces

Aires Criollos

Aires Mudejares (Apuntes)

Allegro sinfonico

Altair

Arabescos

Armonias de America

Bicho Feo (world première recording)

Cancion de la Hilandera

Capricho Espanol

Choro da saudade
Disk 2
Confesion

Contemplacion

Cordoba

Cueca

Danza en re menor

Danza Guaranì

Danza Paraguaya

Diana Guaranì (world première recording)

Dinora

DIVagacion en imitacion al Violin

DIVagaciones Criollas

Don Perez Freire

El sueno de la munequita

Escala y preludio

Estilo - Chinita

Estilo Uruguayo

Estudio de concierto

Estudio de concierto No.2
Disk 3
Estudio del Ligado (A Major)

Estudio del Ligado (D Minor)

Estudio en arpegio

Estudio en si menor

Estudio en sol menor

Estudio inconcluso

Estudio No.3

Estudio No.6

Estudio para ambas manos

Estudio Vals

Fabiniana

Gavota al estilo antiguo

Grano de arena (world première recording)

Habanera

Humoresque

Isabel (world première recording)

Jha Che Valle

Jota

Julia Florida

Junto a tu corazon

La bananita
Disk 4
La Catedral 1 - Preludio

La Catedral 2 - Andante religioso

La Catedral 3 - Allegro solemne

La samaritana

Las Abejas

Leyenda de Espana

Leyenda Guaranì (world première recording)

London Carapé

Luisito

Luz Mala

Mabelita

Madrecita

Madrigal Gavota

MaXIXe

Mazurka apassionata

Medallon antiguo

Milonga

Minueto en do

Minueto en la No 1

Minueto en la No 2
Disk 5
Minueto en mi

Minueto en Si Mayor

Oracion por todos

Oracion

Pais de Abanico

Pepita

Pericon

Preludio en Do mayor

Preludio en do menor

Preludio en la menor

Preludio en mi menor

Preludio en Mi

Preludio en re menor

Preludio Op.5 No.1

Rancho Quemado (world première recording)

Romance de la India Muerta (world première recording)

Romanza en imitacion al Violoncello

Sargento Cabral

Sarita

Serenata Morisca
Disk 6
Tango No.2

Tarantella

Tua Imagem

Un Sueno en la Floresta

Una limosna por el amor de Dios

Vals di Primavera

Vals Op.8 No.3

Vals Op.8 No.4

Vals Tropical

Variaciones sobre el Punto Guanacasteco

Variaciones sobre un tema de Tarrega

vidalita

vidalita con variaciones

villancico de Navidad