Bartók: String Quartets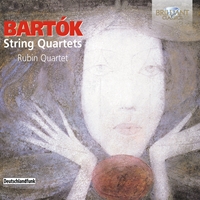 Composer
Béla Bartók
Artist
Rubin Quartet:
Irmgard Zavelberg violin I
Tinta Schmidt von Altenstadt violin II
Sylvie Altenburger viola
Ulrike Zavelberg cello
Format
2 CD
Cat. number
6901
EAN code
5029365690126
Release
January 2009
About this release
Complete Reactions to the overwhelming influence of Wagner towards the end of the 19-th century demanded a radical change in musical style, form and content. In France, the Impressionists created a new feeling of sensibility of orchestral palette, in Vienna, Schoenberg and his followers developed a system which abandoned conventional tonality. In Hungary, the nationalist Bela Bartok integrated the influence of native folk music tunes and rhythms way beyond anything previously attempted, thus creating a highly complex and personal style.

Bartok became one of the most influential composers of the 20-th century, and his String Quartets represent the summit of his art. The six quartets show his development from late romantic to experimentalist, expressing everything he had to say in melodic, rhythmical and structural sense. The quartets became cornerstones of the literature, and form a huge challenge to every selfrespecting quartet to perform. The Rubin Quartet occupied themselves for years with these masterpieces, studying and analysing them to the bone, and presenting here a superb recording!

Another gem in the rich String Quartet repertoire of Brilliant Classics.
Track list
Disk 1
Béla Bartók: String Quartet No. 1, Op. 7: Lento

Béla Bartók: String Quartet No. 1, Op. 7: Allegretto

Béla Bartók: String Quartet No. 1, Op. 7: Introduzione (allegro) - allegro vivace

Béla Bartók: String Quartet No. 2, Op. 17: Moderato

Béla Bartók: String Quartet No. 2, Op. 17: Allegro

Béla Bartók: String Quartet No. 2, Op. 17: Lento

Béla Bartók: String Quartet No. 4: Allegro

Béla Bartók: String Quartet No. 4: Prestissimo con sordino

Béla Bartók: String Quartet No. 4: Non troppo lento

Béla Bartók: String Quartet No. 4: Allegretto

Béla Bartók: String Quartet No. 4: Allegro molto
Disk 2
Béla Bartók: String Quartet No. 3: Prima parte: Moderato

Béla Bartók: String Quartet No. 3: Seconda parte: Allegro

Béla Bartók: String Quartet No. 3: Ricapitulazione della prima parte: Moderato - allegro molto

Béla Bartók: String Quartet No. 5: Allegro

Béla Bartók: String Quartet No. 5: Adagio molto

Béla Bartók: String Quartet No. 5: Scherzo, alla Bulgarese

Béla Bartók: String Quartet No. 5: Andante

Béla Bartók: String Quartet No. 5: Finale, allegro vivace 7

Béla Bartók: String Quartet No. 6: Mesto, vivace

Béla Bartók: String Quartet No. 6: Mesto, Marcia

Béla Bartók: String Quartet No. 6: Mesto, Burletta

Béla Bartók: String Quartet No. 6: Mesto