Bartolucci: Chamber Music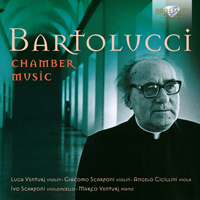 Composer
Domenico Bartolucci
Artist
Marco Venturi piano
Luca Venturi violin
Giacomo Scarponi violin
Ivo Scarponi cello
Angelo Cicillin viola
Format
1 CD
Cat. number
95451
EAN code
5028421954516
Release
October 2017
About this release
Domenico Bartolucci was in some ways a 20th-century descendant of the liturgical musicians who composed for the church – and especially the Catholic church in Italy – during the 16th, 17th and 18th centuries. Born in 1917, he was appointed Master of Music at the Sistine Chapel in the Vatican, but he also taught at the Accademia Nazionale di Santa Cecilia in Rome. Most of his considerable output was, naturally, sacred in form and purpose: not only motets and mass settings but symphonic oratorios and even a sacred opera based on the life of the painter Brunelleschi. He was appointed a cardinal in 2010 and died in 2013.

Very little of his music has been recorded. Here, however, is a new studio recording of his chamber music, made in the Pontifical Institute for Sacred Music in Rome. Thegenre of Prelude, Intermezzo and Fugue implies a keyboard work of the type written by Bach or Franck; here, however, are two examples scored for violin/cello duet and for string trio, both demonstrating Bartolucci's considerable mastery of counterpoint. They are joined by a Piano Trio with a lovely second-movement Canzone, and a Violin Sonata of engaging richness: there are moments of great passion in the first movement, of elegiac delicacy in the slow movement, grotesque elements in the third movement, and a luminous fluidity reminiscent of Mozart in the finale.

The language itself is comparatively conservative – as one would expect from his training and position, Bartolucci was no Modernist – but also melodically appealing, and always sympathetically written for his forces. The instrumentalists recorded here have been performing Bartolucci's music for over two decades: they are uniquely authoritative interpreters of an idiom that prizes beauty above all things.

Domenico Bartolucci (1917-2013) received his education in Firenze and Rome, where his talent was soon recognized, and where eventually Pope Pius XII appointed him as Maestro Perpetuo of the Sistine Chapel. At the end of his life he was rewarded for his devotion and generosity for the Church by Pope Benedict XVI, who made him a Cardinal. Bartolucci was a prolific composer of both sacred music (oratorios, masses and motets) as well as instrumental music (symphonies, concertos, chamber music). This new recording contains works for strings: a violin sonata, a piano trio, a string trio and a duo for violin and cello. His style is surprising vital and vibrant, strong in rhythm, rooted in the romantic tradition with occasional hints of Neo-classicism: a real discovery!
Played with dedication and Spielfreude by Luca and Marco Venturi, Giacomo and Ivo Scarponi and Angelo Cicillini.
Track list
Disk 1
Trio in A Major for Violin, Cello and Piano: I. Allegro moderato

Trio in A Major for Violin, Cello and Piano: II. Canzone

Trio in A Major for Violin, Cello and Piano: III. Scherzo

Trio in A Major for Violin, Cello and Piano: IV. Rondò

Prelude, Intermezzo and Fugue in A Minor: I. Preludio – Mosso ma non troppo

Prelude, Intermezzo and Fugue in A Minor: II. Intermezzo – Moderato

Prelude, Intermezzo and Fugue in A Minor: III. Fuga – Mosso con brio

Prelude, Intermezzo and Fugue in C Minor: I. Preludio – Andante comodo

Prelude, Intermezzo and Fugue in C Minor: II. Intermezzo – Moderato

Prelude, Intermezzo and Fugue in C Minor: III. Fuga – Moderato poco mosso

Sonata in G Major: I. Allegro moderato

Sonata in G Major: II. Andante sostenuto

Sonata in G Major: III. Vivo e vigoroso

Sonata in G Major: IV. Allegro con brio