Basso Ostinato: Passacaglias & Chaconnes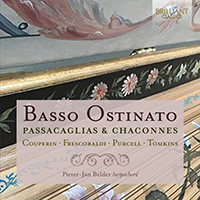 | | |
| --- | --- |
| Composer | Girolamo Frescobaldi, Henry Purcell, Johann Sebastian Bach |
| Artist | Pieter-Jan Belder harpsichord |
| Format | 1 CD |
| Cat. number | 95656 |
| EAN code | 5028421956565 |
| Release | February 2018 |
About this release
Ostinato translates in Italian as 'obstinate' or insistent; passacaglia derives from
the Spanish phrase 'passer la calle', to walk down the street; Chaconne is of
Latin-American origin, meaning unknown. Diverse etymologies, then, for one
of the fundamental structures in Western music, and one which became the foundation of most pop musics, when the ground bass evolved into the four-bar riff.

On this album Pieter-Jan Belder has assembled a collection of ostinato pieces, not necessarily chaconnes or passacailles, but all kinds of pieces that feature a certain obsessive repetition, usually on a harmonic basis. All of these pieces are in fact dances. His choice spans almost two centuries, from the simple tread of a Pass'e Mezzo by Giovanni PIcchi to the ornamented flourishes of Soler's Fandango.

Even the Fandango, however, is dwarfed by the D minor Chaconne with which J.S. Bach crowned his D minor Partita for solo Partita, here arranged for harpsichord by Pieter-Jan Belder, who follows in a notable line of transcribers of the piece including Brahms (for left-hand piano alone). The Chaconne is Bach's mature contribution (after his early, no less imposing C minor Passacaglia for organ) to the ostinato literature, forever touched by the death of his first wife, Maria Barbara, while he was away on business.

The gaunt harmonic progress and frank emotional impact of Bach's Chaconne has scarcely been matched by any other passacaglia or chaconne since then, but the form does tend to produce a mesmerising, hypnotic stillness from intense movement, like the passing of clouds across a sky. Henry Purcell was very fond of grounds, as he referred to ostinato basses, and used them many times in his theatre music, of which Dido's Lament is probably the most famous example – again to evoke great pathos – but Belder includes here A New Ground Z682, alongside another, vividly grave English example of the genre from Thomas Tomkins (a Ground, MB39).

Muffat's Passacaglia is commonly heard on the organ, but here it takes on a new life under Belder's fingers, with the elaborate fingerwork transferred to the more idiomatically apt harpsichord. Other diverting works on this unique collection include a Chaconne by the little-known Bernardo Storace (who may or may not be related to the Storace family known by Handel) and the crowning glory of Frescobaldi's output, which so influenced Bach, the 144 variations of his magnificent Cento partite sopra passacaglia.

Repetition is one of the most important elements of music. It plays a crucial role, in Gregorian Chant from the middle ages to the Minimal Music of the 20th century.
The Baroque dance forms Chaconne and Passacaglia feature a given, fixed bass motive over which a set of variations develops in an often improvisatory style. The music has an obsessive power and "drive", much in the way of 20th century jazz improvisations, increasing in tension, movement and motoric energy.
Pieter-Jan Belder, one of today's foremost harpsichordists, compiled his favourite Chaconnes, Passacaglias and other Ostinato pieces on this new recording, featuring his own transcription of the famous Chaconne for violin solo by Bach, the exhilarating Fandango by Soler and other works by Purcell, Marchand, Couperin, Frescobaldi, Muffat, Storace and Tomkins.
Track list
Disk 1
Giovanni Picchi: Pass'e mezzo

Henry Purcell: A New Ground, Z.T 682

Johann Sebastian Bach: Chaconne from Partita 2, BWV 1004

Thomas Tomkins: Ground, MB 39

Louis Marchand: Chaconne in D Minor

Louis Couperin: Prélude in C Major, M.9

Louis Couperin: Passacaille in C Major, M.27

Antonio Soler: Fandango in D Minor, R.146

Bernardo Storace: Ciaconna in C Major

Georg Muffat: Passacaglia in G Minor

Girolamo Frescobaldi: Cento partite sopra passacaglia, F 2.29