Bazzini: Complete Opera Transcriptions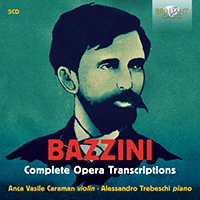 Download booklet
Composer
Antonio Bazzini
Artist
Anca Vasile Caraman violin
Alessandro Trebeschi piano
Format
5 CD
Cat. number
95674
EAN code
5028421956749
Release
November 2018
About this release
Unrivalled on disc: the first-ever complete set of Romantic-era transcriptions made by the most dazzling virtuoso of his day.

In the generation after Paganini, Antonio Bazzini (1818-1897) sustained a peerless reputation for flying fingerwork and astonishing feats of legerdemain on the violin. As both a virtuoso violinist and composer, he was a product of his time and place, working in a musical culture dominated by opera. His 'Dance of the Goblins' has long been a mainstay of the recital repertoire for violinists seeking to send their audiences on their way with gasps of astonishment, but his transcriptions are much more developed and extensive pieces. They rework not only some of the defining passages of 19th-century Italian opera, but many themes and arias that are now less familiar.

Bazzini found in the operas of Bellini a particularly fruitful source of inspiration, writing no fewer than three separate fantasias on themes from La sonnambula through the course of his career, as well as pieces based on Norma, I puritani, La straniera, Beatrice di Tenda, Il pirata and (when he was just 16 years old) I Capuleti e i Montecchi: an astonishingly vivid and precocious piece of work, handled here with sovereign mastery by the young Romanian violinist Anca Vasile Caraman.

Accompanied here by the Mantovan-born pianist Alessandro Trebeschi, Caraman is equally impressive in Bazzini's extended, improvisatory reworkings of climactic moments in Lucia di Lammermoor and Anna Bolena by Donizetti. Having taken a cold attitude towards the young Verdi, Bazzini was later won over by the genius of La traviata, which resulted in a truly concerto-like fantasia as well as no less technically demanding fantasias on Attila and I masnadieri. In these works, as in the three fantasies on themes from Pacini's Saffo, Bazzini emulates Franz Liszt in venturing far beyond literal fidelity to the notes, towards an expressive fidelity to the original dramas.

Antonio Bazzini's life spanned the greater part of the 19th century. In his early years he was a celebrated violin virtuoso, comparable with Paganini. His compositions from this time were vehicles to show off his incredible technical skills. His most famous work "Le Ronde des Lutins" (Dance of the Goblins) is still a popular encore for violinists.
Bazzini's later work, composed when he retired from the concert platform and became a teacher (among his many pupils count Puccini and Catalani!) and composer, he wrote works in a more classical vein.
This 5CD set contains the complete transcriptions, paraphrases and fantasias which Bazzini wrote on themes from famous operas: well known arias from operas by Bellini, Verdi, Donizetti, Mazzucato, Pacini and Weber. The music is supremely melodious, imaginative, tasteful and (needless to say) of the highest virtuosity.
Excellent performances of dazzling skill by Rumanian violinist Anca Vasile Caraman.
Listening
Track list
Disk 1
Antonio Bazzini: Transcriptions et paraphrases, Op. 17: I. Casta Diva

Antonio Bazzini: Transcriptions et paraphrases, Op. 17: VI. Quartet from I Puritani

Antonio Bazzini: Adagio, variazione e finale sopra un tema di Bellini

Antonio Bazzini: Souvenir de Beatrice di Tenda, Op. 11

Antonio Bazzini: Fantaisia, Op. 40
Disk 2
Antonio Bazzini: Variations brillantes et finale, Op. 3

Antonio Bazzini: Souvenir de la sonnambula, Op. 19

Antonio Bazzini: Deuxième fantaisie sur la sonnambula, Op. 26

Antonio Bazzini: Fantaisie de concert, Op. 27
Disk 3
Antonio Bazzini: Fantaisie dramatique sur l'air final de Lucia di Lammeroor, Op. 10

Antonio Bazzini: Transcriptions et paraphrases, Op. 17: II. Variations brillantes sur plusieurs motifs

Antonio Bazzini: Transcriptions et paraphrases, Op. 17: III. Scène et romance

Antonio Bazzini: Transcriptions et paraphrases, Op. 17: IV. Fantaisie sur la romance et un choeur

Antonio Bazzini: Fantaisie sur des motifs d'Anna Bolena, Op. 24
Disk 4
Antonio Bazzini: Fantaisie sur plusieurs themes de l'opéra de Mazzucato, Op. 8

Antonio Bazzini: Fantasia, Op. 50

Antonio Bazzini: Souvenir d'Attila

Antonio Bazzini: Fantasia su temi tratti da I Masnadieri
Disk 5
Antonio Bazzini: Transcriptions et araphrases, Op. 17: V. Act 2 Finale of Oberon by Weber

Antonio Bazzini: Tre fantasie sopra motivi della Saffo di Pacini: No. 1

Antonio Bazzini: Tre fantasie sopra motivi della Saffo di Pacini: No. 2

Antonio Bazzini: Tre fantasie sopra motivi della Saffo di Pacini: No. 3