Bazzini: La Ronde des Lutins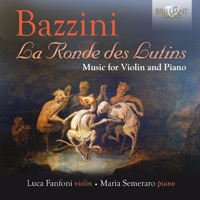 Composer
Antonio Bazzini
Artist
Luca Fanfoni violin
Maria Semaro piano
Format
1 CD
Cat. number
95030
EAN code
5028421950303
Release
May 2015
About this release
Poor Antonio Joseph Bazzini (1818-1897), a one-work composer if ever there was one, after the examples of Bruch and Holst, destined forever to be remembered as encore fodder for virtuoso violinists as they end their recitals in a blaze of glory with his Scherzo fantastique Op.25, better known as La Ronde des lutins, or Dance of the Goblins.

Now, Luca Fanfoni and Maria Semeraro expand our knowledge of Bazzini with a more complete survey of music for his own instrument, for he had a place, post-Paganini, in the 19th-century tradition of performer-composers. Inevitably Italian Opera exercised an influence upon him, evidenced by many fantasias based on operatic themes, often from Verdi, such as the one inspired by La Traviata in which the virtuosity effectively brings out Verdi's dramatic intent.

Then his mastery of longer and more abstract forms is revealed by his Op.55 Sonata, a poetic masterpiece with a formal, well-defined structure. Later in life Bazzini aside his performing career in favour of composition, including symphonic, choral and chamber music (six quartets and a quintet) and teaching: Puccini and Catalani were among his students.

Luca Fanfoni's extensive discography includes a Verdi-themed disc of fantasias and variation sets, as well as the ten concertos and sonatas of Antonio Lolli, another figure in the neglected byways of Italian music, this time from the Baroque era.

Antonio Bazzini's life spanned the greater part of the 19th century. In his early years he was a celebrated violin virtuoso, comparable with Paganini. His compositions from this time were vehicles to show off his incredible technical skills. His most famous work "La Ronde des Lutins" (Dance of the Goblins) is still a popular encore for violinists.
Bazzini's later work, composed when he retired from the concert platform and became a teacher (among his many pupils count Puccini and Catalani!) and composer, he wrote works in a more classical vein, like the substantial Violin Sonata featuring on this new recording.
A delightful CD, played with panache and sensitivity by one of the most notable Italian violinists, Luca Fanfoni.
Listening
Track list
Disk 1
Antonio Bazzini: Scherzo fantastique, Op. 25

Antonio Bazzini: Violin Sonata Op. 55: I. Allegro deciso

Antonio Bazzini: Violin Sonata Op. 55: II. Andante con moto

Antonio Bazzini: Violin Sonata Op. 55: III. Finale

Antonio Bazzini: La traviata "fantasia brillante", Op. 50

Antonio Bazzini: 6 Morceaux lyriques, Op. 35: I. Elegia

Antonio Bazzini: 6 Morceaux caractéristiques, Op. 34: III. La calma serenata

Antonio Bazzini: 6 Morceaux lyriques, Op. 35: III. Le muletier

Antonio Bazzini: Le Carrillon d' Arras, Op. 36