Beethoven: 3 Piano Quartets WoO36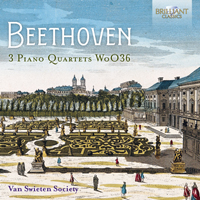 Download booklet
| | |
| --- | --- |
| Composer | Ludwig van Beethoven |
| Artist | Van Swieten Society |
| Format | 1 CD |
| Cat. number | 96214 |
| EAN code | 5028421962146 |
| Release | December 2020 |
About this release
New period-instrument recordings of breakthrough works by the teenage Beethoven.

The piano quartet is an unassuming genre for a musical milestone, but it was with this trio of works that Beethoven, at the age of 15, first found the voice that would within the next half-century come to be widely recognised as the symbolic, universal voice of music, of freedom and of personal autonomy.

That's a lot for three humble piano quartets to bear, and by and large this is still young man's music, wearing lightly the second-hand influence of Haydn and contemporary French music. This was the kind of music heard and played by the teenage Beethoven as a violinist, organist and court employee of the Elector in his hometown of Bonn. Perhaps the quartets were intended for dedication to the new elector in 1784, but
in the event they remained unpublished until after the composer's death.

By then, however, Beethoven's singular talent had already been recognised by his teacher, Johann Gottlob Neefe but his star had fallen in the eyes of his patrons who had hoped to nurture another Mozartian prodigy; in 1784 he was described to the new elector as merely a young keyboard player of 'good ability'. That Beethoven had rather more up his sleeve is evident from the melodic thrust and rhythmic drive of the second of the set in particular, cast in E flat major. Its lyrical slow introduction, followed by a tempestuous Allegro in E-flat minor opens a door to Romanticism.

The last movement with its devilish variations is technically speaking the heart of the three-part opus, which is then concluded by the almost symphonic quartet in D; D major being the key of great orchestral works featuring trumpets and timpani.

The quartets are performed here in the order they appeared in Beethoven's original manuscript rather than the confusingly different order in which they were first published. In every other respect, too, these performances by a Dutch period-instrument group named after Baron van Swieten, patron of Haydn and Mozart, pay close attention to what we know of good late-18th-century performance practice with period bowings and the light, sparking touch of a fortepiano.

This new recording presents three lesser-known chamber music works by the young Beethoven, the Piano Quartets WoO36.
Like every musician in Europe the young Beethoven was well acquainted with Mozart's compositional works and he was a great admirer of them. He performed Mozart's piano concertos with the court orchestra in Bonn and later played viola in performances of Mozart's operas.
Beethoven's Piano Quartets were modelled on the two great examples in this genre by Mozart. At a young age Beethoven was already a phenomenal pianist who explored the boundaries of existing piano technique, and in doing so extended them. The piano technique displayed in these works was unheard-of at the time, in particular where it applies to fingerings, pedal use, left hand technique, and sheer virtuosity.
Played on period instruments by fortepianist Bart van Oort and the Van Swieten Society. Bart van Oort has an impressive discography to his name, including the Complete Piano Works by Mozart, Haydn Klavierstücke and Sonatas, works by Chopin, Dussek and several chamber music project (complete Haydn Piano Trios).
Track list
Disk 1
Ludwig van Beethoven: Piano Quartet No. 3 in C Major, WoO 36: I. Allegro vivace

Ludwig van Beethoven: Piano Quartet No. 3 in C Major, WoO 36: II. Adagio con espressione

Ludwig van Beethoven: Piano Quartet No. 3 in C Major, WoO 36: III. Rondo. Allegro

Ludwig van Beethoven: Piano Quartet No. 1 in E-Flat Major, WoO 36: I. Adagio assai

Ludwig van Beethoven: Piano Quartet No. 1 in E-Flat Major, WoO 36: II. Allegro con spirito

Ludwig van Beethoven: Piano Quartet No. 1 in E-Flat Major, WoO 36: III. Theme and Variations. Cantabile

Ludwig van Beethoven: Piano Quartet No. 2 in D Major, WoO 36: I. Allegro moderato

Ludwig van Beethoven: Piano Quartet No. 2 in D Major, WoO 36: II. Andante con moto

Ludwig van Beethoven: Piano Quartet No. 2 in D Major, WoO 36: III. Rondo. Allegro