Beethoven: 9th Symphony Op.125, Transcription for Violin and Piano by Hans Sitt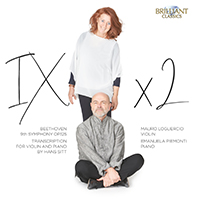 Composer
Ludwig van Beethoven
Artist
Mauro Loguercio violin
Emanuela Piemonti piano
Format
1 CD
Cat. number
96711
EAN code
5028421967110
Release
June 2023
About this release
Hans Sitt (1850–1928) was an extremely important personality in the transition between the 19th and 20th centuries, a great violinist by training and culture straddling Hungary, Bohemia and Germany, but even more of a great teacher who trained many of the great violinists of later years. He was also a remarkably prolific composer.

Astonishing in his catalogue, however, is the enormous number (and weight) of his transcriptions of the most important 19th-century symphonic works for the duo of violin and piano. Sitt transcribed all (!) of Beethoven's nine Symphonies, already a cyclopean feat in itself, but also two by Haydn, one by Mozart, Schubert's two best-known (the Unfinished and Ninth), two by Mendelssohn and one by Schumann. This is a labour of unimaginable proportions, if one thinks of the difficulty of distilling for violin and piano these scores of vast proportions, entailing thousands of choices to be made in each bar, and again bar after bar.

It is precisely in Sitt's choice of target ensemble that his transcriptions stand out from those around him, indicating his purpose as distinct from that of his peers. The clear majority of transcriptions of that era were for piano four-hands, because of the impression that dividing the piano between two performers halved the demands on piano technique and that the possibility of register-filling was more apt for the broad spectrum of an orchestra.

Sitt's decision to transcribe, instead, for violin and piano allows him to make the violin a part among parts, to immerse it in the (very rich) piano fabric, sometimes giving it a thematic role and sometimes not, a display of compositional virtuosity which naturally requires the two performers to find the right balance between the sonic weights. It is also astonishing to say, but if one listens to it many times, Sitt's transcription of the Ninth ends up revealing aspects of the original score of which one had never been aware: the polyphonies of the Scherzo emerge with formidable cleanliness, as do the endless imitations and motivic transformations of the first movement. In the Fourth Movement, distillation of the original alternation of vocal, choral and orchestral-only moments to violin and piano alone makes it clear that the variety of character, the shifting from dance to march, from chorales to fugati, from recitatives to arias, is fundamentally a series of variations on the well-known theme, set at the beginning monodically and sotto voce.

Sitt's transcription of the Ninth, therefore, in addition to being splendid to listen to, if only in that obvious sense of the formidable challenge it poses to the performers, thus becomes an important and unexpected tool for delving deeper into the structure of the Beethovenian masterpiece. And for this we shall forever have to thank him.

Other information:
- Recorded June 2022 in Sacile, Italy
- Booklet in English contains a personal note and listening guide by the violinist, liner notes on transcriber Hans Sitt by Alessandro Solbiati, and profiles of the artists


- Beethoven's (1770-1827) 9th symphony, arguably the greatest symphony of the entire 19-th century, a work of colossal dimensions, requiring the largest possible forces, in a transcription for… violin and piano!
- A task which seems futile and impossible, yet German composer and violinist Hans Sitt (1850-1922) achieves a remarkable and astonishingly powerful transcription for violin and piano, capturing the original impact and force of the music, using the full resources of both instruments to their extreme. And couldn't Beethoven himself create a symphonic power in his Kreutzer violin sonata?
- Violinist Mauro Loguercio has performed as a soloist in prestigious halls, such as the Queen Elizabeth Hall in London, the Berlin Philharmonic, the Concertgebouw in Amsterdam, the Accademia di S. Cecilia in Rome and the Tonhalle in Zurich, collaborating with conductors such as Riccardo Chailly, Eliau Inbal and Roberto Abbado. He has always nurtured a true passion for chamber music, ever since his appearance at a very young age at the Marlboro Festival. Throughout his career he has played in trios with Nikita Magaloff and Antonio Meneses, while in duos he has collaborated with Maria João Pires, Tamás Vásáry, Bruno Canino, Philip Fowke, Rocco Filippini, Franco Petracchi and Astor Piazzolla.
- Pianist Emanuela Piemonti is a soloist and chamber music player of international status. Essential experience is her collaboration with composers such as Kagel, De Pablo, Sciarrino, Kurtág, Francesconi, Fedele and Solbiati.
Listening
Track list
Disk 1
Ludwig van Beethoven: Symphony No. 9, Op. 125: I. Allegro ma non troppo, un poco maestoso

Ludwig van Beethoven: Symphony No. 9, Op. 125: II. Molto vivace - Presto – Scherzo

Ludwig van Beethoven: Symphony No. 9, Op. 125: III. Adagio molto e cantabile - Andante moderato – Adagio

Ludwig van Beethoven: Symphony No. 9, Op. 125: IV. Presto allegro assai - Allegro molto - Andante maestoso - Allegro energico