Beethoven: Clarinet Trios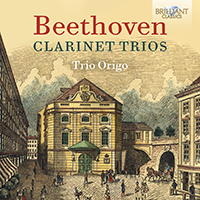 | | |
| --- | --- |
| Composer | Ludwig van Beethoven |
| Artist | Trio Origo |
| Format | 1 CD |
| Cat. number | 96215 |
| EAN code | 5028421962153 |
| Release | November 2020 |
About this release
At the heart of Trio Origo's repertoire are the earliest trios composed for clarinet, cello and piano. The origins of the repertoire lie in the 'Gassenhauer' Trio composed by Beethoven in 1797 for a clarinettist, probably Joseph Bähr, who also suggested to the composer that he use a hit tune – known as a 'Gassenhauer' – from a recent opera by Joseph Weigl. Beethoven (uncharacteristically, but with perhaps an eye on the work's future commercial success) duly obliged, and made Weigl's tune the basis for his theme-and-variations finale – but he also produced a version of the trio substituting the clarinet for the violin to ensure its popularity.

An adroit piece of reverse compositional engineering produced the Op.38 Trio from the Septet Op.20. The Septet was one of Beethoven's most popular early works, and resulted in a string of arrangements for smaller forces, most of them made by other hands, but the composer himself produced this arrangement for clarinet trio, which happily amplifies the solo instrument's prominence in the Septet. He never wrote a more joyous melody than the main subject of the first movement, and the work as a whole finds the composer at his most relaxed. While Beethoven's clarinet writing has never received the attention accorded to Mozart's, he wrote for it with no less warmth and affection, and this pair of trios displays a winning, sunny side of the composer that is often overshadowed by the cantankerous instrumental dramatist of popular myth and legend.

The Finnish members of Trio Origo all pursue successful careers with chamber and period-instrument ensembles such as the Tapiola Sinfonietta, the Finnish Baroque Orchestra and the Helsinki Baroque Orchestra, but they have been performing Classical-era clarinet trios together since 2004, ranging beyond Beethoven to explore little-known gems by his contemporaries. This recording is the fruit of their study and performing experience over more than 15 years together.

The young Beethoven composed his Trio Op. 11 for piano, cello and clarinet, this relatively new woodwind instrument becoming rapidly popular in his time. The nickname "Gassenhauer" trio is due to the widely popular tune used in the 3rd movement, used in an opera by Joseph Weigl.
The Clarinet Trio Op. 38 is an arrangement by the composer of his own Septet Op. 20, one of his most popular works during his lifetime, and Beethoven milked out its popularity by making several arrangements of it.
Trio Origo (Asko Heiskanen, clarinet, Jussi Seppänen, cello, Jerry Jantunen, fortepiano) is a Finnish trio performing Classical and early Romantic music on period instruments. Its members have all graduated from Sibelius Academy in Helsinki and continued their studies in a.o. Amsterdam, Paris, Berlin, Geneva and Barcelona, gained success in various competitions (Musica Antiqua Brugge, Maj Lind, Crusell) and recorded for several companies (Alpha, BIS, Ondine, Alba, Naxos, Sony, Harmonia Mundi).
Listening
Track list
Disk 1
Ludwig van Beethoven: Trio in B-Flat Major, Op. 11: I. Allegro con brio

Ludwig van Beethoven: Trio in B-Flat Major, Op. 11: II. Adagio

Ludwig van Beethoven: Trio in B-Flat Major, Op. 11: III. Tema con variazioni. Pria ch'io l'impegno. Allegretto

Ludwig van Beethoven: Trio in E-Flat Major, Op. 38: I. Adagio - Allegro con brio

Ludwig van Beethoven: Trio in E-Flat Major, Op. 38: II. Adagio cantabile

Ludwig van Beethoven: Trio in E-Flat Major, Op. 38: III. Tempo di menuetto

Ludwig van Beethoven: Trio in E-Flat Major, Op. 38: IV. Andante con variazioni

Ludwig van Beethoven: Trio in E-Flat Major, Op. 38: V. Scherzo. Allegro molto e vivace

Ludwig van Beethoven: Trio in E-Flat Major, Op. 38: VI. Andante con moto alla marcia – Presto