Beethoven: Complete Piano Sonatas Vol. 1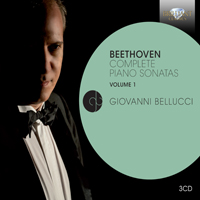 | | |
| --- | --- |
| Composer | Ludwig van Beethoven |
| Artist | Giovanni Bellucci piano |
| Format | 3 CD |
| Cat. number | 95103 |
| EAN code | 5028421951034 |
| Release | June 2017 |
About this release
'Not just another Hammerklavier recording': this was Gramophone's enthusiastic verdict on a recording made more than 15 years ago by Giovanni Bellucci, who now returns to Beethoven with a complete series, newly recorded, of the piano sonatas.

In 2000 the reviewer noted that Bellucci was barely known to the wider concert-going public; no longer is that an issue, since his reputation precedes him thanks to this and other recordings. 'The abundant vitality of feeling' and 'untrammelled freshness of feeling' contributed towards an appreciation of Bellucci's remarkable achievement, at a relatively tender age, in assimilating the mighty work so thoroughly, 'yet to be able to play it in a way that is unburdened by a consciousness of that knowledge.'

Later Beethoven recordings were praised elsewhere along similar lines for their 'exemplary control', 'beguiling lightness of touch' and 'masterful command of sonority' (Musical Opinion): 'Refreshing, occasionally idiosyncratic and unpredictable playing that further bolsters Bellucci's reputation as a pianist both deeply musical and fearlessly virtuosic.'

These previous releases concentrated on imaginative pairings of well-known sonatas with transcriptions and other works by Romantic composers unimaginable without Beethoven's example. Now, in the complete cycle, he (quite properly) goes back to the beginning, presenting the sonatas in roughly chronological order, in so far as dates can be firmly established. CD1 contains the three sonatas Op.1; CD2 contains Op.7, the Op.49 pair and the Op.14 pair, and CD3 the trio of Op.10 sonatas before concluding with the 'Pathétique', Op.13. Further critical encomia are sure to follow: Brilliant Classics presents here another milestone in the long and eventful path of this music on record.

The start of an exciting and prestigious series: the complete Beethoven piano sonatas played by Giovanni Bellucci!
Giovanni Bellucci is one of the most interesting and extraordinary pianists of today. Described by Piero Rattalino as "a force of nature, vast and palpitating", his playing is highly original, striving to recreate the original impact of the works he is playing: "he takes us back to the Golden Age of the Piano" wrote Le Monde. His recordings, notably with works by Liszt, were showered with prizes such as Diapason d'Or, Choc, Editor's Choice, CD Maestro etc.
Giovanni Bellucci embarks on this epic musical journey of recording the complete Beethoven Sonatas (and later the Beethoven/Liszt symphonies), a challenge that every pianist of world stature will face. His Beethoven is free, with a strong sense of rhetoric and improvisation, adhering nevertheless strictly to the score and its intentions. The result is fresh, exhilarating and illuminating, letting us marvel at the originality and genius of the music.
Issued in 3-CD sets, the series starts chronologically with the Early Sonatas Op. 2, 7, 10, 13., 14 and 22.
Listening
Track list
Disk 1
Ludwig van Beethoven: Piano Sonata No. 1 in F Minor, Op. 2 No. 1: I. Allegro

Ludwig van Beethoven: Piano Sonata No. 1 in F Minor, Op. 2 No. 1: II. Adagio

Ludwig van Beethoven: Piano Sonata No. 1 in F Minor, Op. 2 No. 1: III. Menuetto. Allegretto

Ludwig van Beethoven: Piano Sonata No. 1 in F Minor, Op. 2 No. 1: IV. Prestissimo

Ludwig van Beethoven: Piano Sonata No. 2 in A Major, Op. 2 No. 2: I. Allegro vivace

Ludwig van Beethoven: Piano Sonata No. 2 in A Major, Op. 2 No. 2: II. Largo appassionato

Ludwig van Beethoven: Piano Sonata No. 2 in A Major, Op. 2 No. 2: III. Scherzo. Allegretto

Ludwig van Beethoven: Piano Sonata No. 2 in A Major, Op. 2 No. 2: IV. Rondo. Grazioso

Ludwig van Beethoven: Piano Sonata No. 3 in C Major, Op. 2 No. 3: I. Allegro con brio

Ludwig van Beethoven: Piano Sonata No. 3 in C Major, Op. 2 No. 3: II. Adagio

Ludwig van Beethoven: Piano Sonata No. 3 in C Major, Op. 2 No. 3: III. Scherzo. Allegro

Ludwig van Beethoven: Piano Sonata No. 3 in C Major, Op. 2 No. 3: IV. Allegro assai
Disk 2
Ludwig van Beethoven: Piano Sonata No. 4 in E-Flat Major, Op. 7: I. Allegro molto e con brio

Ludwig van Beethoven: Piano Sonata No. 4 in E-Flat Major, Op. 7: II. Largo e con gran espressione

Ludwig van Beethoven: Piano Sonata No. 4 in E-Flat Major, Op. 7: III. Allegro

Ludwig van Beethoven: Piano Sonata No. 4 in E-Flat Major, Op. 7: IV. Rondo. Poco allegretto e grazioso

Ludwig van Beethoven: Piano Sonata No. 19 in G Minor, Op. 49 No. 1: I. Andante

Ludwig van Beethoven: Piano Sonata No. 19 in G Minor, Op. 49 No. 1: II. Rondo. Allegro

Ludwig van Beethoven: Piano Sonata No. 20 in G Major, Op. 49 No. 2: I. Allegro, ma non troppo

Ludwig van Beethoven: Piano Sonata No. 20 in G Major, Op. 49 No. 2: II. Tempo di menuetto

Ludwig van Beethoven: Piano Sonata No. 9 in E Major, Op. 14 No. 1: I. Allegro

Ludwig van Beethoven: Piano Sonata No. 9 in E Major, Op. 14 No. 1: II. Allegretto

Ludwig van Beethoven: Piano Sonata No. 9 in E Major, Op. 14 No. 1: III. Rondo. Allegro comodo

Ludwig van Beethoven: Piano Sonata No. 10 in G Major, Op. 14 No. 2: I. Allegro

Ludwig van Beethoven: Piano Sonata No. 10 in G Major, Op. 14 No. 2: II. Andante

Ludwig van Beethoven: Piano Sonata No. 10 in G Major, Op. 14 No. 2: III. Scherzo. Allegro assai
Disk 3
Ludwig van Beethoven: Piano Sonata No. 5 in C Minor, Op. 10 No. 1: I. Allegro molto e con brio

Ludwig van Beethoven: Piano Sonata No. 5 in C Minor, Op. 10 No. 1: II. Adagio molto

Ludwig van Beethoven: Piano Sonata No. 5 in C Minor, Op. 10 No. 1: III. Finale. Prestissimo

Ludwig van Beethoven: Piano Sonata No. 6 in F Major, Op. 10 No. 2: I. Allegro

Ludwig van Beethoven: Piano Sonata No. 6 in F Major, Op. 10 No. 2: II. Allegretto

Ludwig van Beethoven: Piano Sonata No. 6 in F Major, Op. 10 No. 2: III. Presto

Ludwig van Beethoven: Piano Sonata No. 7 in D Major, Op. 10 No. 3: I. Presto

Ludwig van Beethoven: Piano Sonata No. 7 in D Major, Op. 10 No. 3: II. Largo e mesto

Ludwig van Beethoven: Piano Sonata No. 7 in D Major, Op. 10 No. 3: III. Menuetto. Allegro

Ludwig van Beethoven: Piano Sonata No. 7 in D Major, Op. 10 No. 3: IV. Rondo. Allegro

Ludwig van Beethoven: Piano Sonata No. 8 in C Minor, Op. 13: I. Grave - Allegro di molto e con brio

Ludwig van Beethoven: Piano Sonata No. 8 in C Minor, Op. 13: II. Adagio cantabile

Ludwig van Beethoven: Piano Sonata No. 8 in C Minor, Op. 13: III. Rondo. Allegro