Beethoven: Complete String Quartets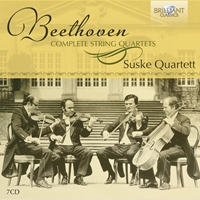 Composer
Ludwig van Beethoven
Artist
Suske Quartet
Karl Suske violin I
Klaus Peters violin II
Karl-Heinz Dommus viola
Matthias Pfaender cello
Format
7 CD
Cat. number
94672
EAN code
5028421946726
Release
May 2013
About this release
The genius of Beethoven is probably not most commonly associated with chamber music. Indeed, for considerable stretches of his career he avoided the string quartet, a musical form with such an exalted status at the time; he mostly took on the challenge towards the ends of what are often regarded as his two 'creative periods'. When he did, however, he was at the pinnacle of his chamber music abilities.

The pieces in this collection can be grouped according to three distinct periods of Beethoven's life. The first set are to some extent indebted to Haydn and Mozart – as the melancholic Op.18 No.6 shows in particular – but equally show Beethoven starting to forge a new path of his own. The (at the time) somewhat misunderstood middle set stretch the quartet form to near-symphonic length, and add a level of virtuosity worthy of the concert hall rather than the traditionally private sphere of chamber music. Finally, the last set transcend the composer's previous quartets both in form and harmony to reach a level of technical abstraction that was not recognised for its brilliance until after the composer's life – a quality audible especially in the quartet in B flat major, which Beethoven's biographer referred to as a 'monster of quartet music'.

The pieces are performed by the Suske Quartett, a German quartet whose popularity was at its height in the 1970s, and for whom recording Beethoven was a staple of their musical life: the recording career of the group's original line-up both began and ended with Beethoven pieces.

Other information:
- The complete Beethoven String Quartets, featuring one of the elite ensembles of former East Germany: Primarius Karl Suske was concert master of the Berliner Staatskapelle, Gewandhausorchester Leipzig and the Bayreuth Festival Orchestra, and his string quartet represents the best German tradition of Beethoven understanding and interpretation.
- Recorded in the 70's, and having lost nothing of its grandeur and patina. The recording is of excellent quality, the golden standard of the Eterna recordings.
- Booklet contains notes on the music and a biography of the Suske Quartett.
Track list
Disk 1
String Quartet No. 1 in F Major, Op. 18: I. Allegro con brio

String Quartet No. 1 in F Major, Op. 18: II. Adagio affettuoso ed appassionato

String Quartet No. 1 in F Major, Op. 18: III. Scherzo: Allegro molto – Trio

String Quartet No. 1 in F Major, Op. 18: IV. Allegro

String Quartet No. 2 in G Major, Op. 18: I. Allegro

String Quartet No. 2 in G Major, Op. 18: II. Adagio cantabile – Allegro – Tempo I

String Quartet No. 2 in G Major, Op. 18: III. Scherzo: Allegro – Trio

String Quartet No. 2 in G Major, Op. 18: IV. Allegro molto, quasi presto

String Quartet No. 3 in D Major, Op. 18: I. Allegro

String Quartet No. 3 in D Major, Op. 18: II. Andante con moto

String Quartet No. 3 in D Major, Op. 18: III. Allegro

String Quartet No. 3 in D Major, Op. 18: IV. Presto
Disk 2
String Quartet No. 4 in C Minor, Op. 18: I. Allegro ma non tanto

String Quartet No. 4 in C Minor, Op. 18: II. Scherzo: Andante scherzo, quasi allegretto

String Quartet No. 4 in C Minor, Op. 18: III. Menuetto: Allegretto – Trio

String Quartet No. 4 in C Minor, Op. 18: IV. Allegro

String Quartet No. 5 in A Major, Op. 18: I. Allegro

String Quartet No. 5 in A Major, Op. 18: II. Menuetto – Trio

String Quartet No. 5 in A Major, Op. 18: III. Andante cantabile

String Quartet No. 5 in A Major, Op. 18: IV. Allegro

String Quartet No. 6 in B-Flat Major, Op. 18: I. Allegro con brio

String Quartet No. 6 in B-Flat Major, Op. 18: II. Adagio ma non troppo

String Quartet No. 6 in B-Flat Major, Op. 18: III. Scherzo: Allegro – Trio

String Quartet No. 6 in B-Flat Major, Op. 18: IV. Adagio (La Malinconia) – Allegretto, quasi allegro

Minuet in A-Flat Major, Hess 33
Disk 3
String Quartet No. 7 in F Major, Op. 59 No. 1 'Rasumovsky': I. Allegro

String Quartet No. 7 in F Major, Op. 59 No. 1 'Rasumovsky': II. Allegretto vivace e sempre scherzando

String Quartet No. 7 in F Major, Op. 59 No. 1 'Rasumovsky': III. Adagio molto e mesto

String Quartet No. 7 in F Major, Op. 59 No. 1 'Rasumovsky': IV. Allegro (Thème russe)

String Quartet No. 8 in E Minor, Op. 59 No. 2 'Rasumovsky': I. Allegro

String Quartet No. 8 in E Minor, Op. 59 No. 2 'Rasumovsky': II. Molto adagio

String Quartet No. 8 in E Minor, Op. 59 No. 2 'Rasumovsky': III. Allegretto

String Quartet No. 8 in E Minor, Op. 59 No. 2 'Rasumovsky': IV. Finale: Presto
Disk 4
String Quartet No. 9 in C Major, Op. 59 No. 3 'Rasumovsky': I. Introduzione: Andante con moto – Allegro vivace

String Quartet No. 9 in C Major, Op. 59 No. 3 'Rasumovsky': II. Andante con moto, quasi allegretto

String Quartet No. 9 in C Major, Op. 59 No. 3 'Rasumovsky': III. Menuetto: Grazioso – Trio

String Quartet No. 9 in C Major, Op. 59 No. 3 'Rasumovsky': IV. Allegro molto

String Quartet No. 10 in E-Flat Major, Op. 74 'Harp': I. Poco adagio – Allegro

String Quartet No. 10 in E-Flat Major, Op. 74 'Harp': II. Adagio ma non troppo

String Quartet No. 10 in E-Flat Major, Op. 74 'Harp': III. Presto

String Quartet No. 10 in E-Flat Major, Op. 74 'Harp': IV. Allegretto con variazioni
Disk 5
String Quartet No. 11 in F Minor, Op. 95 'Quartetto serioso': I. Allegro con brio

String Quartet No. 11 in F Minor, Op. 95 'Quartetto serioso': II. Allegretto ma non troppo

String Quartet No. 11 in F Minor, Op. 95 'Quartetto serioso': III. Allegro assai vivace, ma serioso

String Quartet No. 11 in F Minor, Op. 95 'Quartetto serioso': IV. Larghetto espressivo – Allegretto agitato – Allegro

String Quartet No. 13 in B-Flat Major, Op. 130: I. Adagio ma non troppo – Allegro

String Quartet No. 13 in B-Flat Major, Op. 130: II. Presto

String Quartet No. 13 in B-Flat Major, Op. 130: III. Andante con moto, ma non troppo

String Quartet No. 13 in B-Flat Major, Op. 130: IV. Alla danza tedesca: Allegro assai

String Quartet No. 13 in B-Flat Major, Op. 130: V. Cavatina: Adagio molto espressivo

String Quartet No. 13 in B-Flat Major, Op. 130: VI. Finale: Allegro

Große Fuge in B-Flat Major, Op. 133
Disk 6
String Quartet No. 12 in E-Flat Major, Op. 127: I. Maestoso – Allegro

String Quartet No. 12 in E-Flat Major, Op. 127: II. Adagio ma non troppo e molto cantabile

String Quartet No. 12 in E-Flat Major, Op. 127: III. Scherzando vivace

String Quartet No. 12 in E-Flat Major, Op. 127: IV. Finale

String Quartet No. 14 in C-Sharp Minor, Op. 131: I. Adagio ma non troppo e molto espressivo

String Quartet No. 14 in C-Sharp Minor, Op. 131: II. Allegro molto vivace

String Quartet No. 14 in C-Sharp Minor, Op. 131: III. Allegro molto moderato – Adagio – Più vivace

String Quartet No. 14 in C-Sharp Minor, Op. 131: IV. Andante ma non troppo e molto cantabile

String Quartet No. 14 in C-Sharp Minor, Op. 131: V. Presto

String Quartet No. 14 in C-Sharp Minor, Op. 131: VI. Adagio quasi un poco andante

String Quartet No. 14 in C-Sharp Minor, Op. 131: VII. Allegro
Disk 7
String Quartet No. 15 in A Minor, Op. 132: I. Assai sostenuto – Allegro

String Quartet No. 15 in A Minor, Op. 132: II. Allegro ma non troppo

String Quartet No. 15 in A Minor, Op. 132: III. Molto adagio: Heiliger Dankgesang eines Genesenen an die Gottheit in der lydischen Tonart

String Quartet No. 15 in A Minor, Op. 132: IV. Alla marcia, assai vivace

String Quartet No. 15 in A Minor, Op. 132: V. Finale: Allegro appassionato

String Quartet No. 16 in F Major, Op. 135: I. Allegretto

String Quartet No. 16 in F Major, Op. 135: II. Vivace

String Quartet No. 16 in F Major, Op. 135: III. Lento assai, cantante e tranquillo

String Quartet No. 16 in F Major, Op. 135: IV. Grave ma non troppo tratto – Allegro