Beethoven: Complete Symphonies (DeLuxe)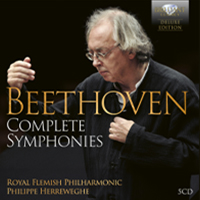 Composer
Ludwig van Beethoven
Artist
Royal Flemish Philharmonic
Philippe Herreweghe conductor
Format
5 CD
Cat. number
97084
EAN code
5028421970844
Release
November 2023
About this release
In the words of Philippe Herreweghe, who leads the Royal Flemish Philharmonic in this new complete recording of the symphonic cycle of Beethoven, 'For a certain part of the orchestral repertoire, so-called "authentic" or "historical" instruments might seem essential in order to achieve a truly convincing performance. This is not the case for Beethoven. Though orchestrated with a genius sense of economy, the power that emanates from these symphonies is not chiefly linked with sonority. Of course, every driven and conscientious musician only stands to benefit from experimenting with the "right" instruments. Using a natural horn can only enrich the inner hearing capacities of a "modern" horn player. It is precisely our experience with historical instruments that allows us to also work with a "modern" orchestra such as this on vibrato control, articulation and even rhythmicity in a stylistically well-considered context. We consider it important to work idiomatically with natural trumpets (Egger) and Baroque kettle drums with a modern tuning system (Kolberg).'

A modern and stylistically flexible symphony orchestra, the Royal Flemish Philharmonic demonstrates an artistic flair which allows for a variety of styles – from classical to contemporary – in a historically authentic manner. Principal Conductor Philippe Herreweghe makes use of his specific background in hisreadings of (pre)Romantic music to lead the group in this new discographic undertaking of Beethoven's complete symphonies.

Other information:
- Recorded November 2004, De Roma, Antwerp, Belgium; June 2007, Concertgebouw, Brugge, Belgium; June 2007, Muziekcentrum Frits Philips, Eindhoven, The Netherlands; February & October 2009, deSingel, Antwerp, Belgium
- Booklet in English contains a mission statement from the conductor, 15 pages of liner notes by Tom Janssens (artistic coordinator of Ghent's Music Centre De Bijloke), the sung text to Symphony No.9, and profiles of the conductor and orchestra

- Philippe Herreweghe's performance of Beethoven's (1770-1827) complete symphonies is nothing short of a musical revelation. Herreweghe, renowned for his mastery of historically informed performance practices, brings a fresh and invigorating perspective to these iconic works. His interpretation captures the essence of Beethoven's genius while offering a nuanced and historically grounded approach.
- This recording features the "modern" Royal Flemish Philharmonic, yet Herreweghe's approach grants a level of clarity and transparency to the music that is often lost in more conventional interpretations, revealing the intricate details and textures that make Beethoven's symphonies so extraordinary. Herreweghe's conducting style is marked by its precision and subtlety. He navigates the dynamic shifts and emotional depths of Beethoven's compositions with a keen sensitivity, creating a profound emotional connection between the music and the audience. His tempos are thoughtfully chosen, ensuring that each movement unfolds organically, with a sense of inevitability.
- Previously issued on the Pentatone label, now available again on Brilliant Classics.
Track list
Disk
Disk 1
Ludwig van Beethoven: Symphony No. 1 in C Major, Op. 21: I. Adagio molto – Allegro con brio

: Symphony No. 1 in G minor, Op. 13: I. Dreams of a Winter Journey – Allegro tranquillo

Ludwig van Beethoven: Symphony No. 1 in C Major, Op. 21: II. Andante cantabile con moto

: Symphony No. 1 in G minor, Op. 13: II. Land of Desolation, Land of Mists – Adagio cantabile ma non troppo

Ludwig van Beethoven: Symphony No. 1 in C Major, Op. 21: III. Menuetto – Trio (Allegro molto e vivace)

: Symphony No. 1 in G minor, Op. 13: III. Scherzo – Allegro scherzando giocoso

Ludwig van Beethoven: Symphony No. 1 in C Major, Op. 21: IV. Adagio – Allegro molto e vivace

: Symphony No. 1 in G minor, Op. 13: IV. Finale – Andante lugubre-Allegro moderato- Allegro meastoso-Allegro lugubre-Allegro vivo

Ludwig van Beethoven: Symphony No. 3 in E-Flat Major, Op. 55 "Eroica": I. Allegro con brio

: Marche Slave in B-Flat Minor, Op. 31

Ludwig van Beethoven: Symphony No. 3 in E-Flat Major, Op. 55 "Eroica": II. Marcia funebre (Adagio assai)

Ludwig van Beethoven: Symphony No. 3 in E-Flat Major, Op. 55 "Eroica": III. Scherzo (Allegro vivace)

Ludwig van Beethoven: Symphony No. 3 in E-Flat Major, Op. 55 "Eroica": IV. Allegro molto
Disk 2
Ludwig van Beethoven: Symphony No. 2 in D Major, Op. 36: I. Adagio molto – Allegro con brio

: Symphony No. 2 in C Minor, Op. 17: I. Andante sostenuto-Allegro Vivo

Ludwig van Beethoven: Symphony No. 2 in D Major, Op. 36: II. Larghetto

: Symphony No. 2 in C Minor, Op. 17: II. Andante marziale, quasi moderato

Ludwig van Beethoven: Symphony No. 2 in D Major, Op. 36: III. Scherzo (Allegro)

: Symphony No. 2 in C Minor, Op. 17: III. Scherzo-Allegro molto vivace

Ludwig van Beethoven: Symphony No. 2 in D Major, Op. 36: IV. Allegro molto

: Symphony No. 2 in C Minor, Op. 17: IV. Finale – Moderato assai-Allegro vivo

Ludwig van Beethoven: Symphony No. 6 in F Major, Op. 68 "Pastoral": I. Allegro, ma non troppo (Erwachen heiterer Empfi ndungen bei der Ankun‑ auf dem Lande)

: Symphony No. 2 Original First movement: I. Andante sostenuto-Allegro commodo

Ludwig van Beethoven: Symphony No. 6 in F Major, Op. 68 "Pastoral": II. Andante molto mosso (Szene am Bach)

Ludwig van Beethoven: Symphony No. 6 in F Major, Op. 68 "Pastoral": III. Allegro (Lustiges Zusammensein der Landleute)

Ludwig van Beethoven: Symphony No. 6 in F Major, Op. 68 "Pastoral": IV. Allegro (Gewitter, Sturm)

Ludwig van Beethoven: Symphony No. 6 in F Major, Op. 68 "Pastoral": V. Allegretto (Hirtengesang: frohe und dankbare Gefühle nach dem Sturm)
Disk 3
Ludwig van Beethoven: Symphony No. 4 in B-Flat Major, Op. 60: I. Adagio - Allegro vivace

: Symphony No. 3 in D Major, Op. 29: I. Introduzione e Allegro-Moderato assai (Tempo di marcia funebre)-Allegro brillante

Ludwig van Beethoven: Symphony No. 4 in B-Flat Major, Op. 60: II. Adagio

: Symphony No. 3 in D Major, Op. 29: II. Alla tedesca-Allegro moderato e semplice

Ludwig van Beethoven: Symphony No. 4 in B-Flat Major, Op. 60: III. Allegro vivace

: Symphony No. 3 in D Major, Op. 29: III. Andante-Andante elegiaco

Ludwig van Beethoven: Symphony No. 4 in B-Flat Major, Op. 60: IV. Allegro ma non troppo

: Symphony No. 3 in D Major, Op. 29: IV. Scherzo-Allegro vivo

Ludwig van Beethoven: Symphony No. 7 in A Major, Op. 92: I. Poco sostenuto – Vivace

: Symphony No. 3 in D Major, Op. 29: V. Finale – Allegro con fuoco (tempo di Polacca)-Presto

Ludwig van Beethoven: Symphony No. 7 in A Major, Op. 92: II. Allegretto

: Coronation March in D Major

Ludwig van Beethoven: Symphony No. 7 in A Major, Op. 92: III. Presto

Ludwig van Beethoven: Symphony No. 7 in A Major, Op. 92: IV. Allegro con brio
Disk 4
Ludwig van Beethoven: Symphony No. 5 in C Minor, Op. 67: I. Allegro con brio

: Symphony No. 4 in F Minor, Op. 36: I. Andante sostenuto-Moderato con anima

Ludwig van Beethoven: Symphony No. 5 in C Minor, Op. 67: II. Andante con moto

: Symphony No. 4 in F Minor, Op. 36: II. Andantino in modo di canzona

Ludwig van Beethoven: Symphony No. 5 in C Minor, Op. 67: III. Allegro

: Symphony No. 4 in F Minor, Op. 36: III. Scherzo – Pizzicato ostinato-Allegro

Ludwig van Beethoven: Symphony No. 5 in C Minor, Op. 67: IV. Allegro

: Symphony No. 4 in F Minor, Op. 36: IV. Finale – Allegro con fuoco

Ludwig van Beethoven: Symphony No. 8 in F Major, Op. 93: I. Allegro vivace e con brio

: Romeo and Juliet Overture-Fantasy

Ludwig van Beethoven: Symphony No. 8 in F Major, Op. 93: II. Allegretto scherzando

Ludwig van Beethoven: Symphony No. 8 in F Major, Op. 93: III. Tempo di menuetto

Ludwig van Beethoven: Symphony No. 8 in F Major, Op. 93: IV. Allegro vivace
Disk 5
Ludwig van Beethoven: Symphony No. 9 in D Minor, Op. 125 "Choral": I. Allegro ma non troppo, un poco maestoso

: Symphony No. 5 in E Minor, Op. 64: I. Andante-Allegro con anima-Molto più tranquillo

Ludwig van Beethoven: Symphony No. 9 in D Minor, Op. 125 "Choral": II. Molto vivace

: Symphony No. 5 in E Minor, Op. 64: II. Andante cantabile, con alcuna licenza

Ludwig van Beethoven: Symphony No. 9 in D Minor, Op. 125 "Choral": III. Adagio molto e cantabile

: Symphony No. 5 in E Minor, Op. 64: III. Valse – Allegro moderato

Ludwig van Beethoven: Symphony No. 9 in D Minor, Op. 125 "Choral": IV. Finale

: Symphony No. 5 in E Minor, Op. 64: IV. Finale – Andante maestoso-Allegro vivace-Meno mosso

: Francesca Da Rimini Op. 32