Beethoven: Complete Violin Sonatas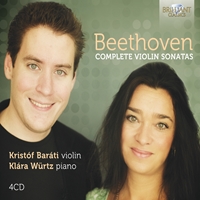 Composer
Ludwig van Beethoven
Artist
Kristóf Baráti violin
Klára Würtz piano
Format
4 CD
Cat. number
94310
EAN code
5028421943107
Release
September 2012
About this release
Sonatas for piano with violin, Beethoven thought of them, and the early set of three Op. 12 does seem to look back towards the early Classical, even late-Baroque emphasis on the multi-voiced part to which the violin adds emphasis or decoration as required. But the genre matured with Beethoven, and by the time of the 'Kreutzer' he was composing a fullyfledged, pre-Romantic virtuoso journey for the combination, vast in breadth of expression and length. These works have always attracted great artists, but every generation must come to them afresh, and here are two superb musicians from Hungary to add their own approach: on 'traditional' rather than 'period' instruments but interpretatively untrammelled by one or another performing dogma.

Other information:
- New recordings, recorded in 2011 and 2012.
- Even in todays overfed and crowded market a new recording of Beethoven's complete violin sonatas is an event.The ten sonatas, spanning the biggest part of Beethoven's creative life, count among his best works, from the youthful exuberance and wit of the early Op. 12 sonatas, via the magnificent Kreutzer Sonata of symphonic proportions and content, to the benign calm en resignation of the last sonata Op. 96.
- Kristóf Baráti is one of the most exciting violinists of the younger generation. After winning several important prizes (top-3 prize winner of the Elizabeth Competition when he was 18 years old, first prize at the prestigious Paganini Competition in Moscow) he is building an international career, playing with important orchestras and conductors (Ivan Fischer, Charles Dutoit, Marek Janovski, Kurt Masur).
- Klára Würtz needs little introduction to Brilliant Classics fans: her many recordings (Mozart, Schubert, Schumann) show an exceptional artist, with a natural musical instinct, effortless virtuosity and heart-warming charisma.
- Liner notes newly written by one of the most famous musical writers/journalists in America, Harris Goldsmith.
Track list
Disk 1
Violin Sonata No. 1 in D, Op. 12 No. 1: I. Allegro con brio

Violin Sonata No. 1 in D, Op. 12 No. 1: II. Tema con variazioni

Violin Sonata No. 1 in D, Op. 12 No. 1: III. Rondo: Allegro

Violin Sonata No. 2 in A, Op. 12 No. 2: I. Allegro vivace

Violin Sonata No. 2 in A, Op. 12 No. 2: II. Andante, più tosto allegretto

Violin Sonata No. 2 in A, Op. 12 No. 2: III. Allegro piacevole

Violin Sonata No. 3 in E-Flat, Op. 12 No. 3: I. Allegro con spirito

Violin Sonata No. 3 in E-Flat, Op. 12 No. 3: II. Adagio con molt'espressione

Violin Sonata No. 3 in E-Flat, Op. 12 No. 3: III. Rondo: Allegro molto
Disk 2
Violin Sonata No. 4 in A Minor, Op. 23: I. Presto

Violin Sonata No. 4 in A Minor, Op. 23: II. Andante scherzoso, più allegretto

Violin Sonata No. 4 in A Minor, Op. 23: III. Allegro molto

Violin Sonata No. 5 in F, Op. 24 'Spring': I. Allegro

Violin Sonata No. 5 in F, Op. 24 'Spring': II. Adagio molto espressivo

Violin Sonata No. 5 in F, Op. 24 'Spring': III. Scherzo: Allegro molto

Violin Sonata No. 5 in F, Op. 24 'Spring': IV. Rondo: Allegro ma non troppo
Disk 3
Violin Sonata No. 6 in A, Op. 30 No. 1: I. Allegro

Violin Sonata No. 6 in A, Op. 30 No. 1: II. Adagio molto espressivo

Violin Sonata No. 6 in A, Op. 30 No. 1: III. Allegretto con variazioni

Violin Sonata No. 7 in C Minor, Op. 30 No. 2: I. Allegro con brio

Violin Sonata No. 7 in C Minor, Op. 30 No. 2: II. Adagio cantabile

Violin Sonata No. 7 in C Minor, Op. 30 No. 2: III. Scherzo, allegro

Violin Sonata No. 7 in C Minor, Op. 30 No. 2: IV. Finale: Allegro

Violin Sonata No. 8 in G, Op. 30 No. 3: I. Allegro assai

Violin Sonata No. 8 in G, Op. 30 No. 3: II. Tempo di menuetto

Violin Sonata No. 8 in G, Op. 30 No. 3: III. Allegro vivace
Disk 4
Violin Sonata No. 9 in A, Op. 47 'Kreutzer': I. Adagio sostenuto – Presto

Violin Sonata No. 9 in A, Op. 47 'Kreutzer': II. Andante con variazioni

Violin Sonata No. 9 in A, Op. 47 'Kreutzer': III. Finale: Presto

Violin Sonata No. 10 in G, Op. 96: I. Allegro moderato

Violin Sonata No. 10 in G, Op. 96: II. Adagio espressivo

Violin Sonata No. 10 in G, Op. 96: III. Scherzo: Allegro

Violin Sonata No. 10 in G, Op. 96: IV. Poco allegretto