Beethoven, Reger: Serenades for Flute, Violin and Viola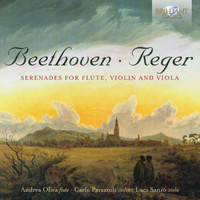 Composer
Ludwig van Beethoven, Max Reger
Artist
Oliva Andrea flute
Carlo Parazzoli violin
Luca Sanzò viola
Format
1 CD
Cat. number
95420
EAN code
5028421954202
Release
April 2017
About this release
The first phrase of Reger's Op.141 Serenade plunges the listener into the world of joyful music-making among friends circa 1780. The immediate modulation to a higher key in the second phrase brings us back to the more knowing world of late-Romanticism, and Reger thereafter moves between the two with great charm and no little skill. Light and effervescent the temper of these serenades may be but they also make considerable demands on their performers to keep up with the composer's breathless turn of phrase and invention; these Italian musicians are fully up to speed. The Larghetto slow movement of Op.141 is an expressive high-point on the disc and, like much of Reger's music, it is far too little known given its tender appeal to the general listener.

With these two works, Reger was evidently paying homage to a Classical spirit whichfound its fulfilment – at least in this unusual instrumentation – in Beethoven's Serenade. The six movements find the young Beethoven at his most carefree and effervescent: even the Andante and variations (which would become a conduit for profound thoughts later in his career) is as light as air and bubbling with melody and witty repartee. Anyone who only knows Beethoven from the symphonies, sonatas and concertos has a very pleasant surprise in store with this disc.

Andrea Oliva is principal flautist of the Orchestra dell'Accademia di Santa Cecilia in Rome, and has made many notable recordings with them and their music director, Sir Antonio Pappano, but he has also enjoyed a successful career as a soloist: according to Sir James Galway, he is 'one of the best flutists of his generation, a shining star in the world of the flute.' He has recorded Bach sonatas with Angela Hewitt and the chamber music of Saint-Saëns (BC95165) and Dutilleux (BC94738) with his Santa Cecilia colleagues, both released by Brilliant Classics.

This new recording brings together 3 Serenades for the unusual combination of flute, violin and viola by Ludwig van Beethoven and Max Reger.
The Serenade Op. 25 by Beethoven is a youthful work full of good humour, charm and wit, in the same spirit as his popular Septet. Reger's Serenades are not exactly brimming with jollity, they are mature works in which the composer's craftsmanship is embedded in a deeply poetic and even dramatic content.
In the booklet the three Italian musicians are giving their own personal views on the music in the form of an interview with renowned musicologist Valentina Lo Surdo: highly original, interesting and revealing!
Track list
Disk 1
Serenade in D Major, Op. 25: I. Entrata – Allegro

Serenade in D Major, Op. 25: II. Tempo ordinario d'un menuetto

Serenade in D Major, Op. 25: III. Allegro molto

Serenade in D Major, Op. 25: IV. Andante con variazioni

Serenade in D Major, Op. 25: V. Allegro scherzando e vivace

Serenade in D Major, Op. 25: VI. Adagio

Serenade in D Major, Op. 25: VII. Allegro vivace e disinvolto

Serenade in D Major, Op. 77a: I. Allegro

Serenade in D Major, Op. 77a: II. Andante semplice con variazioni

Serenade in D Major, Op. 77a: III. Presto

Serenade for Flute, Violian and Viola in G Major, Op. 141a: I. Vivace

Serenade for Flute, Violian and Viola in G Major, Op. 141a: II. Larghetto

Serenade for Flute, Violian and Viola in G Major, Op. 141a: III. Presto