Beethoven: String Trio Op.3, Serenade Op.8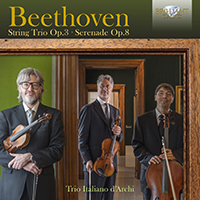 Download booklet
| | |
| --- | --- |
| Composer | Ludwig van Beethoven |
| Artist | Trio Italiano d'Archi |
| Format | 1 CD |
| Cat. number | 95819 |
| EAN code | 5028421958194 |
| Release | August 2019 |
About this release
A new recording of Beethoven's best-known string trios, performed with classic Italian finesse.

In these two string trios may be heard the voice of the young Beethoven at its most personal and polished. They were composed just before and just after his critical move from Bonn to Vienna, where he proceeded to establish himself in the wake of Haydn and Mozart. Both composers cast their own contrarian shadows over Beethoven's trios.

Beethoven adopted both the form and tonality of Mozart's sublime E flat Trio-Divertimento for his first essay in the genre, and yet otherwise went out of his way to distance his own work from its apparent exemplar. The accentuation of weak beats in the first Minuet is typical of Beethoven'sheadstrong manner, even if the second is more Mozartian. Elsewhere the young man reveals himself quite capable of inhabiting an idiom of Viennese grace and courtly charm, but equally likely to subvert and rebel against it.

From a couple of years later, the Serenade also opens in bold and striking fashion, with a Spanish-accented march, but the peaceful Andante and solemn, French-style Adagio follow older models deriving from Baroque-era trio sonatas. Most unusual – at least in 1795 – is the fifth-movement Polonaise, linking the very different languages of Rameau and Chopin. The Serenade concludes with an expansive variation movement where Beethoven does at last acknowledge some debt to Mozart – yet the overall impression left by both works is of a skilled craftsmanship that owes most to the teaching he received from Haydn and Salieri.

Comprising Alessandro Milani (violin), Luca Ranieri (viola) and Pierpaolo Toso (cello), this trio was founded in 2004, reviving the name of the classic ensemble led by Franco Gulli, with Bruno Giuranna and Giacinto Caramia, who performed and recorded the landmark works of the string trio repertoire in the 60s and 70s.

At first glance, Beethoven's first string trio Op.3 in E flat major shares numerous similarities with Mozart's string trio K563, the fact that it contains the same unusually high number of six movements, and that it is composed in the same key. Beethoven's composition, however, also abounds with his own individual ideas and a unique expressiveness.
Beethoven's Serenade Op.8 in 5 movements contains such an abundance of explosive musical material that Ernö von Dohnányi, a composer of the late romantic period, drew his inspiration from the work more than a century later.
The Trio Italiano d'Archi was established in 2004 and has since given numerous concerts at important venues and festivals. They will record the complete works for string trio for Brilliant Classics.
The extensive liner notes in the booklet are in both English and Italian.
Listening
Track list
Disk 1
Ludwig van Beethoven: String Trio in E-Flat Major, Op. 3: I. Allegro con brio

Ludwig van Beethoven: String Trio in E-Flat Major, Op. 3: II. Andante

Ludwig van Beethoven: String Trio in E-Flat Major, Op. 3: III. Menuetto. Allegretto-Trio-Coda

Ludwig van Beethoven: String Trio in E-Flat Major, Op. 3: IV. Adagio

Ludwig van Beethoven: String Trio in E-Flat Major, Op. 3: V. Menuetto. Moderato-Minore

Ludwig van Beethoven: String Trio in E-Flat Major, Op. 3: VI. Finale. Allegro

Ludwig van Beethoven: Serenade in D Major, Op. 8: I. Marcia. Allegro-Adagio

Ludwig van Beethoven: Serenade in D Major, Op. 8: II. Menuetto. Allegretto-Trio-Coda

Ludwig van Beethoven: Serenade in D Major, Op. 8: III. Adagio. Scherzo Allegro molto-Adagio

Ludwig van Beethoven: Serenade in D Major, Op. 8: IV. Allegretto alla polacca

Ludwig van Beethoven: Serenade in D Major, Op. 8: V. Tema con variazioni. Andante quasi allegretto