Beethoven: Symphonies 5 & 6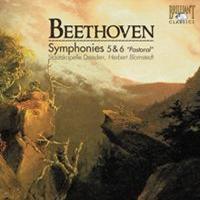 Composer
Ludwig van Beethoven
Artist
Staatskapelle Dresden
Herbert Blomstedt conductor
Format
1 CD
Cat. number
93840
EAN code
5028421938400
Release
September 2008
About this release
Of all his nine symphonies it is the 5th that has come to epitomise Beethoven as the artist whose life was one relentless struggle with Fate and the hostilities of life. There is little doubt that the deafness (which by the time Beethoven composed the 5th in 1804 - 1805 had become total) contributed to the sense of struggle, with the composer increasingly cut off from the world of conversation and music.

By contrast the Sixth is a depiction of nature, and the joy of the composer at being in the countryside and at one with nature and her creatures. He said that the 6th 'was more an impression of feeling than painting'. It is therefore a precursor to what would become known as a 'tone poem' later in the century.

Other information:
- Recordings date from the 1970s and 80s and were very well received by the critics.
- The two most famous and popular of Beethoven's symphonies.
- The Staatskapelle Dresden is steeped in the tradition of Beethoven performance. Blomstedt is a distinguished Beethoven interpreter. "Mr Blomstedt's pacing and attention to structural detail has an appealing elegance… he let the music's adrenalin take over" (New York Times).
Track list
Disk 1
Symphony No. 5 in C Minor Op. 67: Allegro con brio

Symphony No. 5 in C Minor Op. 67: Andante con moto

Symphony No. 5 in C Minor Op. 67: Allegro

Symphony No. 5 in C Minor Op. 67: Allegro-presto

Symphony No. 6 in F Major Op. 68 "Pastorale": Erwachen heiterer Empfindungen bei der Ankunft auf dem Lande-Allegro ma non troppo

Symphony No. 6 in F Major Op. 68 "Pastorale": Szene am Bach-Andante molto mosso

Symphony No. 6 in F Major Op. 68 "Pastorale": Lustiges Zusammensein der Landleute-Allegro

Symphony No. 6 in F Major Op. 68 "Pastorale": Gewitter, Sturm-Allegro

Symphony No. 6 in F Major Op. 68 "Pastorale": Hirtengesang-Frohe und dankbare Gefühle nach dem Sturm-Allegretto