Beethoven: The Complete Early Variations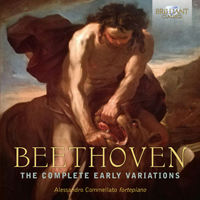 | | |
| --- | --- |
| Composer | Ludwig van Beethoven |
| Artist | Alessandro Commellato fortepiano |
| Format | 3 CD |
| Cat. number | 95425 |
| EAN code | 5028421954257 |
| Release | January 2018 |
About this release
An unrivalled compendium on disc of the Beethoven's compositional laboratory, full of experiments that would be refined throughout his career to create the piano's 'New Testament' of 32 sonatas.

Under the title of 'early variations', Alessandro Commellato has brought together all those theme with variation sets for solo and four hands piano that were not included in the main catalogue of Beethoven's compositions.

In fact not all of them are early: the imposing C minor 32 Variations WoO80 are the best-known work here, composed as late as 1806, and the sets on Rule Britannia and God save the King were written a year or two earlier, and perhaps not only for commercially expedient reasons, given Beethoven's admiration for the British resistance to the proclamation of the French Empire.

More common, however, are the variation sets where Beethoven was establishing his voice and refining his technique by exercising his imagination on melodies from popular marches and operas by Grétry, Paisiello and Mozart. The composer used these works to curry favour with patrons such as Prince Lichnowsky; even on occasion as dedicatory gifts in order to make amends for his notoriously obstreperous behaviour, such as the variations on a Dittersdorf arietta, 'Es war einmal' (Once upon a time) which he gave in the summer of 1792 to Eleonore von Breuning, daughter of Maria Helena, who had welcomed the young wayward artist into her home.

Alessandro Commellato uses an 1823 fortepiano by Joseph Böhm, a Viennese piano-maker whose instruments were known to Beethoven, bestowing on this recording an unusual degree of authenticity. He is a specialist in historically informed performances of Viennese Classicism: previous discs for Brilliant Classics include music by Beethoven's pupils such as the cello sonatas of Ferdinand Ries (BC95206) and piano concertos by Johann Nepomuk Hummel (BC94338).

Under the title "Early Variations" Alessandro Commellato has brought together all those works for solo and 4 hands piano that form part of one of the most distinctive musical genres of the 18th century: the theme with variations. These works were not included in the main catalogue of Beethoven's compositions, which is a mystery, given the high quality of the music and the incredible inventiveness and richness of the piano writing, which is on a par with that of the piano sonatas: wit, joy, drama, tragedy, all is included in these masterpieces, which are still undervalued by modern pianists.
Included are the WoO 63-80, played on copies (made by the famous Italian instrument builder Guido Bizzi) of Böhm, Stein and Walter.
Alessandro Commellato is a great virtuoso, sensitive and stylish musician, who already to great critical acclaim recorded for Brilliant Classics piano concertos by Hummel and chamber music by Ries and Hummel.
Excellent and extensive liner notes written by renowned musicologist Oreste Bossini.
Track list
Disk 1
32 Variations in C minor WoO 80

5 Variations on "Rule Britannia" in D Major, WoO 79

7 Variations on "God Save the King" in D Major, WoO 78

6 Variations in G Major, WoO 77

8 Variations on "Tändeln und Scherzen" in F Major, WoO 76

7 Variations on "Kind, willst du ruhig schlafen" in F Major, WoO 75

6 Variations for piano four hands on "Ich denke dein"in D Major, Woo 74
Disk 2
10 Variation on "La stessa la stessissima" in B-Flat Major, Woo 73

8 Variations on "Un fievre brûlante" in C Major, WoO 72

12 Variations on a Russian Dance from Wranitsky's Ballet Das Waldmädchin A Major, WoO 71

6 Variations on "nel cor più non mi sento" in G Major, WoO 70

9 Variations on "quant'è più bello" in A Major, WoO 69

12 Variations on "Menuet à la Viganò" in C Major, WoO 68
Disk 3
8 Variations on a theme by Count Waldstein in C Major, WoO 67

13 Variations on "es war einmal ein alter Mann" in A Major, WoO 66

24 Variations on Righini's Air "Venni amore" in D Major WoO 65

6 Easy Variations on a Swiss air in F Major, WoO 64

9 Variations on a March by Dressler in C Minor, WoO 63