Bellafronte: Piano Sonatas, 12 Preludes (1)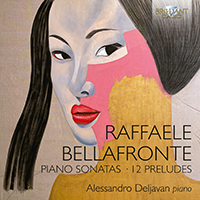 | | |
| --- | --- |
| Composer | Raffaele Bellafronte |
| Artist | Alessandro Deljavan piano |
| Format | 1 CD |
| Cat. number | 96414 |
| EAN code | 5028421964140 |
| Release | October 2022 |
About this release
Born in 1961, the Italian composer Raffaelle Bellafronte has produced a wide-ranging body of work in a modern tonal idiom. Previous albums of concertos, guitar music and chamber works paint a portrait of a lively mind and a personal voice embracing large dramatic gestures and lyric reflection, each as quintessentially 'Italian' in their expression as the other.

The set of 12 Preludes opens with a magnificently imposing evocation of stillness, coloured by the kind of bittersweet harmonies to be found in Bartok and the sense of musical space associated with Messiaen, building a surprisingly complete soundworld within the brief space of three minutes. The remaining preludes are no less ingenious in their economy of mood and gesture. Melancholy and frenzy alternate; glittering and asymmetrical rhythms stand in stark opposition to slow ostinato figurations; dense contrapuntal writing is cast against terse homophony.

Bellafronte trained as a pianist himself, and he composes for the full spectrum of the instrument's heroic and sensual possibilities. There is a satisfying crunch to the harmonies and immediately appreciable breadth of vision to the opening paragraphs of the Sonata Prima Désaccord (2006),where contrapuntal and propulsive ostinato writing combine to pull the listener through a compelling narrative which feels longer than its 12-minute duration.

From three years later, the Second Sonata experiments with a Haydnesque binary form of two quick movements – a nervous, lopsided march followed by a frustrated would-be fugue with a brutal and macabre conclusion. The Third Sonata (2014) is the most substantial piece here in both duration and ambition, launched with a momentum worthy of Bartók or Alkan. The quick-slow-quick form is superficially conventional, but it encloses a wealth of surprising excursions which challenge tonal stability and once more pitch the listener into a pianistic tumult. Attracting a range of renowned pianists such as Zlata Chochieva and Maria Argentiero, Bellafronte's piano music is tackled here with superb assurance by Alessandro Deljavan, no stranger to the Brilliant Classics and Piano Classics catalogues himself, with acclaimed albums of Chopin, Taneyev and Godard to his credit.

Raffaele Bellafronte (born 1961) is one of the foremost contemporary composers of Italy. He studied piano, composition and analysis. He has taught in several Italian Conservatories and today he teaches at the Conservatory of Campobasso. His works and publications are available through most major music publishers worldwide. His works have been commissioned and premiered at major concert venues such as New York Carnegie Hall, Vienna Konzerthaus and Musikverein, and Scala Milano.
Raffaele Bellafronte's music is free, mobile, rich in distant echoes and yet tenaciously reflecting today's reality. It has a strong communicative character without slavishly following existing or ancient traditions. In this album, devoted to piano music, Bellafronte explores the short, concise form of the prelude, and the broader, complex structure of the sonata, succeeding in both cases in merging the characteristics of both. Bellafronte is not a composer in search of the new for its own sake: he is not afraid of using tradition and transcends it through a language that is always direct, original, and communicative.
Alessandro Deljavan is one of the most remarkable pianists of his generation. "His playing is full of intensive power and contagious artistry" (Dmitri Bashkirov), "he is one of the most interesting pianists I've heard in my life" (Fou Ts'Ong), "he is one of the most major talents of his age" (John Perry), "Jaw-dropping virtuosity and heart-stopping eloquence" (Dallas Morning News).
Listening
Track list
Disk 1
Raffaele Bellafronte: 12 Preludes: I. Preludio I

Raffaele Bellafronte: 12 Preludes: II. Preludio II

Raffaele Bellafronte: 12 Preludes: III. Preludio III

Raffaele Bellafronte: 12 Preludes: IV. Preludio IV

Raffaele Bellafronte: 12 Preludes: V. Preludio V

Raffaele Bellafronte: 12 Preludes: VI. Preludio VI

Raffaele Bellafronte: 12 Preludes: VII. Preludio VII

Raffaele Bellafronte: 12 Preludes: VIII. Preludio VIII

Raffaele Bellafronte: 12 Preludes: IX. Preludio IX

Raffaele Bellafronte: 12 Preludes: X. Preludio X

Raffaele Bellafronte: 12 Preludes: XI. Preludio XI

Raffaele Bellafronte: 12 Preludes: XII. Preludio XII

Raffaele Bellafronte: Sonata prima – Desaccòrd: I. Vivo

Raffaele Bellafronte: Sonata prima – Desaccòrd: II. Tranquillo

Raffaele Bellafronte: Sonata prima – Desaccòrd: III. Nervoso

Raffaele Bellafronte: Sonata seconda: I. Tempo primo

Raffaele Bellafronte: Sonata seconda: II. Tempo secondo

Raffaele Bellafronte: Sonata terza: I. Allegro con fuoco

Raffaele Bellafronte: Sonata terza: II. Sospeso

Raffaele Bellafronte: Sonata terza: III. Energico e sinuoso