Bertoldo & Borgo: Complete Organ Music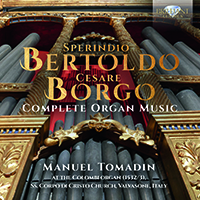 Download booklet
| | |
| --- | --- |
| Composer | Cesare Borgo, Sperindio Bertoldo |
| Artist | Manuel Tomadin organ |
| Format | 1 CD |
| Cat. number | 95874 |
| EAN code | 5028421958743 |
| Release | October 2020 |
About this release
Among the most popular of pianistic genres now, boasting virtuoso showpieces from Bach to Prokfiev, the keyboard toccata first appeared in print in 1591, within this collection of work by Sperindio Bertoldo. Sadly the collection only appeared posthumously, for Bertoldo died around 1570, at the age of 40 or so, at the height of an illustrious if eventful career. He had become organist of Padua Cathedral in his early 20s, but in 1567 he was suspended for insubordination. Having evidently shown appropriate contrition, he was reinstated, and remained in post until his death, having at that stage published only books of madrigals.

Yet his organ works are equally worthy of revival, anticipating the florid brilliance and spatial effects of the Venetian masters such as the Gabrielis. Another volume published in 1591 was dedicated to Canzoni francese: instrumental versions of French songs by Crecquillon, Janequin and Clemens non Papa and these are elaborately decorated with imitation and ornamentation like a side-chapel to a Rococo church.

Scarcely better known is the scant output of Cesare Borgo, who was born and died in Milan and worked there as an organist-friar, rising to become organist for the then-newly built instrument at Milan Cathedral. Published in Venice in 1599, this collection of canzone is also inflected with fashionable French-style harmonies though given the titles of vernacular Italian songs whose origins are now mostly lost. The attraction of Borgo's canzone lies in their often gentle, reflective explorations of the melodic material within a sturdy ABA structure. They are played on this new recording on the organ installed by Vincenzo Colombi in 1523 at the Chiesa del Santissimo Corpo di Cristo in Valvasone in the province of Pordenone. Full specifications and photographs are printed in the booklet along with an introduction by Manuel Tomadin to these rarities of early Italian organ music.

Praise for Manuel Tomadin's Brilliant Classics discography:

'Tomadin performs with equal grace on all three instruments… The phrasing is precise and convincing, and Tomadin has a positive knack for making the simplest of lines and lyrical themes interesting and listenable. He will have done a tremendous service to the world of music in this recording.' Fanfare (Alberti, 95161)

'Stylish and well recorded… Recommended.'
Fanfare (Das Husumer Orgelbuch, 95328)

'As always in these Brilliant CDs, lesser-known composers are treated with seriousness and receive scholarly and well-researched performances by impressive artists whose technique is flawless and whose ability to bring minor masterpieces to life is winsome.' Early Music Review (Lübeck, 95453)

This new recording brings together organ music by two Italian Renaissance composers, Sperindio Bertoldo (1530-1570) and Cesare Borgo (1560-1623), master musicians active as organists of resp. the Padua Cathedral and the Milan Cathedral.
The two organ music scores contain typical forms of music of the Renaissance period for keyboard instruments such as the toccata, ricercar and canzona.
Played on a beautiful historical organ built by Vincenzo Colombi in 1533, situated in the Chiesa del SS Corpo di Cristo in Valvasone, Italy, the specification of which are included in the booklet.
Organist Manuel Tomadin is one of the foremost Italian organists of today, a scholar and passionate musician, with an impressive discography to his name: Husumer Organ Book, Alberti Complete Keyboard Works, and other North German organ masters.
Listening
Track list
Disk 1
Sperindio Bertoldo: Tocata seconda di Sperindio Bertoldo

Sperindio Bertoldo: Canzon francese

Sperindio Bertoldo: Hor vienza vien

Sperindio Bertoldo: Ricercar del sesto tuono

Sperindio Bertoldo: Petit fleur

Sperindio Bertoldo: Ricercar del primo tuono

Sperindio Bertoldo: Un gai berger

Sperindio Bertoldo: Ricercar del terzo tuono

Sperindio Bertoldo: Tocata prima di Sperindio Bertoldo

Sperindio Bertoldo: Frais e gagliard

Cesare Borgo: Canzon L'Albergona

Cesare Borgo: Canzon L'Arnona

Cesare Borgo: Canzon La Baialupa

Cesare Borgo: Canzon La Breda

Cesare Borgo: Canzon La Castelnovata

Cesare Borgo: Canzon La Cipola

Cesare Borgo: Canzon La Colombana

Cesare Borgo: Canzon La Forera

Cesare Borgo: Canzon La Gabutia

Cesare Borgo: Canzon La Parolina

Cesare Borgo: Canzon La Scarabella

Cesare Borgo: Canzon La Lucina