Bettinelli: Piano Music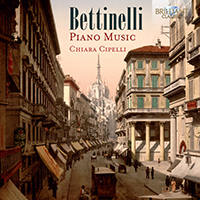 | | |
| --- | --- |
| Composer | Bruno Bettinelli |
| Artist | Chiara Cipelli piano |
| Format | 1 CD |
| Cat. number | 95801 |
| EAN code | 5028421958019 |
| Release | March 2019 |
About this release
The first thorough survey on record of piano music by a major figure in the musical landscape of 20th-century Italy.

As a teacher of theory and composition at the Milan Conservatory in Rome, Bruno Bettinelli (1913-2004) had a decisive influence on the careers of Claudio Abbado, Riccardo Chailly, Riccardo Muti and Maurizio Pollini. At least outside his native Italy, his work as a teacher has overshadowed his own music, which is now being recognised as the output of a distinctive voice in the generation between Luigi Dallapiccola and modernist pioneers such as Luigi Nono.

Like his chamber music, however, Bettinelli's piano music also reveals a debt to the instrumental composers at the turn of the last century who worked against the grain in this land of lyric and song: men such as Casella, Malipiero and Ghedini, all of them represented on Brilliant Classics with important revivals of chamber and piano music. Bettinelli deserves his place alongside them, as a first listen to the bold Fantasia will make clear. Composed in 1955, the five sections of the Fantasia make free use of tonality in the context of post- Romantic writing for the piano that presents a challenge to the most accomplished technique; one which Chiara Cipelli overcomes with flying colours.

The most ambitious work on the album, the Fantasia is preceded by the more picaresque charms of a three-movement Suite agreste and followed by two contrasting collections of miniatures, the 18 Easy Pieces from 1941 – owing something to neoclassical Hindemith – and the 10 exquisite fragments which make up Sintesi. Written in 1970, Sintesi distils Bettinelli's own adoption of atonal technique to its most poetic essence. Chiara Cipelli is herself active as a teacher, as a professor of piano in Cremona and Reggio Emilia, but also maintains a busy performing career, with concerts across Europe and the US and a repertoire that places emphasis on the music of our time.

Bruno Bettinelli (Milan 1913-2004), the "MAESTRO dei MAESTRI" completed his musical studies at the Conservatory G. Verdi of Milan, receiving his diploma in Composition and Conducting, Piano, Choral Music, Choir Direction and Vocal Polyphony. He was Professor of Composition at the same Conservatory. Many internationally famous musicians have studied with him: Claudio Abbado, Riccardo Muti, Maurizio Pollini, Riccardo Chailly, Bruno Canino, , Uto Ughi among others. He has composed symphonic music (seven Symphonies), three operas, choral works and chamber music. He has won many national and international prizes for compositions.
Bettinelli's early works incorporated contrapuntal neo-classicism, influenced by Stravinsky, Bartók and Hindemith. His later music evolved constantly adding new elements such as atonality and 12-tone music, to blend it into a free chromatic language, always expressing the basic human emotions. He is one of the most important and influential 20th century Italian composers, together with Casella, Malipiero, Ghedini, Dallapiccola and Petrassi.
Italian pianist Chiara Cipelli plays this demanding and fascinating piano music with great conviction, virtuosity and clear perception of the formal structures.
Track list
Disk 1
Preludio

Passeggiata nel bosco

Danza di contadini

Corse sui prati

Fantasia per pianoforte: I. Preambolo

Fantasia per pianoforte: II. Ritmico

Fantasia per pianoforte: III. Notturno

Fantasia per pianoforte: IV. Intermezzo

Fantasia per pianoforte: V. Fugato

Piccoli pezzi per pianoforte: I. Preludietto

Piccoli pezzi per pianoforte: II. Movimento di valzer

Piccoli pezzi per pianoforte: III. Piccola marcia

Piccoli pezzi per pianoforte: IV. Canto breve

Piccoli pezzi per pianoforte: V. Barcarola

Piccoli pezzi per pianoforte: VI. Romanza

Piccoli pezzi per pianoforte: VII. Pensierino

Piccoli pezzi per pianoforte: VIII. Preludietto

Piccoli pezzi per pianoforte: IX. Cornamusa

Piccoli pezzi per pianoforte: X. Eco

Piccoli pezzi per pianoforte: XI. Canzoncina

Piccoli pezzi per pianoforte: XII. Canone

Piccoli pezzi per pianoforte: XIII. Improvviso

Piccoli pezzi per pianoforte: XIV. Ninna nanna

Piccoli pezzi per pianoforte: XV. Marcia

Piccoli pezzi per pianoforte: XVI. Notturnino

Piccoli pezzi per pianoforte: XVII. Preludietto

Piccoli pezzi per pianoforte: XVIII. Toccata

Sintesi: I. Preludio

Sintesi: II. Monodia

Sintesi: III. Armonia

Sintesi: IV. Polifonia

Sintesi: V. Notturno

Sintesi: VI. Capriccio

Sintesi: VII. Omaggio a Dallapiccola

Sintesi: VIII. Omaggio a Petrassi

Sintesi: IX. Ostinato

Sintesi: X. Toccata