Biber: Mystery Sonatas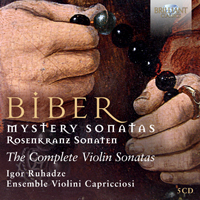 Composer
Heinrich Ignaz Franz Von Biber
Artist
Igor Ruhadze violin
Ensemble Violini Capricciosi
Format
5 CD
Cat. number
95291
EAN code
5028421952918
Release
February 2017
About this release
Heinrich Ignaz Franz von Biber may not have invented the technique of scordatura – the retuning of violin strings for a particular piece – but he certainly mastered it. During the Baroque period, the instrument's tuning was more flexible than today, and Biber's patron, Prince-Bishop Karl of Olomouc, was particularly fond of the technique that offered a world of possibilities in sound colours and polyphonic effects. Almost all of the 15 Mystery (or Rosary) Sonatas, which depict each of the 'mysteries' or events from the lives of Christ and Mary, require some kind of scordatura, offering unusually resonant chord-playing and polyphonic writing. The 11th sonata ('The Resurrection') even calls for the strings to be crossed over, evoking the cross of Christ as it utilises the melody of the hymn Surrexit Christus Hodie.

Alongside these famous sonatas, the listener is able to delve into some of Biber's lesser-known works, including the eight solo violin sonatas composed in Salzburg in 1681. The last of these is a compositional tour de force, as the solo player takes on the role of two other players in a kind of trio sonata. The works are fine examples of the stylus phantasticus, a style of composition characterised by an improvisatory, florid and virtuosic quality. The Sonata representativa is one of the earliest examples of programmatic music, evoking bird calls and animal sounds, including the nightingale, cuckoo, frog and even rooster. The lengthy Sonata in E (from a manuscript kept at the Minoritenkonvent in Vienna) opens with an astonishingly extended display of virtuosity over a held bass note, revealing Biber's mastery of his art.

The sonatas are played with aplomb by early music group Ensemble Violini Capricciosi, led from the front by soloist Igor Ruhadze. The group has previously recorded the complete works by Locatelli for Brilliant Classics, another composer known for his virtuosic violin writing (BC94358). The set was praised by MusicWeb International as a 'major achievement', with Ruhadze lauded for his 'impressive tone'.

The first recording of the complete violin sonatas by Biber.
The violin sonatas of Heinrich Ignaz Franz von Biber (1644-1704) have come to represent the pinnacle of seventeenth-century violin playing and composition due to their inventiveness and technical difficulty. Biber is especially known for his extensive use of scordatura, the practice of re-tuning the violin strings to different pitches than those normally used.
Played with full technical command and imagination by Igor Ruhadze and his Ensemble I Violini Capricciosi, consisting of cello, theorbo, organ and harpsichord. These artists gained international recognition for their staggering recording of the complete works by Pietro Antonio Locatelli (BC94358).
Contains biographies of the artists and liner notes written by the artist.
Recorded in Schiedam, The Netherlands, in February, June and July 2016.
Listening
Track list
Disk 1
Heinrich Ignaz Franz Von Biber: The Joyful Mysteries: I. The Annunciation in D Minor, senza scordatura, Praeludium · Variatio – Aria allegro – Variatio · Adagio · Finale

Heinrich Ignaz Franz Von Biber: The Joyful Mysteries: II. Mary's Visit to Elizabeth in A Major, scordatura a–e'–a'–e'', Sonata · Presto · Allemande · Presto

Heinrich Ignaz Franz Von Biber: The Joyful Mysteries: III. The Nativity in B Minor, scordatura b–f sharp'–b'–d'', Sonata – Presto · Courente – Double · Adagio

Heinrich Ignaz Franz Von Biber: The Joyful Mysteries: IV. The Presentation of the Infant Jesus in the Temple in D Minor, scordatura a–d'–a'–d'', Ciacona – Adagio piano – Presto – Adagio

Heinrich Ignaz Franz Von Biber: The Joyful Mysteries: V. Child Jesus in the Temple in A Major, scordatura a–e'–a'–c sharp'', Praeludium – Presto · Allemande · Gigue · Sarabande – Double

Heinrich Ignaz Franz Von Biber: The Sorrowful Mysteries: VI. The Agony in the Garden in C Minor, scordatura a flat–e flat'–g'–d'', Lamento – Adagio – Presto · Aria – Adagio – Adagio

Heinrich Ignaz Franz Von Biber: The Joyful Mysteries: VII. The Scourging of Jesus in F Major, scordatura c'–f'–a'–c'', Allemande – Variatio · Sarabande – Variatio

Heinrich Ignaz Franz Von Biber: The Sorrowful Mysteries: VIII. The Crowning of Jesus with Thorns in B-Flat Major, scordatura d'–f'–b flat''–d'', Sonata · Adagio – Presto – Adagio · Gigue – Double · Presto – Double II

Heinrich Ignaz Franz Von Biber: The Joyful Mysteries: IX. Jesus Carries His Cross in A Minor, scordatura c'–e'–a'–e'', Sonata · Courente – Double · Finale
Disk 2
Heinrich Ignaz Franz Von Biber: The Joyful Mysteries: X. The Crucifixion in G Minor, scordatura g–d'–a'–d'', Praeludium · Aria – Variatio – Adagio

Heinrich Ignaz Franz Von Biber: The Glorious Mysteries: XI. The Resurrection in G Major, scordatura g–g' X d'–d'', Sonata · Surrexit Christus hodie · Adagio

Heinrich Ignaz Franz Von Biber: The Glorious Mysteries: XII. The Ascension in C Major, scordatura c'–e'–g'–c'', Intrada · Aria tubicinum · Allemande · Courente – Double

Heinrich Ignaz Franz Von Biber: The Glorious Mysteries: XIII. The Descent of the Holy Ghost in D Minor, scordatura a–e'–c sharp'–e'', Sonata · Gavotte · Gigue · Sarabande

Heinrich Ignaz Franz Von Biber: The Glorious Mysteries: XIV. The Assumption of Mary in D Major, scordatura a–e'–a'–d'', Praeludium – Grave – Adagio · Aria – Aria – Gigue

Heinrich Ignaz Franz Von Biber: The Glorious Mysteries: XV. The Crowning of the Blessed Virgin Mary in C Major, scordatura g–c'–g'–d'', — · Aria – Canzone · Sarabande

Heinrich Ignaz Franz Von Biber: The Glorious Mysteries: XVI. The Guardian Angel Passacaglia in G Minor for solo violin, senza scordatura, Passacaglia – Adagio – Allegro – Adagio
Disk 3
Heinrich Ignaz Franz Von Biber: Sonata I in A Major, C 138: Adagio – [Presto] – Adagio · Presto · Variatio – Presto · Finale. Presto

Heinrich Ignaz Franz Von Biber: Sonata II in D Dorian, C 139: [Praeludium] · Aria – Variatio. Finale

Heinrich Ignaz Franz Von Biber: Sonata III in F Major, C 140: [Praeludium] · Adagio – Presto · Aria – Variatio · Variatio

Heinrich Ignaz Franz Von Biber: Sonata IV. in D Major, C 141, scordatura a–e'–a'–d'': [Sonata] · Presto · Gigue – Double – Double II · Adagio – [Presto] – Adagio – Aria – Variatio · Finale. Presto

Heinrich Ignaz Franz Von Biber: Sonata IV. in E Minor, C 142: [Praeludium] – Adagio · Variatio: Allegro – Adagio – Presto – Adagio – Presto –Aria – Variatio
Disk 4
Heinrich Ignaz Franz Von Biber: Sonata VI. in C Minor, C 143, partial scordatura g–d'–a'–d'': [Praeludium] · Passacaglia · [Praeludium] · Gavotte · Adagio · Allegro · Adagio

Heinrich Ignaz Franz Von Biber: Sonata VII. in G Major, C 144: [Sonata] · Aria · Adagio · Ciacona

Heinrich Ignaz Franz Von Biber: Sonata VIII. in A Major, C 145: [Sonata] · Aria · Sarabanda · Allegro · Finale. Adagio – Allegro

Heinrich Ignaz Franz Von Biber: Sonata in A Major: Adagio · Presto · [Praeludium] · Adagio – [Presto] – Adagio – [Presto] – [Adagio] – Presto– Aria – Variatio
Disk 5
Heinrich Ignaz Franz Von Biber: Violin Sonata No. 1 in C Minor: [Praeludium] · Passacaglia. Adagissimo

Heinrich Ignaz Franz Von Biber: Violin Sonata No. 2 in A Major "La pastorella"

Heinrich Ignaz Franz Von Biber: Fantasia in D Major, scordatura a–e'–a'–d'': [Sonata] · Presto · Gigue – Variatio · Menuet

Heinrich Ignaz Franz Von Biber: Violin Sonata No. 4 in E Major

Heinrich Ignaz Franz Von Biber: Sonata representativa in A Major: Allegro · Nachtigal – CuCu – Fresch – Die Henne – Der Hann – Presto – Die Wachtel – Die Katz – Musgetier Mars – Allemande