Bizet: Complete Orchestral Music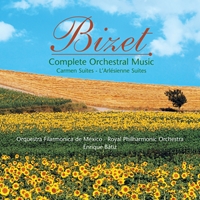 Composer
Georges Bizet
Artist
Orquesta Filarmonica de Mexico
Royal Philharmonic Orchestra
Enrique Batiz conductor
Format
3 CD
Cat. number
94404
EAN code
5028421944043
Release
July 2012
About this release
Although many listeners will have been introduced to Georges Bizet (1838–1875) through his well-loved operas – notably The Pearl Fishers and Carmen – this fantastic volume celebrates his orchestral music, sometimes overlooked but entirely worthy of attention.

The collection surveys his complete body of orchestral works, taking in symphonies, suites, preludes and overtures. Fans of the dramatic compositions will not be disappointed: a large portion of the three-disc set is devoted to music inspired by or written for the stage. Two suites from Carmen are a highlight, with movements that bring to life the opera's most magical moments, from Spanish dances to the famous Toréador song and Habañera. An orchestral suite based on the mature opera La Jolie Fille de Perth is also included, as are the two L'Arlésienne Suites of evocative, colourful incidental music to a play by Alphonse Daudet. Bizet's two main contributions to large-scale symphonic music are also featured: although the composer was never entirely satisfied with Roma symphony, the early Symphony in C is undoubtedly one of his masterpieces, charming and ebullient in style.

Some less well-known but equally impressive works round off this collection, which is rich in opportunities for listeners to discover the different sides of Bizet's colourful music. Enrique Bátiz, leading two internationally renowned orchestras, delivers thrilling performances, making this an indispensable and comprehensive volume.

Other information:
- This 3-CD set, contains the complete orchestral music of Georges Bizet, featuring such evergreens as the Carmen and Arlésienne Suites, the endearing Jeux d'Enfants and the fresh and brilliant Symphony in C, written in his teens.
- A comprehensive survey of Bizet's complete orchestral music; the ideal way for aficionados of his operas to discover a different side of this famous French composer.
- Excellent performances by Maestro Enrique Batiz and his Mexican Orchestra, as well as the Royal Philharmonic Orchestra.
- Includes booklet notes, with detailed information about each work.
Track list
Disk 1
Carmen Suite No. 1: I. Prélude – Aragonaise

Carmen Suite No. 1: II. Intermezzo

Carmen Suite No. 1: III. Séguedille

Carmen Suite No. 1: IV. Les Dragons d'Alcala

Carmen Suite No. 1: V. Les Toréadors

Carmen Suite No. 2: I. Marche des Contrebandiers

Carmen Suite No. 2: II. Habañera

Carmen Suite No. 2: III. Nocturne

Carmen Suite No. 2: IV. Chanson du Toréador

Carmen Suite No. 2: V. La Garde montante

Carmen Suite No. 2: VI. Danse bohème

Les Pêcheurs de perles: Prélude

Patrie: Overture, Op. 19
Disk 2
L'Arlésienne Suite No. 1: I. Ouverture

L'Arlésienne Suite No. 1: II. Minuetto

L'Arlésienne Suite No. 1: III. Adagietto

L'Arlésienne Suite No. 1: IV. Carillon

L'Arlésienne Suite No. 2: I. Pastorale

L'Arlésienne Suite No. 2: II. Intermezzo

L'Arlésienne Suite No. 2: III. Minuetto

L'Arlésienne Suite No. 2: IV. Farandole

La Jolie Fille de Perth Suite: I. Prélude

La Jolie Fille de Perth Suite: II. Sérénade

La Jolie Fille de Perth Suite: III. Marche

La Jolie Fille de Perth Suite: IV. Danse bohémienne

Jeux d'enfants Suite, Op. 22: I. Marche: Trompette et tambour

Jeux d'enfants Suite, Op. 22: II. Berceuse: La Poupée

Jeux d'enfants Suite, Op. 22: III. Impromptu: La Toupie

Jeux d'enfants Suite, Op. 22: IV. Duo: Petit mari, petite femme

Jeux d'enfants Suite, Op. 22: V. Galop: Le Bal
Disk 3
Symphony in C: I. Allegro vivo

Symphony in C: II. Adagio

Symphony in C: III. Scherzo: Allegro vivace

Symphony in C: IV. Allegro vivace

Roma: I. Andante tranquillo – Allegro agitato

Roma: II. Allegretto vivace

Roma: III. Andante molto

Roma: IV. Allegro vivacissimo