Bloch: Music for Violin and Piano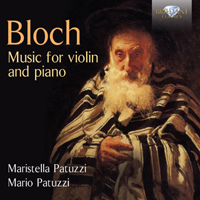 | | |
| --- | --- |
| Composer | Ernest Bloch |
| Artist | Maristella Patuzzi, Mario Patuzzi |
| Format | 1 CD |
| Cat. number | 95015 |
| EAN code | 5028421950150 |
| Release | January 2015 |
About this release
20th-century composer Ernest Bloch forged a unique path, firmly establishing his Jewish identity through his music and thereby creating many works of great spiritual expression. Born in Geneva in 1880, he studied in Belgium and Germany before moving to America. Although he returned to Europe, he eventually became a US citizen, abandoning Switzerland forever due to the encroaching threat of Nazism. It was in the States that his music was truly appreciated for the first time; in New York, he conducted renowned orchestral concerts of his own works and became known as the "Jewish Composer", winning the Coolidge Prize for his Viola Suite. It was around this time that he began to compose for the violin.

Spanning the 1920s, most of the works on this release came to fruition soon after the composer began to compose for the violin on a solo level. Bloch was a composer who harnessed many of the musical tendencies of the time to create highly original works, never tying himself to a particular style, and the authenticity and invention for which he is remembered permeates the entire compilation – starting with Violin Sonata No.1 (1920), a work deeply rooted in tonality and requiring great technical skill. Suite No.1, written nearly 40 years later, brings the neo-Classical aspect of Bloch's music to the fore through its use of partita form. The Jewish influence is of course also strong: the famous and exotic Baal Shem which narrates three aspects of Chassidic life is included, together with Abodah – or 'God's Worship' – dedicated to the world-famous violinist Yehudi Menuhin, who described the composer as "one of the Seven Wonders […] cast by the gods in a superhuman mould." At hand to perform these works are father-daughter duo Mario and Maristella Patuzzi, who have been performing together for many years. Maristella recorded her first CD aged just 11, and since then has performed with many noted ensembles, recording her first release – an album of music by Manuel de Sica – for Brilliant Classics in 2014 with the Orchestra Arturo Toscanini. She has won prizes at a national and international level, having performed at many major competitions. Her father Mario has had a distinguished career as a pianist, with performances at La Scala in Milan and with the Bayerischer Rundfunkorchester in Germany. Maristella plays on a 1687 Stradivarius violin, lent by a private collector.

Ernest Bloch (1880-1959) was trained as a violinist, taking lessons from the great Eugene Ysaye in Brussels. Under the threat of the Nazi regime he took refuge to the USA, where he stayed the rest of his life. Here he became famous , one of the first "classical" composers to integrate Jewish elements in his music. His works on religious themes express the sorrows and joys of the Jewish people over the centuries.
This release presents the works for violin and piano, the substantial and romantic 1rst violin sonata, the neo-classical Suite and the famous Baal Shem (scenes from Chassidic Life) and the "Abodah" (God's Worship), dedicated to Yehudi Menuhin.
Played with deep expression and wonderfully warm tone by violinist Maristella Patuzzi, playing a magnificent Stradivari instrument.

• Extensive liner notes written by the artists.
• Contains artist biographies.

Other information:

• Recorded in 2011 in Lugano, Switzerland.
Track list
Disk 1
Violin Sonata No. 1 in A Minor (1920): I. Agitato

Violin Sonata No. 1 in A Minor (1920): II. Molto quieto

Violin Sonata No. 1 in A Minor (1920): III. Moderato

Abodah in C Minor (1929): Molto moderato

Melody in D Major (1929): Moderato

Suite No. 1 in G minor (1958) for solo violin (1958): Prélude – Andante tranquillo – Allegro – Andante – Allegro energico – Tempo del primo movimento – Allegro

Baal Shem Three Pictures of Chassidic Life (1923): I. Vidui (Contrition). Un poco lento

Baal Shem Three Pictures of Chassidic Life (1923): II. Nigun (Improvisation). Adagio non troppo

Baal Shem Three Pictures of Chassidic Life (1923): III. Simchas Torah (Rejoicing). Allegro giocoso