Boccherini: Arie accademiche for Soprano and Orchestra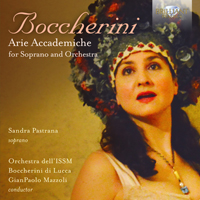 Composer
Luigi Boccherini
Artist
Sandra Pastrana soprano
Guillermo Pastrana cello
Orchestra dell'Istituto di Studi Musicali Luigi Boccherini di Lucca orchestra
GianPaolo Mazzoli conductor
Format
1 CD
Cat. number
95280
EAN code
5028421952802
Release
October 2017
About this release
Little-known but appealing music by one of Italy's most renowned Classical-era composers, in historically aware performances which have no present rival on record.

Luigi Boccherini is now best known for his chamber music, which is handsomely represented on Brilliant Classics in recordings by period-instrument ensembles: most recently the string trios (BC95493), the cello sonatas (BC93784), string quartets Op.26 (BC95302), piano quintets (BC92890) and several volumes of string quintets, gathered together with much else in a 37CD Boccherini Edition (BC94386) which is the most substantial collection of his music ever released on record.

However, as part of his duties to the royal courts of Europe in which he made his long and distinguished career, Boccherini also wrote operas and zarzuelas – popular Spanish musical theatre – of which few examples survive. There are 18 extant, standalone concert arias, of unknown date, though probably composed between 1786 and 1792. Six of them are presented here, all composed for soprano, and all bold and technically challenging works which would fit within the opera seria genre. The texts are by Metastasio, prolific librettist of the period, whose classically-themed dramas were set by Salieri and Mozart, among many other composers.

Most of the arias Boccherini chose to set present their protagonists in resigned or reflective mood: Dido accepting the inevitability of Aeneas' departure (G544); Prince Farnaspe bidding farewell to his beloved Emirena (G545); Artaserse craving a moment's peace after circumstances force him to condemn a friend (G546); Aristea preparing to intercede with her angry father on behalf of her lover Megacles (G547); Jason tenderly reassuring Hypsipyle that he will save her father's life (G549). In contrast, the delirious outpourings of Fulvia (G548) who believes her innocent betrothed is about to be executed for a crime committed by her father (material which was also set by Gluck and Mozart (K369)) belies the conventional view of Boccherini as a genial miniaturist.

The final aria in this selection (G557) in which Mandane wrestles with the confusion of her passions as she seeks to overcome the "tyrant Love" which still binds her to the man she now professes to hate, features a coloratura duetting of the soprano with cello whose part is based on a theme used in the Sextet in C (G466) and the Sonata in A (G4). Sung texts are included in the booklet.

The soloist on this recording is the Spanish soprano Sandra Pastrana, who has appeared in all the major Italian opera houses. Recent and forthcoming appearances include Aida at the Teatro Real, Madrid, Peter Grimes at the Teatro Comunale in Bologna and Carmen at the Teatro San Carlo in Naples.

Luigi Boccherini is considered to be one of the most prolific composers of chamber music. The high quality of his dramatic output is shown in his moving Stabat Mater and in 15 Concert Arias, for soprano and orchestra.
The Italian texts of the Arie Accademiche are by the famous Metastasio, and are based on classic mythology. The fluid melodic invention and the arresting dramatic effects confirm that Boccherini is well able to stand in the company of his famous contemporary operatic composers.
Beautifully sung by soprano Sandra Pastrana, who sang regularly with Riccardo Muti, Gianluigi Gelmetti and other famous conductors. The booklet contains liner notes as well as the sung texts.
Track list
Disk 1
Arie Accademica No. 14 G. 557

Arie Accademica No. 1, G. 544

Arie Accademica No. 2, G. 545

Arie Accademica No. 3, G. 546

Arie Accademica No. 4, G. 547

Arie Accademica No. 5, G. 548