Boccherini: Complete Clavier Quintets; Ensemble Claviere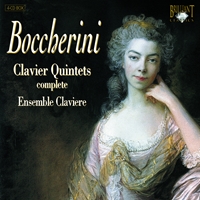 | | |
| --- | --- |
| Composer | Luigi Boccherini |
| Artist | Ensemble Claviere |
| Format | 4 CD |
| Cat. number | 92890 |
| EAN code | 5028421928906 |
| Release | April 2006 |
About this release
At the time when Luigi Boccherini wrote his piano quintets the genre was not really the fashion. Why add a keyboard when four strings suffice? Still the composer wrote a number of piano quintets, in which he adopted a more or less Baroque approach by reducing the piano to an accompaniment role.

Although these light-hearted and melodious works are rather late they have the same delightful tone of the chamber music he had written thirty years earlier. The composer later arranged some of his piano quintets for guitar quintet.

Energetic and inspired performances by Ensemble Claviere.
Track list
Disk 1
Quintetto I in E Minor-Major G.407 : Allegro Comodo

Quintetto I in E Minor-Major G.407 : Adagio

Quintetto I in E Minor-Major G.407 : Minuetto. Con Moto

Quintetto I in E Minor-Major G.407 : Allegretto

Quintetto II in F Major G.408 : Allegretto

Quintetto II in F Major G.408 : Minuetto. Amoroso

Quintetto II in F Major G.408 : Poco Adagio

Quintetto II in F Major G.408 : Allegretto

Quintetto III in C Major G.409 : Maestoso Assai

Quintetto III in C Major G.409 : Andantino

Quintetto III in C Major G.409 : Allegretto
Disk 2
Quintetto IV in E Flat Major G.410 : Lento

Quintetto IV in E Flat Major G.410 : Allegretto

Quintetto IV in E Flat Major G.410 : Allegro Assai

Quintetto V in D Major G.411 : Andante Sostenuto

Quintetto V in D Major G.411 : Minuetto. Allegro

Quintetto V in D Major G.411 : Andante, Come Prima

Quintetto V in D Major G.411 : Allegro, A Modo Di Marcia vivace

Quintetto V in D Major G.411 : Variazioni. Andante, Piuttosto Lento

Quintetto vi in A Minor-Major G.412 : Allegretto

Quintetto vi in A Minor-Major G.412 : Andantino

Quintetto vi in A Minor-Major G.412 : Minuetto Con Moto

Quintetto vi in A Minor-Major G.412 : Andantino Come Prima

Quintetto vi in A Minor-Major G.412 : Allegro Ma Non Presto
Disk 3
Quintetto I in A Major G.413 : Allegro Moderato

Quintetto I in A Major G.413 : Minuetto - Tempo Giusto, Trio

Quintetto I in A Major G.413 : Andantino, Con Un Poco Di Moto

Quintetto I in A Major G.413 : Allegro Giusto

Quintetto II in B Flat Major G.414 : Allegretto Moderato

Quintetto II in B Flat Major G.414 : Minuetto - Tempo Giusto, Trio

Quintetto II in B Flat Major G.414 : Adagio

Quintetto II in B Flat Major G.414 : Finale - Allergo Un Poco vivace

Quintetto III in E Flat Major G.415 : Andante Lento Assai

Quintetto III in E Flat Major G.415 : Minuetto Non Presto, Con Grazia

Quintetto III in E Flat Major G.415 : Provensal - Allegro viVo

Quintetto III in E Flat Major G.415 : Andante Lento

Quintetto III in E Flat Major G.415 : Provensal - Allegro viVo E Pp Come Prima
Disk 4
Quintetto IV in D Minor G.416 : Allegro Giusto Ma Con viVacità

Quintetto IV in D Minor G.416 : Largo Cantabile

Quintetto IV in D Minor G.416 : Finale. Allegro Assai

Quintetto V in E Major G.417 : Allegro Sostenuto E Imperioso

Quintetto V in E Major G.417 : Adagio

Quintetto V in E Major G.417 : Polacca. Tempo Di Minuetto

Quintetto vi in C Major G.418 : Allegretto Lento

Quintetto vi in C Major G.418 : Presto

Quintetto vi in C Major G.418 : Variazioni Sulla Ritirata Notturna Di Madrid

Quintetto vi in C Major G.418 : Polonese. Allegretto Sostenuto