Boccherini: Complete Flute Quintets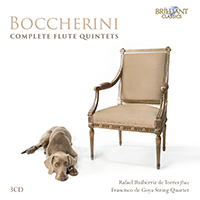 Download booklet
Composer
Luigi Boccherini
Artist
Rafael Ruibérriz de Torres flute
Francisco de Goya String Quartet
Format
3 CD
Cat. number
96074
EAN code
5028421960746
Release
January 2021
About this release
Spanish 'period' instrumentalists in new recordings of under-rated chamber music from the golden age of Classicism, full of musical sunshine and summer breezes.

The 24-year-old Boccherini's departure from his native Lucca in 1767 proved to be the making of him. By 1770 he had become court composer and cellist to the royal chamber of Prince Luis Antonio de Borbón, youngest son of Philip V of Spain. The ensemble at his disposal must have included an excellent flautist, for he wrote several sets of chamber music in which the flute plays the starring role, including the Quintets, Op.17 in 1773, and the Quintets, Op.19 in 1774, all dedicated to Prince Luis.

The writing for the flute is orchestral in nature, as if these were concertos in disguise, with rapier-like dialogue between the two violin parts. All 12 works follow the same two-movement formal pattern, with a moderately quick opener followed by a more graceful dance, except for Op.19 No.6, subtitled 'Las parejas' (The Couples) after the ceremonial horse parade of the same name that was held at the Aranjuez palace every spring; its movement titles (Entrada-Marcia, Galope and Entrada-Marcia) reflect the different sections of the event.

The Op.55 Flute Quintets on CD3 date from 1797, having been written with an especially talented flautist/oboist in mind. By then Boccherini was set up in Madrid with a generous pension, Prince Luis having died some years earlier, as composer to separate courts in Osuna and Prussia. These later works enjoy a more relaxed temperament, by and large, though the solo writing for the flute is still highly florid and expressive even in the more stately movements such as the grave Lento to conclude Op.55 No.5.

In the booklet, a full introduction to the Flute Quintets in the context of Boccherini's life and output is provided by Rafael Ruibérriz de Torres, a flautist who has worked with early-music luminaries such as Leonhardt, Minkowski and Leonhardt but who specialises in chamber music. He is admirably partnered here by the Cuarteto Francisco de Goya playing on period set-ups.

A much-underrated composer, Luigi Boccherini (1743-1805) was one of the leading composers of the late 18th century, a friend and colleague of both Haydn and Mozart, and a formidable cello virtuoso. Although less dramatic than either Haydn or Mozart, his music does have moments of explosive drama that appear all the more effective when bursting fortissimo from an otherwise calm movement. The harmonic shifts are also surprising and used to great effect. His music is sensuous, passionate and dramatic.
This new 3-CD set contains the complete Flute Quintets, for solo flute and string quartet. Music of great charm, vitality, brilliance, and sincere deep feelings.
Played on period instruments by flutist Rafael Ruibérriz de Torres, who studied with Wilbert Hazelzet and who played with Gustav Leonhardt, Philippe Herreweghe and Jos van Immerseel, and the Spanish Francisco de Goya String Quartet.
Listening
Track list
Disk 1
Luigi Boccherini: Flute quintetto No. 1 in D Major, G.419 Op. 17: I. Allegro assai

Luigi Boccherini: Flute quintetto No. 1 in D Major, G.419 Op. 17: II. Minuetto. Amoroso

Luigi Boccherini: Flute quintetto No. 2 in C Major, G.420 Op. 17: I. Allegro giusto

Luigi Boccherini: Flute quintetto No. 2 in C Major, G.420 Op. 17: II. Minuetto. Amoroso

Luigi Boccherini: Flute quintetto No. 3 in D Minor, G.421 Op. 17: I. Larghetto

Luigi Boccherini: Flute quintetto No. 3 in D Minor, G.421 Op. 17: II. Rondo. Allegro grazioso

Luigi Boccherini: Flute quintetto No. 4 in B-Flat Major G.422 Op. 17: I. Andantino moderato

Luigi Boccherini: Flute quintetto No. 4 in B-Flat Major G.422 Op. 17: II. Minuetto. Allegro

Luigi Boccherini: Flute quintetto No. 5 in G Major, G.423 Op. 17: I. Allegro moderato

Luigi Boccherini: Flute quintetto No. 5 in G Major, G.423 Op. 17: II. Allegro assai

Luigi Boccherini: Flute quintetto No. 6 in E-Flat Major, G.424 Op. 17: I. Larghetto

Luigi Boccherini: Flute quintetto No. 6 in E-Flat Major, G.424 Op. 17: II. Rondo. Allegro con moto
Disk 2
Luigi Boccherini: Flute quintetto No. 1 in E-Flat Major, G.425 Op. 19: I. Allegro con moto

Luigi Boccherini: Flute quintetto No. 1 in E-Flat Major, G.425 Op. 19: II. Minuè

Luigi Boccherini: Flute quintetto No. 2 in G Minor, G.426 Op. 19: I. Allegro e con un poco di moto

Luigi Boccherini: Flute quintetto No. 2 in G Minor, G.426 Op. 19: II. Minuetto con moto

Luigi Boccherini: Flute quintetto No. 3 in C Major, G.427 Op. 19: I. Andante non tanto

Luigi Boccherini: Flute quintetto No. 3 in C Major, G.427 Op. 19: II. Rondeaugrazioso

Luigi Boccherini: Flute quintetto No. 4 in D Major, G.428 Op. 19: I. Adagio assai

Luigi Boccherini: Flute quintetto No. 4 in D Major, G.428 Op. 19: II. Minuetto con moto

Luigi Boccherini: Flute quintetto No. 5 in B-Flat Major, G.429 Op. 19: I. Allegro moderato

Luigi Boccherini: Flute quintetto No. 5 in B-Flat Major, G.429 Op. 19: II. Presto assai

Luigi Boccherini: Flute quintetto No. 6 in D Major, G.430 Op. 19: I. Entrada-Marcia

Luigi Boccherini: Flute quintetto No. 6 in D Major, G.430 Op. 19: II. Galope

Luigi Boccherini: Flute quintetto No. 6 in D Major, G.430 Op. 19: III. Entrada-Marcia
Disk 3
Luigi Boccherini: Flute quintetto No. 1 in G Major, G.431 Op. 55: I. Allegretto con vivacità

Luigi Boccherini: Flute quintetto No. 1 in G Major, G.431 Op. 55: II. Allegretto

Luigi Boccherini: Flute quintetto No. 2 in F Major, G.432 Op. 55: I. Andantino

Luigi Boccherini: Flute quintetto No. 2 in F Major, G.432 Op. 55: II. Minuetto

Luigi Boccherini: Flute quintetto No. 3 in D Major, G.433 Op. 55: I. Allegretto

Luigi Boccherini: Flute quintetto No. 3 in D Major, G.433 Op. 55: II. Minuetto

Luigi Boccherini: Flute quintetto No. 4 in A Major, G.434 Op. 55: I. Andantino

Luigi Boccherini: Flute quintetto No. 4 in A Major, G.434 Op. 55: II. Allegretto

Luigi Boccherini: Flute quintetto No. 5 in E-Flat Major, G.435 Op.55: I. Andante lento

Luigi Boccherini: Flute quintetto No. 5 in E-Flat Major, G.435 Op.55: II. Minuetto con moto

Luigi Boccherini: Flute quintetto No. 5 in E-Flat Major, G.435 Op.55: III. Lento come prima

Luigi Boccherini: Flute quintetto No. 6 in D Minor, G.436 Op. 55: I. Allegretto comodoassai

Luigi Boccherini: Flute quintetto No. 6 in D Minor, G.436 Op. 55: II. Minuetto